Kodaline: Politics of the Living Tour LIVE in Manila This February 2019
The Irish rock band Kodaline will perform their last-song-syndrome triggering album–Politics of the Living–for their 2019 tour, as they hit the Philippine stage on February 26, 2019 at the New Frontier Theater in Quezon City.
Also read: For King & Country LIVE in Manila This February 2019
Kodaline, formally known as 21 Demands before 2012, is made up of  lead vocalist Steve Garrigan, lead guitar Mark Prendergast, drummer Vincent May, and bass guitarist Jason Boland.
The band made its first presence back in 2006 with the song "Give Me A Minute", which made it the first independently released track that topped the Irish Single charts.
After adopting their current band name in 2012, they released their first album, In A Perfect World, which broke into the mainstream music industry in 2013. The album garnered numerous features in famous movies and shows such as Love Rosie, Grey's Anatomy, The Fault in Our Stars, and many more.
After a successful stint with their album, In A Perfect World, their second album, Coming Up For Air, proved to be a slop as its records were overlapped by the initial album.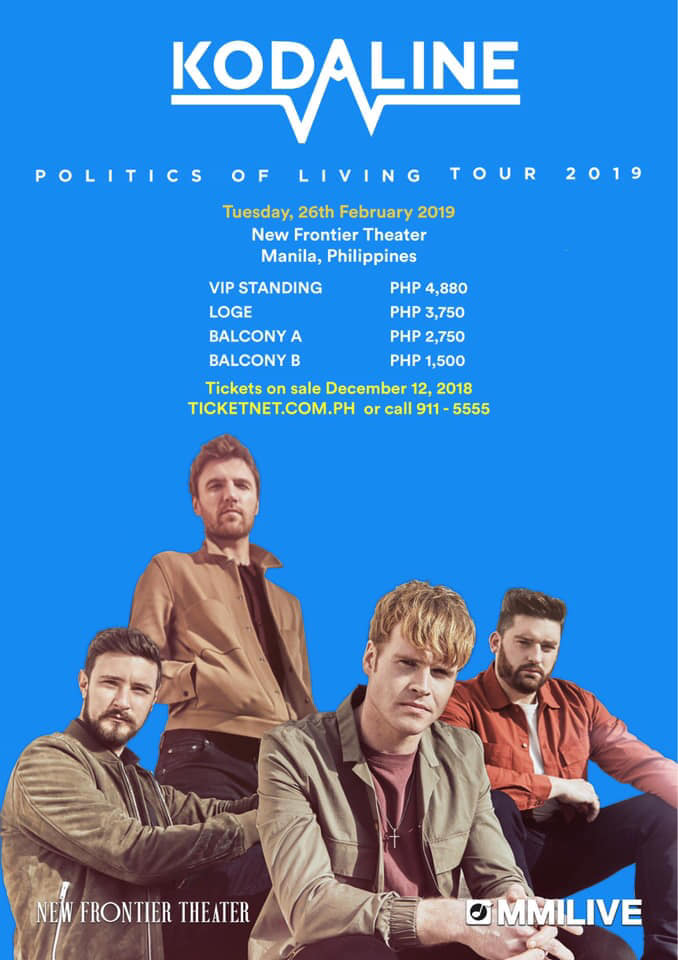 Their new album Politics of the Living Tour seems to pose a better and more adventure-type of genre as the album consists of songs that seem unusual to the type of music they make.
The album consists of the following songs: Follow Your Fire, Hide and Seek, Angel, Worth It, Shed a Tear, Head Held High, Born Again, I Wouldn't Be, Don't Come Around, Brother, Hell Froze Over, and Temple Bar.
 For the seating venue, refer to the format provided below: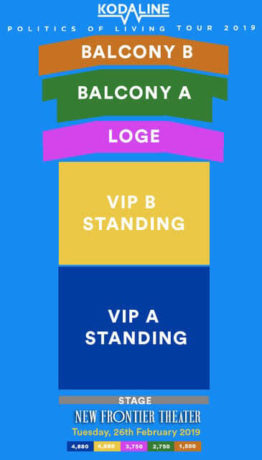 Also read: LAUV Asia Tour LIVE in Manila and Cebu This May 2019!
You may grab your tickets starting December 12, 2018!
For reservation, tickets and other information, please contact 02-911-555 or visit ticketnet.com.ph.
What: Kodaline Politics of the Living Tour 2019
Where: New Theater Frontier (formerly Kia Theater), Araneta Center, Cubao, Quezon City
When: February 26, 2019
Ticket Prices:
VIP Standing – P4,880
Loge – P3,750
Balcony A – P2,750
Balcony B – P1,500