For King & Country LIVE in Manila This February 2019
It is said that when we sing, we pray twice–and the Found Music Festival may be one of the best ways to celebrate faith through music.
On February 9, 2019 at Circuit Makati, Christian artists will perform and convey God's message through their craft. This year, Grammy award-winning Australian duo, for KING & COUNTRY, along with home-grown artists will be featured in the faith festival.
Christian alternative rock/pop duo, for KING & COUNTRY, is comprised of brothers Joel and Luke Smallbone, and they are well-known for their soaring melodies, driving rhythms, theatrical instrumentation, and personal themes.
Their 2014 album, Run Wild. Live Free. Love Strong, won the Grammy Award for Best Contemporary Christian Music Album. Their recent hit includes Little Drummer Boy from their Burn the Ships album.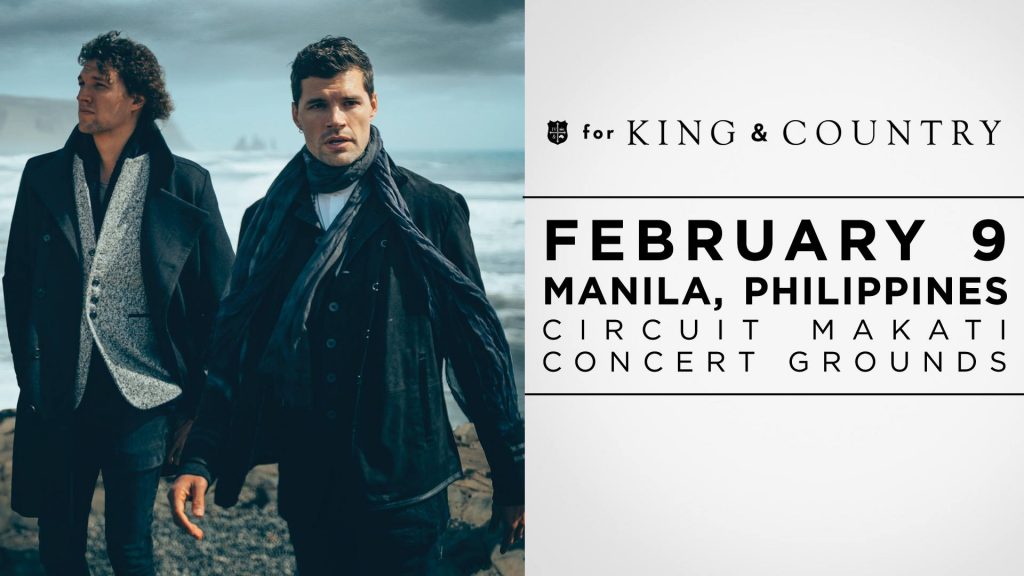 Local artists will join the band, including Aia De Leon, Barbie Almalbis, Quest, Upper Room Worship Manila, and Victory Worship, with special guest speaker Josh Gurango.
On a mission to bring the community together in a grand gathering with praise songs and activities for the family, The Found Music Festival 2019 centers its theme on love and light with the words, "YOU WILL SEEK AND FIND ME WHEN YOU SEEK WITH ALL YOUR HEART."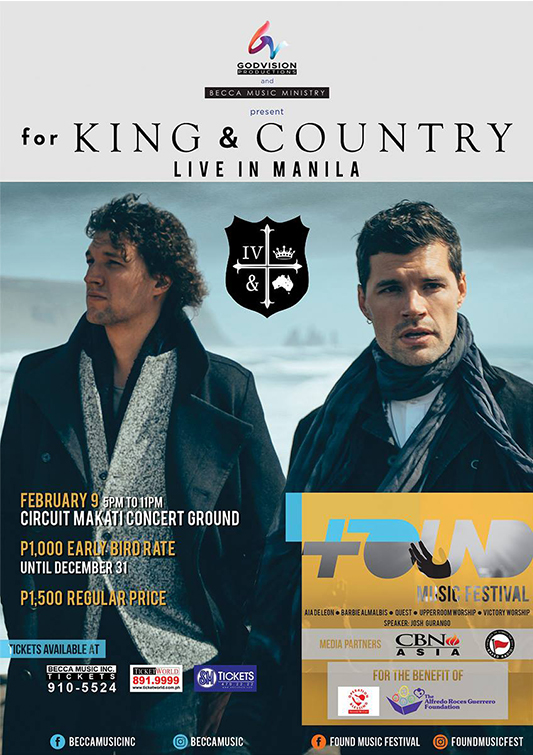 Buy tickets with the early bird rate of Php 1,000 only until December 31, 2018. Regular price is Php 1,500.
In a world of confusion and chaos, faith helps us find a way, and this may be your chance to rediscover your path!
For more information, call Becca Music at 02-910-5524 or visit the Becca Music website. Tickets are available at ticketworld and SM tickets.
Details
What: The Found Music Festival 2019 featuring for KING and COUNTRY
When: February 9, 2019 at 5 p.m.
Where: Circuit Makati Concert Grounds, Makati City
Ticket information: Regular Price: Php 1,500; Early Bird Rate: Php 1,000 (until December 31, 2018)
Website:  www.beccamusic.com
---
Images courtesy of Becca Music's official Facebook page.