Makati Street Meet: Sari-Sari Christmas Bazaar Happening This December 9
Paseo de Roxas, Makati will be bustling with excitement as the Makati Street Meet: Sari-Sari A Christmas Bazaar turns the metropolis's main street into a shopper's paradise this December 9, 2018 from 10 a.m. to 10 p.m.
Also read: Venice Grand Canal in Taguig Welcomes Holiday 2018 with an Amazing Christmas Parade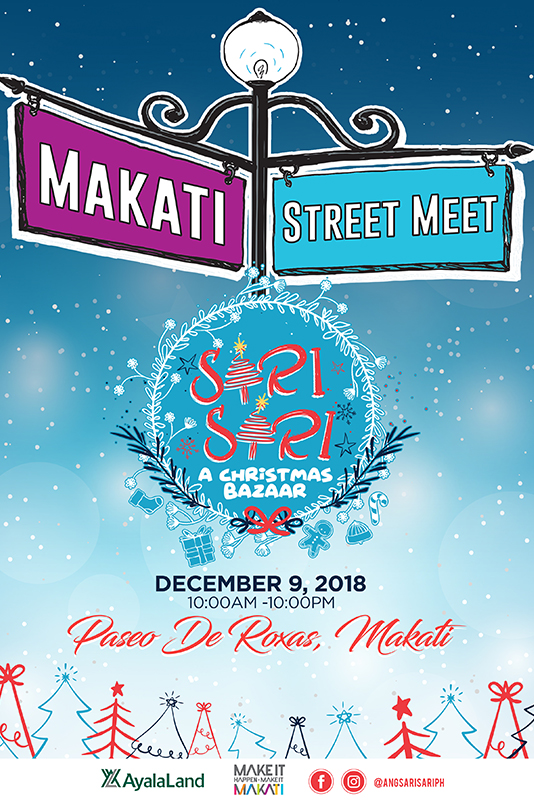 Over 30 merchants are expected to mob the streets of Ayala featuring diverse gift products, ranging from local and artisanal Filipino items–and they're surely ideal as Christmas presents. The occasion is a joint venture with Brandboss Advertising.
Majority of the merchants and entrepreneurs participating will showcase handmade items innovated from indigenous materials. Expect unique brands such as Mango Float Supreme Manila, Wagyu by Monica, Vegan Republic, Lemon Squeez & Surf, Pacaro Leather, and more to partake in this ecstatic event.
The fun doesn't stop there as shoppers and attendees can gaze at the aesthetic lighting of the Reimagine the Magic: A Festival of Lights at the Ayala Triangle and the enchanting light installations along the streets of Ayala Avenue.
Also read: Ayala Festival of Lights Partners With Disney Philippines for their 10th Anniversary
Hype and kick-off your Christmas preparations, and attend this joyful event with your peers and family!
For more information, visit www.makeitmakati.com, or like and follow Make It Makati's Facebook page. You may also get instant updates through their Twitter and Instagram.
---
This is a press release. Minor edits were made prior to publishing.