Appassionatamente in Caruso: Ilaria Della Bidia and Jose Mari Chan This November 8
Andrea Bocelli's duet singer Ilaria Della Bidia will be gracing the night at Caruso Ristorante Italiano this November 8 for Appassionatamente, an amazing night full of music accompanied by singer-songwriter Jose Mari Chan, pianist Raul Sunico, and tenor singer George Yang.
The concert entitled Appassionatamente means 'Passion' and rightly so as it is an event dedicated to the fast recovery of the owner of Caruso Ristorante Italiano, Evelyn Mina. Many times before, mini-concerts have been held at Caruso in Bel Air, Makati including balladeer Arthur Manuntag, international violinist Rony Rogoff, and La Scala Opera's Elena Monti.
Also read: Caruso Ristorante Italiano Presents: A night with Gianpaolo Rabboni
This coming Thursday, diners will witness the versatile artist Ilaria Della Bidia, who has been outstanding Italian star Andrea Bocelli's duet partner since 2011. The Tuscan-born Alto singer is known for her classical performances and pop-modern compositions. She is currently on a tour with Andrea Bocelli in Germany and Austria but will be coming to Caruso for this special night.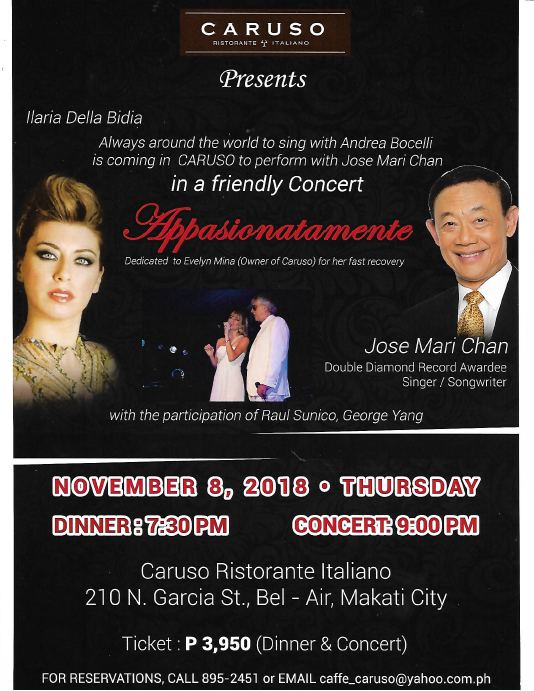 Joining her includes businessman and singer-songwriter José Mari L. Chan, best known for his Christmas album, Christmas in Our Hearts. President of the Cultural Center of the Philippines and pianist Raul M. Sunico will also be performing for the night.
Finally, Chairman and founder of Golden Arches Development Corp. as well as a tenor singer, George T. Yang will be joining Ilaria Della Bidia for a night of classical music and arias.
Appasionatamente is happening this November 8 at 7:30 p.m. dinner and 9 p.m. concert for only Php 3,950. This magical night of music is surely an experience you shouldn't miss!
Also read: Caruso Ristorante Italiano
For reservations, please call 02-895-2451 or e-mail caffe_caruso@yahoo.com.ph. 
Details:
What: Appassionatamente in Caruso: Ilaria Della Bidia and Jose Mari Chan
When: November 8 at 7:30 p.m. dinner and 9 p.m. concert
Where: Caruso Ristorante Italiano, 210 N. Garcia St., Bel Air, Makati City
Ticket Price: Php 3,950