Rediscover Chinese Cinema at The 12th Spring Film Festival
It's that time of the year again when Chinese movies take center stage as the annual Spring Film Festival is back for its twelfth year this February 13 to 18, 2018 at the Shangri-La Plaza Mall in Mandaluyong City.
Thanks to the generosity of its sponsors, the Spring Film Festival is one of the most hotly anticipated galas in the Chinese-Filipino community.
The annual celebration is hosted by the Ateneo de Manila University's Ricardo Leong Center for Chinese Studies, together with Film Development Council of the Philippines, and Credit Suisse, with the cooperation of Ateneo Celadon, and Shangri-La Plaza and Shang Cineplex, in order to bring forth the joys and showcase the artistry of Chinese film culture.
What used to be a Metro Manila-only event has now become a five-day festival that has extended its reach to being held simultaneously in Baguio, Cebu, Davao, Iloilo, and Cagayan de Oro.
This year's selection includes six full-length feature films covering a variety of genres—from comedy to romance to horror, a mix that will surely delight all types of audiences. All films will be available for FREE to the viewing public.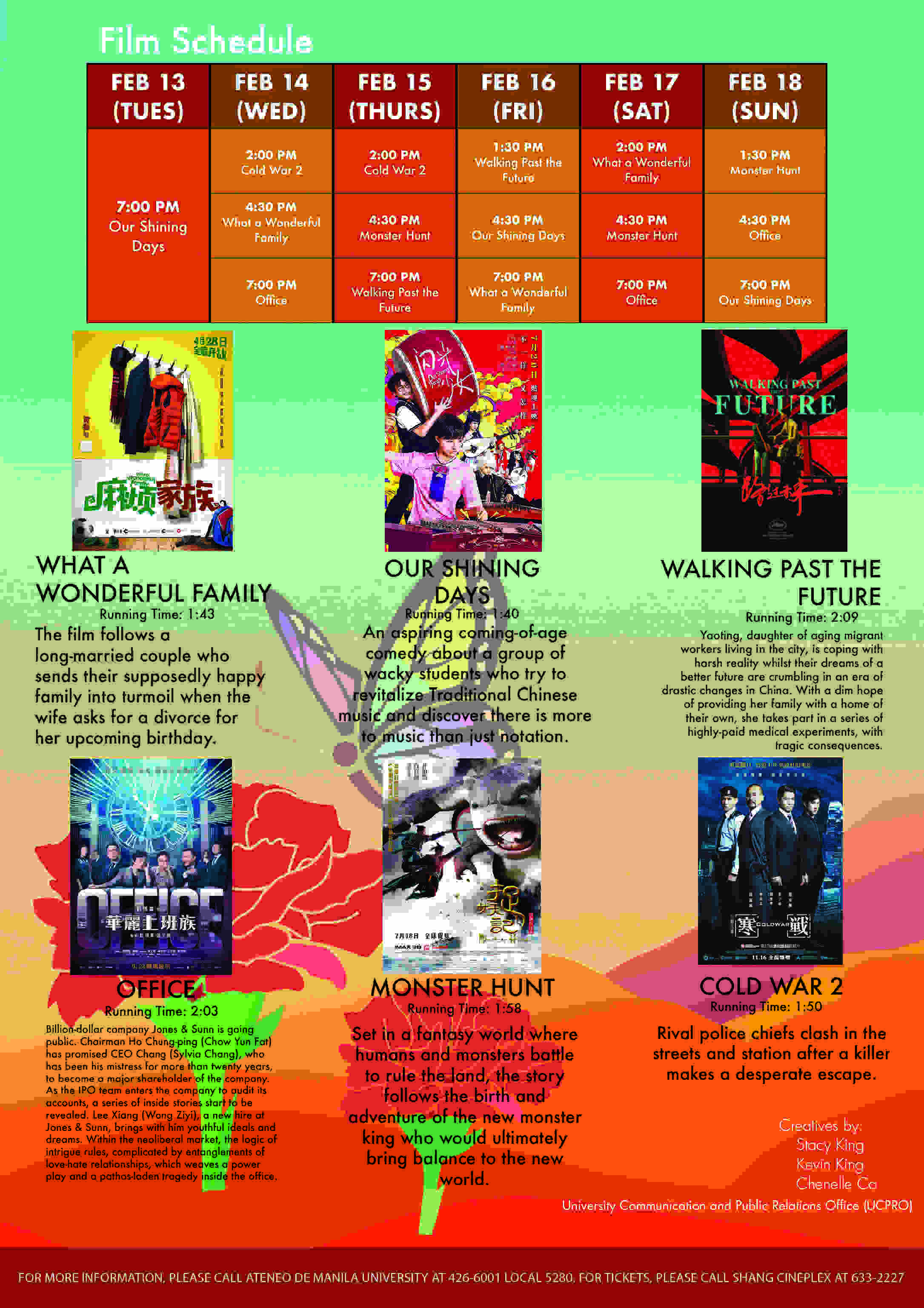 Relive high school love with coming-of-age film Our Shining Days, an inspirational movie about a group of misfit teenagers who attempt to revitalize traditional Chinese music by creating their own ensemble band to win the hearts of their respective crushes.
See how far one girl goes to save her family in the Cannes Film Festival-screened movie Walking Past the Future, which centers on Yaoting, a young woman who, desperate for money to help her recently jobless parents, signs up to be a human guinea pig for a series of potentially dangerous clinical trials.
Catch a glimpse of the harsh realities of the corporate world in the business-centric musical dramedy Office, about the chairman and the CEO of a billion-dollar company going public, and the struggle for power that they face.
Experience a fantastical 3D adventure like no other in the comedy Monster Hunt, which is set in a distant past wherein the Human race and the Monster race live side-by-side in harmony—that is, until the former drives the latter out of their homes, kick-starting a war like no other.
Get your tissues ready for the tear-jerking comedy What A Wonderful Family, which depicts the destruction of a once-happy family when the wife asks for a divorce for her upcoming birthday from her husband, leaving all the years of being lovingly married together in the dust.
Finally, step into the seedy underbelly of a crime-torn city with Cold War 2, the hotly-anticipated sequel to the 2012 box office hit that details the rescue operation of five hijacked officers of the Hong Kong Police Force and the sacrifices they have to make to save themselves—and their country.
With such an amazing lineup of Chinese cinema, this year's Spring Film Festival is sure to be one large cultural celebration that you wouldn't want to miss!
Also read: 13th Spring Film Festival: Bridging Filipino and Chinese Community Through Art and Films
For more information, please follow the Spring Film Festival Facebook page or Ateneo Celadon at ateneo-celadon.org. Should you have any additional inquiries, you may also send an email to leongcenter.soss@ateneo.edu or call 02-926-5118.