13th Spring Film Festival: Bridging Filipino and Chinese Community Through Art and Films
One of the most celebrated festivals in the Filipino-Chinese community is back this year, with more films about love, family, culture, and community promoting Chinese culture and language to the Philippine community!
The 13th Spring Film Festival will run from January 30, 2019, to February 5, 2019, featuring seven full-length films and kicking off in the newest premier cineplex of the Metro, Red Carpet in Shangri-La Plaza.
For 13 years now, Ateneo De Manila University Ricardo Leong Center for Chinese Studies, together with Shangri-La Plaza, has been bringing the Filipino-Chinese community together through a series of film screenings that introduce Chinese films to the country. The event is made possible also with the help of the Film Development Council of the Philippines, Ateneo Celadon, ChinoyTV, and Credit Suisse.
Tackling love, family, community, the past, and many other interesting topics, these award-winning films are a great opportunity for everyone to appreciate not just the diverse culture of every country, but the importance of relationships that are strengthened through awareness of language and culture as well.
Also read: Red Carpet Cinema Opens at Shangri-La Plaza
Featured Movies: 
I Belonged to You 
Runtime: 113 minutes
I Belonged to You is a story that revolves around two radio disc jockeys and the world they inhabit. They find that their audience reflects their own love and heartbreak, and forces them to deal with issues larger than just their own lives. The story is based on the bestselling series of short stories by renowned Chinese writer Zhang Jiajia and is directed by Zhang Yibai.
Lost in White 
Runtime: 101 minutes
In a land covered with thick snow, a dead body was found in the frozen river. The story revolves around two detectives, Detective Zhou Peng, and Wang Hao as they search for the perpetrator and a more complicated truth in between. This crime film is directed by Xu Wei.
Detective Chinatown 
Runtime: 136 minutes
A budding Chinese Sherlock Holmes meets his partner Watson in Bangkok and solves a locked-room murder in singer-actor-director Chen Sicheng's "Detective Chinatown," a carefully constructed mystery that blends screechy comedy and crazed action in high-spirited but somewhat ungainly fashion. This eclectic genre mash-up reps quite a novelty in mainland Chinese commercial cinema, and its instant success points to further opportunities for cerebral, plot-driven concepts to be injected into crowd-pleasing hits.  
The Third Way of Love
Runtime: 113 minutes
A Chinese romance film about two lovers, Lin Qi Zheng—from a rich family and Zhou Yu—a smart and beautiful lawyer.
A Tale of Three Cities
Runtime: 131minutes
A timeless love story of the legendary Jackie Chan's parents, A Tale of Three Cities follows through Charles and Lee-Lee Chan's complicated love story from their meeting during the Second Sino-Japanese War and being separated during the Chinese Civil War to finally reuniting in HongKong leaving behind their respected children from previous marriages. After reuniting in Hong Kong, they gave birth to Jackie Chan and it took them 38 years to finally reunite with their other children.
Lost in Hong Kong 
Runtime: 114 minutes
Lost in Hong Kong follows Xu Lai, a former artist whose dreams were dashed when the responsibilities of life set in. With his life now revolving around his wife Cai Bo who is obsessed with having children, the quirks of his eccentric family and his mediocre, ordinary existence, Xu Lai hopes to reconnect with his first love Yang Yii on an upcoming vacation. However, his hopes are dashed when he finds himself wrapped up in a murder investigation that proves truth is often stranger than fiction.
Our Time Will Come 
Runtime: 130 minutes
During the Japanese occupation in Hong Kong, anti-Japanese Dongjiang guerilla unit is tasked with rescuing cultural figures and extracting them from the besieged city. Primary school teacher, Fang Lan, and her mother try to live out this difficult period in a small run-down flat in Wan Chai. After the schools were shut down, Lan unwittingly finds herself embroiled in the guerrillas' mission to save novelist Mao Dun where she meets Blackie Lau the intrepid sharpshooter captain of the guerrillas' Urban and Firearms unit. 
The film festival will run for a week at the newest movie house in Shangri-La Plaza—Red Carpet—for a better viewing experience. Please see the schedule of film screenings below:
To further celebrate Chinese culture, and as part of the Chinese New Year celebrations, Shangri-La Plaza will be presenting Chinese Costumes on the Catwalk, a fashion show showcasing traditional Chinese attire this January 30, 2019,  at the Grand Atrium.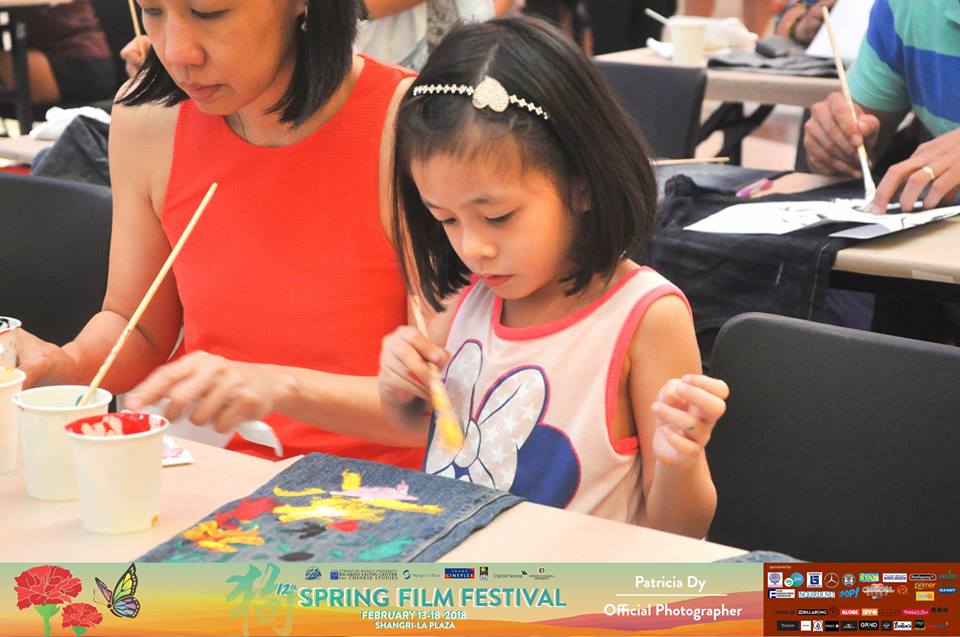 12th Spring Film Festival's Chinese Painting Workshop / IMAGE Spring Film Festival Facebook Page
On February 3, 2019, artists will be holding a Chinese Painting Workshop at the Grand Atrium for those who want to dabble in the delicate art.
Also read: Rediscover Chinese Cinema at The 12th Spring Film Festival
For inquiries about the Spring Film Festival, you may call Ateneo De Manila University at 426-6001 local 5208 or 5284. For other inquiries, please call Shangri-La Plaza Red Carpet at 370-2578. Admission for all events is free.
Details: 
What: 13th Spring Film Festival
When: January 30, 2019, to February 5, 2019
Where: Red Carpet Premier Theater, 6/F Shangri-La Plaza, EDSA cor. Shaw Boulevard, Ortigas Center, Mandaluyong City
Facebook: facebook.com/SpringFilmFestival
Free Admission
---
This is a press release. Minor edits were made prior to publishing.