Korean Film Festival 2017
The annual Korean Film Festival will once again showcase five critically acclaimed films at selected SM Malls from September 7 to October 15, 2017. This festival will feature films with characters that have strong and unique personalities as well as those who continuously want to pursue their goals and desires through courage and wholesome determination.
This festival is a joint partnership between the Korean Embassy's Korean Cultural Center in the Philippines and SM Cinemas. The film festival will begin its run at the Cinema 6 of SM Megamall from September 7-10, 2017 and will be followed by screenings at SM Lanag Premier (September 14-17), SM City Iloilo (September 21-24), SM City Cebu (September 28-October 1), SM City Clark Pampanga (October 5-8), and at SM City Dasmarinas on October 12-15, 2017.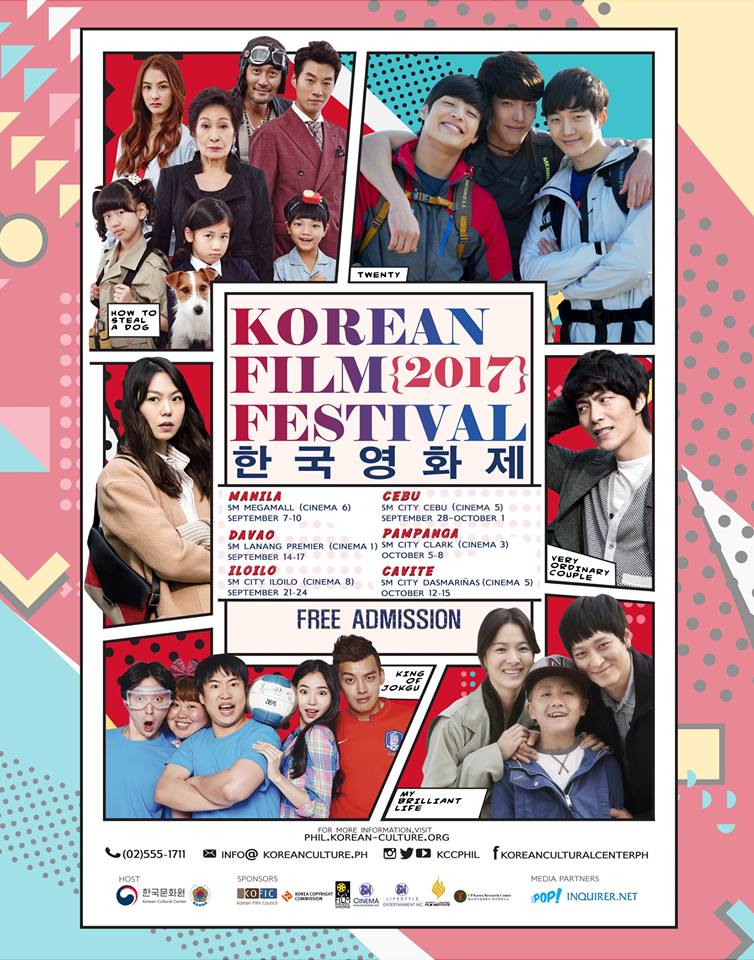 IMAGE Facebook 
Featured films in the said festival will mirror Korea's colorful history and rich culture. Films that will be shown will include:
How to Steal a Dog (1 hr., 50 mins.)
Twenty (1hr.,55 mins.)
My Brilliant Life (1 hr., 57 mins.)
The King of Jokgu (1 hr., 44 mins.)
Very Ordinary Couple (1 hr., 53 mins.)
The film festival is free of charge. First screening for the Manila viewing will be a VIP event and open only to LIMITED audience members. Tickets will be released on a FIRST COME, FIRST SERVED BASIS. One person can only get one ticket for himself. If he/she wishes to get a ticket for his/her companion, he/she must get back in line to get another ticket.
For the first screening (12:00 nn), the tickets will be released one hour prior to the screening of the film or earlier if the people in line are already too many to be contained in the waiting area. For the succeeding screenings, the tickets for the next film will be released 30 minutes AFTER the start of the prior movie.
For more information and queries, you may contact the Korean Cultural Center at 555-1711 or e-mail events@koreanculture.ph
DETAILS:
What: Korean Film Festival
When: September 7-10, 2017 (Manila Screening)
Where: Cinema 6, SM Megamall 

---
Written By: Patricia Antoinette M. Nacianceno
Image Source: 2017 Korean Film Festival in Manila event page