Australian Grass Fed Beef on the Menu: Follow the Trail
For the next two months, the Philippines will play host to something that a lot of restaurants, fast food stores, and processed meat producers have been using for decades. Australian grass-fed beef will be featured on menus of certain restaurants and hotels until August 20.
Australian grass-fed beef has been around for a long time, but has never gotten the attention it deserves. It's a healthier alternative thanks to its low fat and cholesterol content, all while offering a high level of Omega 3 fatty acids known to lower blood pressure and reduce the risk of certain cancers.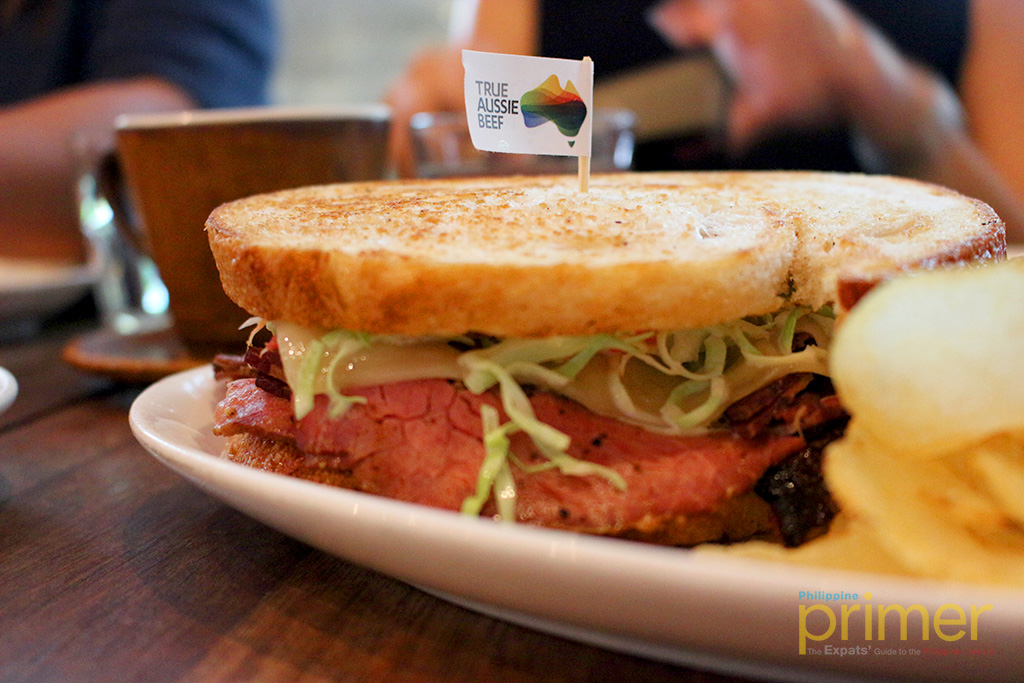 A REUBEN SANDWICH. One of the many applications of Australian beef. This one is from Wildflour Cake + Bakery, and can be yours for only Php 450.
This year, the Australian Trade and Investment Commission (Austrade), Victorian State Government, and Meat and Livestock Australia (MLA) have collaborated with the Australian Embassy in the Philippines to bring you the third edition of Australian Grassfed Beef on the Menu.
It's a promotional event that features a selection of the country's restaurants that have used Aussie beef. We joined their launch trail yesterday, June 27, and here's what I got (apart from a full stomach and a taste for Aussie beef):
A Tale of Two Burgers: Wildflour Café + Bakery vs. The Café at Hyatt City of Dreams
Mornings aren't usually the time to eat burgers, but Wildflour Café + Bakery started us off with their signature California Burger (Php 495).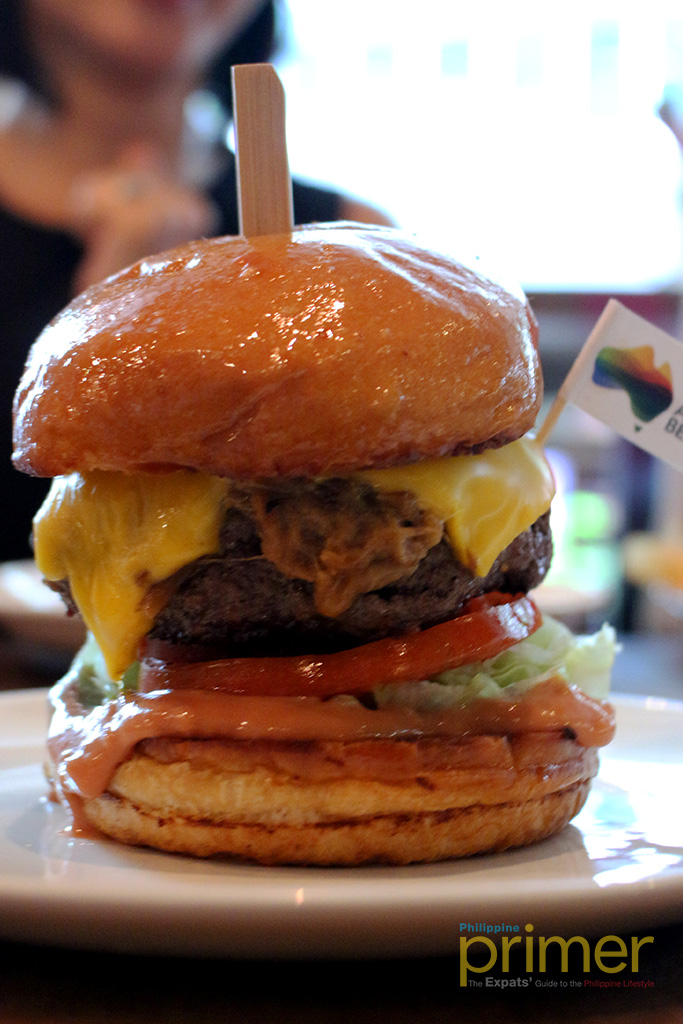 A GOOD START TO YOUR DAY. You'll feel stuffed after eating Wildflour's Cali burger.
Imagine eating a one-third pound Australian grass-fed beef patty with cheddar cheese, caramelized onions, ham, bacon, tomato, and lettuce for breakfast. The patty was tender, juicy, and seasoned to perfection. No wonder it's their best-selling dish.
The California Burger is available in all Wildflour Café + Bakery branches: Makati (Rada St. and Leviste St.), The Podium in Mandaluyong City, Net Lima Bldg. in BGC, and Greenhills in Ortigas Ave., San Juan City.
Also read: Wildflour Café + Bakery in BGC
Going up against the California burger is the aptly-named Aussie Burger (Php 620 ++) from The Café at Hyatt City of Dreams:
HYATT'S AUSSIE BURGER. Easy enough to know why it's called the Aussie Burger.
If there's one word we could use to describe this burger, it's tight. That's how packed the patty was. It was still tender and very juice even though it was packed tight. It's the closest thing you can find to a breakfast burger, with a fried egg (plus points for runny yolk), bacon, beets, pineapple, lettuce, and tomato.
They normally offer buffet dining, but you can get a taste of Australian grass-fed beef from their a la carte menu until August 20.
The Café can be found at the ground floor of Hyatt City of Dreams in Paranaque City.
Related post: City of Dreams Manila
The winner: Wildflour's California Burger, but only just. It's a matter of preference at this point, and I for one prefer patties that are a bit loose (though there are exceptions). Both are winners in my heart, though.
Classic vs. 'Unconventional': SALA vs. Abuela's
We ended the day with two casual/fine dining restaurants: SALA, located along Makati Ave., and Abuela's in Legaspi Village, Makati.
These two restaurants gave us quite the treat, and helped curb whatever cravings we still had for Australian beef (even though we were already stuffed at this point of the trail). Both restaurants went separate ways, though both meals were quite satisfying.
Sala went with the lesser-used parts of the beef: the oxtail, or the tail of the cow, and the cheek. They're both delicious parts of beef, but are ever only used in the highest of high-class restaurants.
OXTAIL AND MUSHROOM RAVIOLI (Php 620). Two pieces of ravioli filled with oxtail and mushroom that's served with an onion and thyme soubise. It's topped with shaved pecorino cheese and rocket or arugula.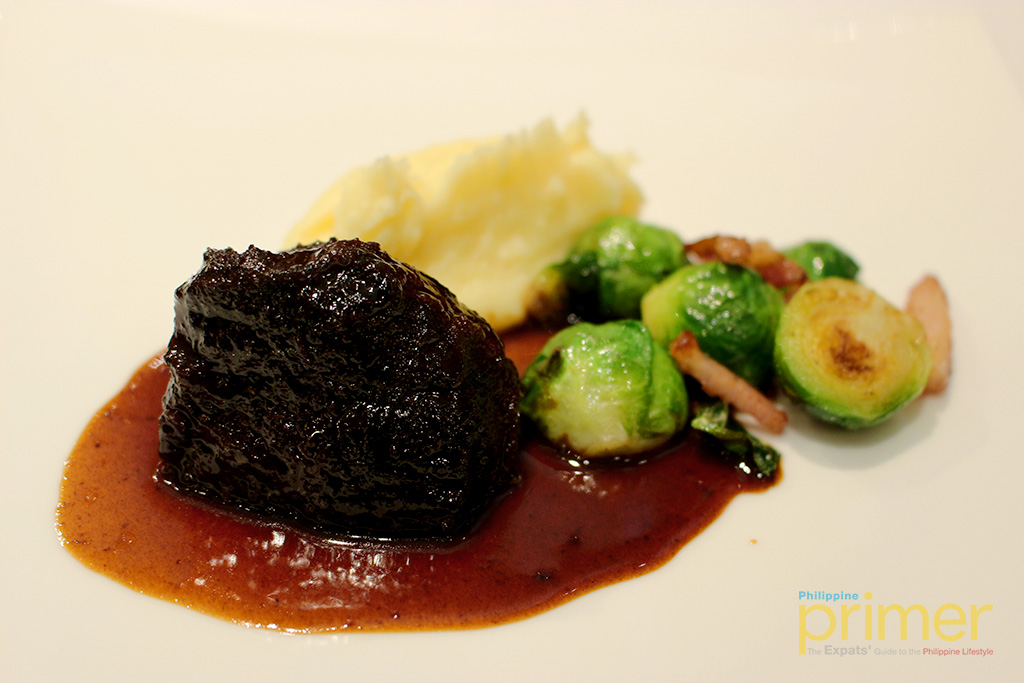 A TENDER BEEF CHEEK. Sala's slow-braised Mulwara beef cheek in Pedro Ximenez sherry with a Comté potato puree, roasted Brussels sprouts, and bacon bits. Heaven at Php 1,180.
These rarely-used parts were given the royal treatment. The oxtail melded well with the mushrooms and the soubise. They don't do large servings at Sala, but that adds to the allure of the dish: it's so good you want to get another one.
The beef cheek was so tender you won't need a knife to cut into it. Combined with the Pedro Ximenez sherry sauce, Brussels sprouts, and bacon bits, and you'll find yourself asking where it has been all your life.
You can find SALA  at LV Locsin Bldg., 6752 Ayala Ave. cor. Makati Ave., Makati City.
Also read: SALA Restaurant, Makati
Abuela's, on the other hand, gave us an elevated version of what people normally associate with beef: rib eye and tenderloin. These dishes, however, are things you won't find anywhere else (unless you count the fact that Abuela's and Prime 101 are ran by the same chef: Chef Marco Legasto):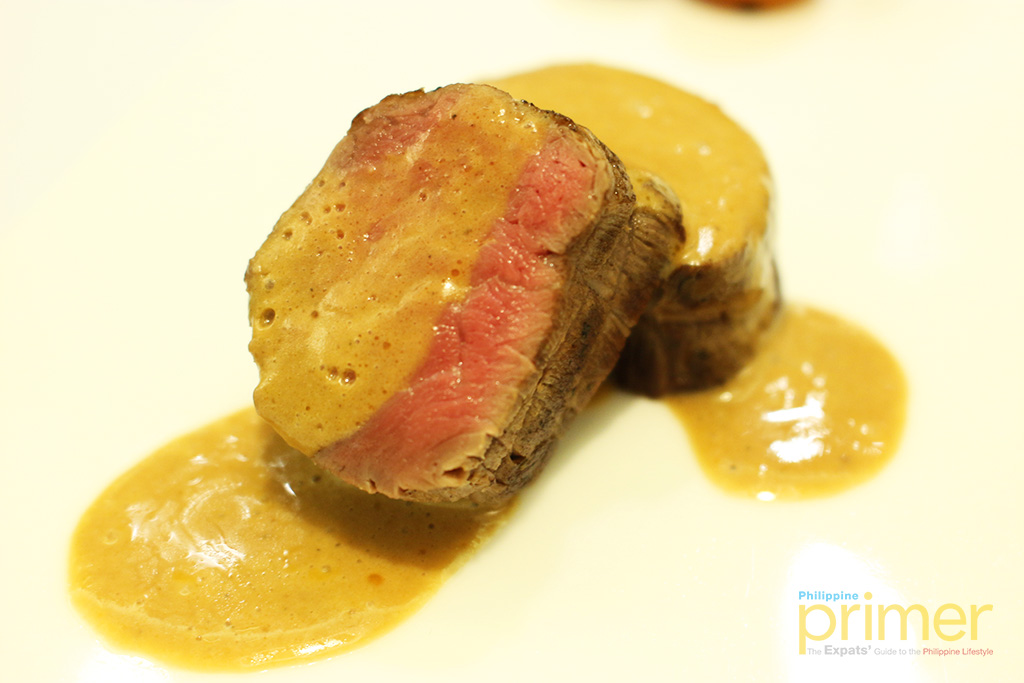 SOUS VIDE RIB EYE FILLET. Sous-vide means taking your meat, putting it in a vacuum-sealed pouch, and cooking it in a hot water bath or steam for at least an hour. It's not on the menu, but you'd better ask for it at Abuela's.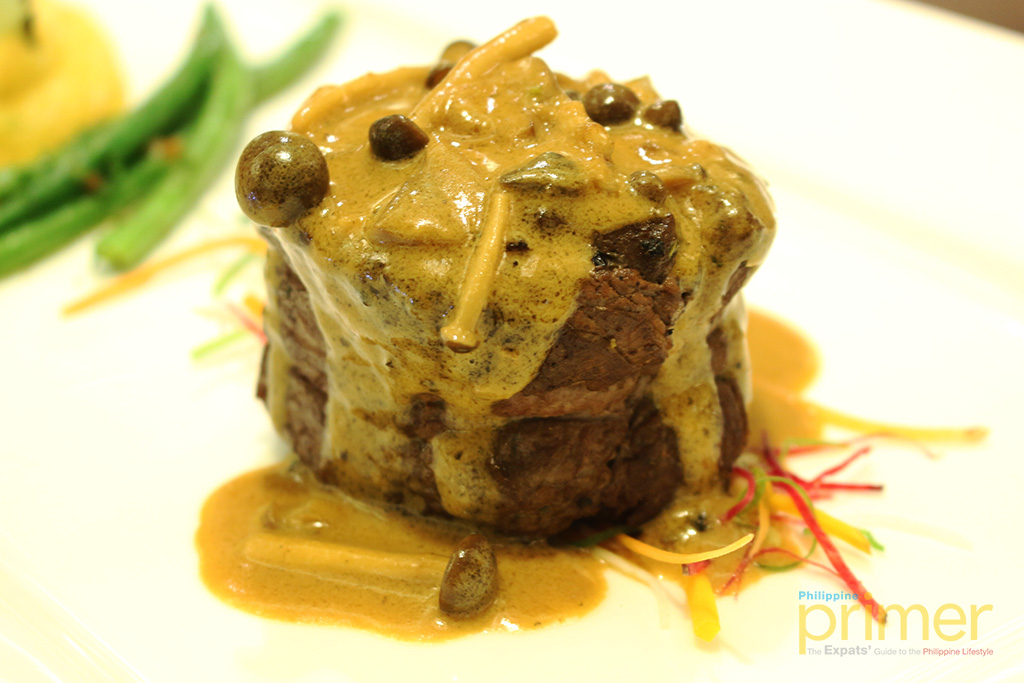 SLOW ROASTED TO PERFECTION. A slow-roast herbed Australian beef tenderloin fillet with garlic chives, mashed potato, roasted green beans, and a shimeji mushroom truffle sauce. Again, not on the menu but you can ask for it.
At the end of the day, steak cuts are what define beef, and Abuela's doesn't disappoint. They used the latest tech for their rib eye, resulting in a moist piece of rib eye fillet. Imagine this as an appetizer… no, wait. It WAS the appetizer.
The tenderloin was the star of the show at Abuela's. The truffle sauce was the perfect complement to the delicious loin, which was cooked to a perfect medium rare. Everything else on the plate just made us ask why it was the last one on the trail.
These are just four of the restaurants and hotels who will participate in this year's Australian Grass Fed Beef on the Menu. The other restaurants are: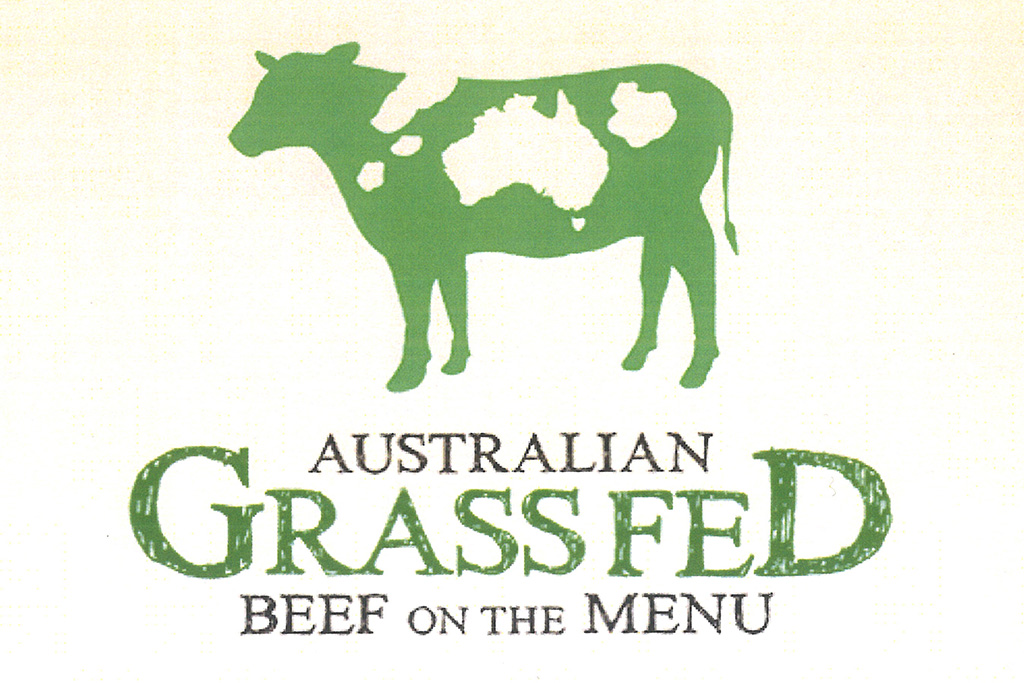 LOOK FOR THE GREEN COW. Make sure you look for this logo when you check any of the restaurants below.
Casual Dining:
Hotel restaurants:
City of Dreams' Red Ginger and Crystal Dragon
Discovery Primea's 1824, Flame, and Gilarmi Lounge
Discovery Suites' 22 Prime
New World Manila Bay's The Fireplace and The Marketplace
Raging Bull at Shagri-La at the Fort
Dusit Thani Manila's The Pantry, particularly the "Holy Cow" section
New World Makati's Café 1228
Other restaurants:
Outside of Manila? Then head for Cebu's Anzani, Anzani Prime, and Circa 1900 or the Bondi & Burke in Davao City for a taste of Australian Grass Fed Beef on the Menu.
Details:
What: Australian Grass Fed Beef on the Menu
When: June 20 – August 20, 2017
Where: Various restaurants in Manila, Cebu, and Davao
---
Written by: Andronico Del Rosario