WINE FIESTA 2015
Bringing the world's finest wines to the Philippines
Wine connoisseurs and enthusiasts are up for an exciting event as The Straits Wine Company prepares to stage Wine Fiesta 2015 in Manila on October 27 at the Axon @ Green Sun, Makati City.
Now on its fifth year, Wine Fiesta brings together fifteen expert wine makers from all over the world and 21 wineries represented with their brands being exclusively carried in the Philippines by Straits Wine Philippines, the company behind the country's premiere wine festival.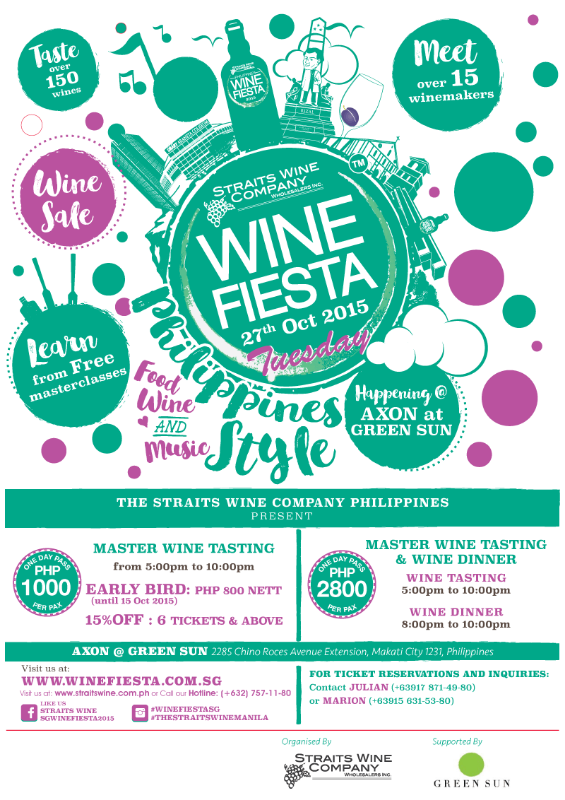 "Wine Fiesta is a celebration for sharing wine and food with an audience that is as equally passionate for wines. The idea behind the event is to make wines affordable and accessible to everyone," says Julian Gagliardi, General Manager of Straits Wine Philippines.  
Mr. Julian Gagliardi, managing director of Straits Wine Philippines

He continues, "Wine Fiesta is a regional event which started in Singapore, then the Philippines, then finally ending in Malaysia. For this event, we are expecting 500 attendees from around the Philippines and some from the region to drop by and sample our wines during that day. At Wine Fiesta, we want people to have fun."
Tickets to the "Wine Tasting" are selling for PHP1,000 and give holders access to more than 100 wines at the event from 5PM to 10PM. For those who want to learn more on the perfect pairings for food and wine, there is a "Wine Dinner" from 8PM to 10PM, tickets of which retail for PHP2,800.
Aside from wine tasting, Straits Wine will also bring in different wine experts as speakers, including Gerald Savigny, a wine expert, educator and a certified Wine & Spirit Education Trust (WSET) Global program provider. Savigny will conduct five master classes on that date for groups of 30 people.
For inquiries or tickets, call Marion at (0915) 631-5380. For more information, go to https://www.facebook.com/straits.wine.5?fref=ts
–
Article by Melanie M. Suzon