OH NO! Baguio Limits Leisure Travelers due to COVID-19 scare; Here's What You Need to Know
OH NO! Baguio Limits Leisure Travelers due to COVID-19 scare; Here's What You Need to Know
On January 2, the city government of Baguio temporarily shut down all its borders as the quick response travel permits (QTP) for tourists or leisure travelers as they prepared new guidelines for non-essential travels.
Yesterday, Baguio City Mayor Benjamin Magalog released an executive order implementing heightened restrictions to the current 𝐀𝐥𝐞𝐫𝐭 𝐋𝐞𝐯𝐞𝐥 𝟐 𝐠𝐮𝐢𝐝𝐞𝐥𝐢𝐧𝐞𝐬 in Baguio City from January 6 to 18, 2022.
"Having dealt with the earlier Delta variant and identifying our appropriate response actions, this is a crucial period to strengthen infection prevention and control measures so that our health care system and front-liners, as well as those industries that are sure to be affected, can prepare for this new variant's anticipated impact," Magalong said.
Furthermore, the Department of Health (DOH) confirmed that are three local cases of the COVID-19 Omicron variant in the area last December 31, 2021.
Also read: MMDA: NCR Mayors to impose 'enhanced restrictions' for unvaxxed individuals
Baguio/IMAGE from Unsplash 
EXECUTIVE ORDER
The updated executive order requires all FULLY VACCINATED leisure and non-essential travelers arriving from areas under Alert Level 3 must comply with testing requirements as follows: 
Presentation of negative results of RT-PCR tests conducted within 72 hrs prior to arrival, or Rapid Antigen test conducted within 24 hrs prior to arrival; or
the traveler may undergo Rapid Antigen testing upon arrival at duly authorized Triage Units operation under the supervision of the City Health Services Office
Regardless of vaccination status, travel companions aged 12 to 17 must present negative results of RT-PCR test conducted 72 hrs prior to arrival, or Rapid Antigen test conducted within 24 hrs prior to arrival, or may undergo testing procedures;
Magalog also reiterated that acceptance of leisure and non-essential travels must register through visita.baguio.gov.ph  and shall be limited to a maximum of 4,000 per day while the accommodation establishments shall limit guest capacity to 70% occupancy. Travel applications that were approved prior to January 6, 2022 shall still be honored, however, the testing requirement shall apply.
It is also stated under Executive Order No. 139, 2021, unvaccinated or partially vaccinated adult travelers for leisure or non-essential purposes shall not be allowed. 
Meanwhile, essential travels for APORs shall continue to be permitted, upon presentation of complete documents as proof of authorized travel purposes. Register at hdf.baguio.gov.ph and see the required documents in the pinned post.
BAGUIO TRAVEL ADVISORY (LEISURE PURPOSES)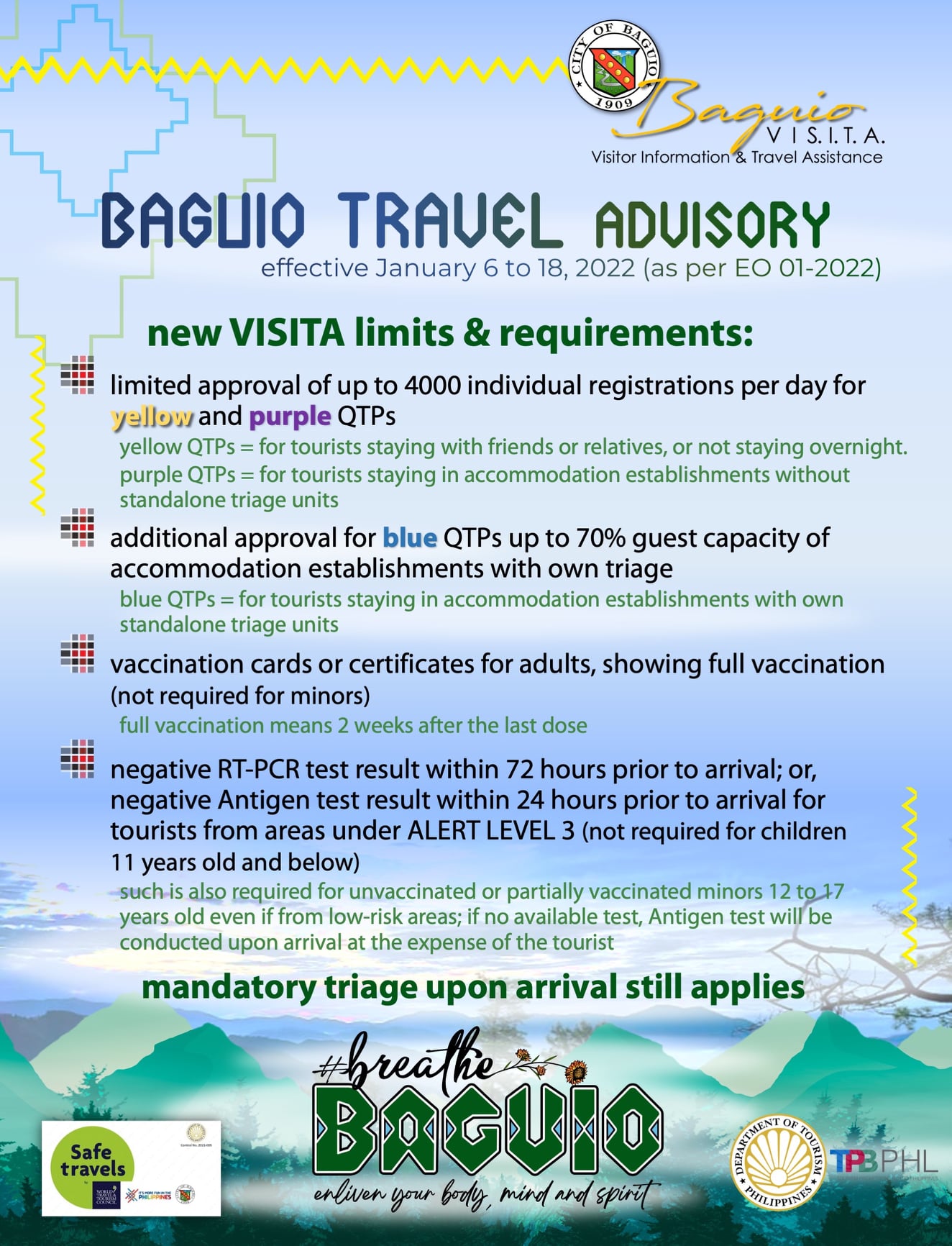 IMAGE from Baguio Tourism
Also read: Bulacan, Cavite, Rizal to be placed under Alert Level 3 from Jan 5-15
---
Source: Public Information Office – City of Baguio , PNA, Baguio Tourism, Baguio Visita 
Written by Cedie Salido