#GandaMoPinas: DOT x TikTok Launch New Campaign as Local Borders Reopen
With the easing of restrictions for leisure travel, the Department of Tourism (DOT) and video-making and sharing app TikTok have collaborated once again for a campaign that celebrates the beauty of the country's islands through #GandaMoPinas.
DOT's previous collaboration with TikTok, the #SarapMagingPinoy challenge in-app garnered over 700 video entries with over 70M video views, and its main video on Facebook has garnered over 13M views.
"The DOT is using all channels to promote our reopened tourist destinations and this collaboration with TikTok is one way of enticing people to travel locally while reiterating the importance of following the minimum health and safety protocols when traveling.", said Tourism Secretary Berna Romulo-Puyat.
IMAGE from DOT
The joint DOT and TikTok campaign will feature the beauty of the Philippines through live video sessions with nine content creators from Luzon, Visayas, and Mindanao.
The campaign will feature one content creator every day, from September 22-30. He/she will do a live TikTok session to highlight the beauty of his/her region, or province through various tourism products, such as natural landscape, tourist spots, local cuisine, activities, and local products. They should showcase why #ItsMoreFunInThePhilippines and how visitors would appreciate #GandaMoPilipinas through their province or region.
The following are the nine content creators and their schedule of Live TikTok sessions that will be streamed via their respective TikTok accounts:

IMAGE from DOT
From Luzon:
Sept. 23 – Phoennella Tabamo (@phoennellapipay)
Sept. 24 – Maika Rivera (@riveramaika)
Sept. 30 – Queenee Pearl Mercado (@queeneemercado)

IMAGE from the Department of Tourism  
From Visayas:
Sept. 25 – Bo Labra (@bo.labra)
Sept. 26 – Christine Cuenco (@christinecuenco)
Sept. 27 – Lynnell Jasper Lomosad (@chockieaviation)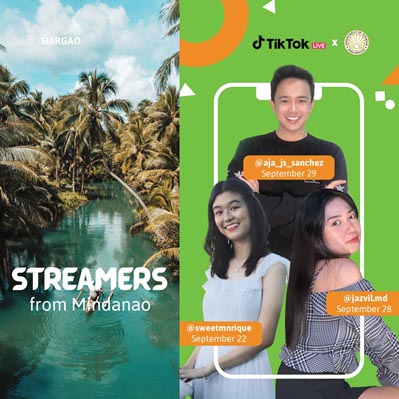 IMAGE from the Department of Tourism   
From Mindanao:
Sept. 22 – Sweet Manrique (@sweetmnrique)
Sept. 28 – Jazreel Villapaz (@jazvil.md)
Sept. 29 – JS Espejon Sanchez (@aja_js_sanchez)
The three content creators with the highest number of views during the live show will be recognized as TikTok Funfluencers—one from Luzon, Visayas, and Mindanao. Winners will be officially announced on October 4, 2021.
For more updates on the campaign, please follow the DOT's official TikTok page @TourismPhilippines and visit: https://bit.ly/3nzwqnj.
---
This is a press release from the Department of Tourism. Minor edits were made prior to publishing.