RedDoorz Launches Sans Hotel; Targets Gen Zs, Millennials
When the pandemic hit the country last year, the tourism sector was one of the most affected industries. Hotels and resorts, for example, were forced to shut down, and unfortunately, some of them were closed for good. 
However, the government and private sectors teamed up to resolve this problem brought by pandemic through aggressive vaccination programs and the glimpse of light at the end of this dark tunnel is indeed shining through.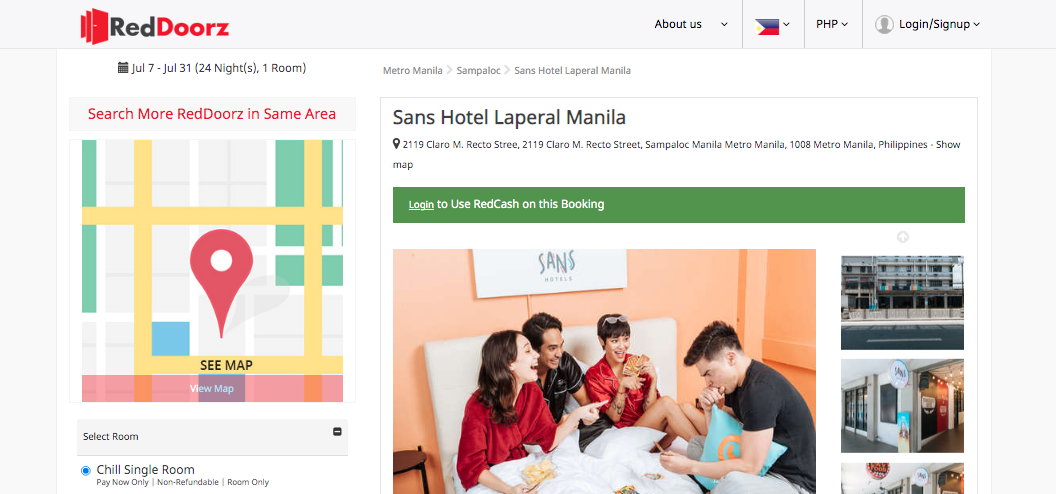 Screengrab  from RedDoorz Website
Last Month, RedDoorz, an innovative hotel chain built-in 2015, braved the storm to welcome Gen Zs and millennials at their newest hotel brand. 
The first Sans Hotel is located in Sampaloc, Manila, with more properties expected to open in Tagaytay and Cebu City soon.

IMAGE from Sans Hotel Facebook page
Economic lifestyle is the center of the new brand, which aims to provide a low-cost and budget-friendly experience to its clients.  
Moreover, it has a unique design, theme, and personality that reflects the overall aesthetic of the hotel.  
LEAP OF FAITH AND VOTE OF CONFIDENCE
IMAGE from Sans Hotel Facebook page
Though Sans Hotel is quite low-key on their opening, they got the full support of the Department of Tourism (DOT). 
Director for Tourism Standards and Regulation Virgilio Maguigad said that the launch was a "vote of confidence" for safe and fun domestic travels.

"It's a vote of confidence. When you are expecting hotels to be closing down, we have here RedDoorz opening Sans Hotels, so it's a vote of confidence for (the) future growth of the industry," Maguigad said.
Maguigad also noted the RedDoorz, especially the Sans Hotel complied with all necessary requirements before they launched. 
"The firm has definitely taken advantage of the benefits and opportunities from the DOT's accreditation requirements in order to meet new customer requirements and demands and new travel experiences. With their growing accredited Sans Hotels, we are delighted to witness broader opportunities for hotel owners to weather this pandemic," Maguigad said.
 IMAGE from Sans Hotel Facebook page
Meanwhile, Country manager Miguel Capistrano III of RedDoorz Philippines reassures everyone about their strict implementation of health and safety protocol.      
"With RedDoorz's service guarantee and the strict implementation of hygiene and sanitation practices in all our properties, our multi-brand platform offers the owners an opportunity to leverage our footprint, user bases, technology, best practices, other assets, and solid experiences of our regional team," he ended.
General Information
Address:  2119 Claro M. Recto Stree, 2119 Claro M. Recto Street, Sampaloc Manila  
Website:  www.reddoorz.com
Facebook: @sanshotelsph 
Instagram: sanshotelsph
Twitter: @reddoorzph
---
Source: Philippine News Agency 
Written by Cedie Salido
You might also like...