The Alpha Suites in Makati: Your Ultimate Staycation Destination
Located along the bustling streets of Makati City, The Alpha Suites serves as the ultimate destination for your staycation needs. It's not your typical hotel accommodation as the amenities and facilities promise a different experience that will up your relaxation.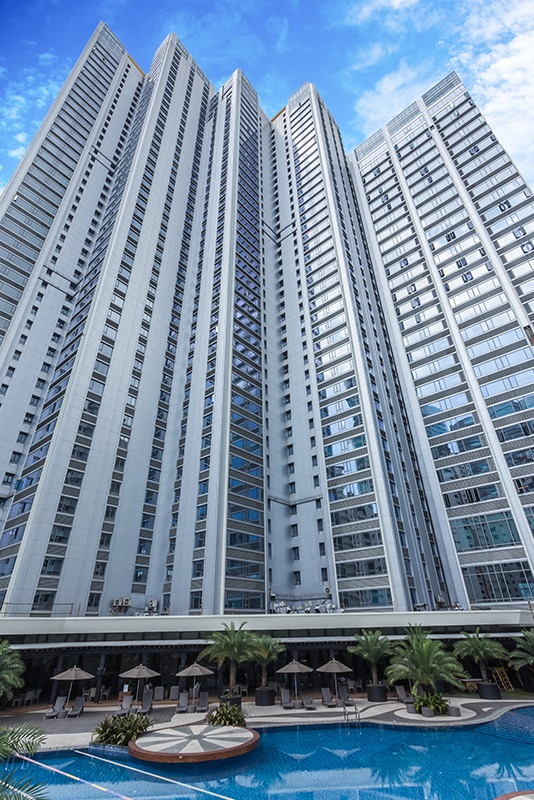 IMAGE from The Alpha Suites
Rooms
As a luxury serviced residence, The Alpha Suites has 250 spacious suites, offering 1BR, 2BR and 3BR Suites, 2BR Deluxe Suites, Penthouse, and Presidential Suites.
It's definitely not just for businessmen, as families also love staying at The Alpha Suites—not to mention that children aged 12 and below are free of charge, with a maximum of two kids per suite.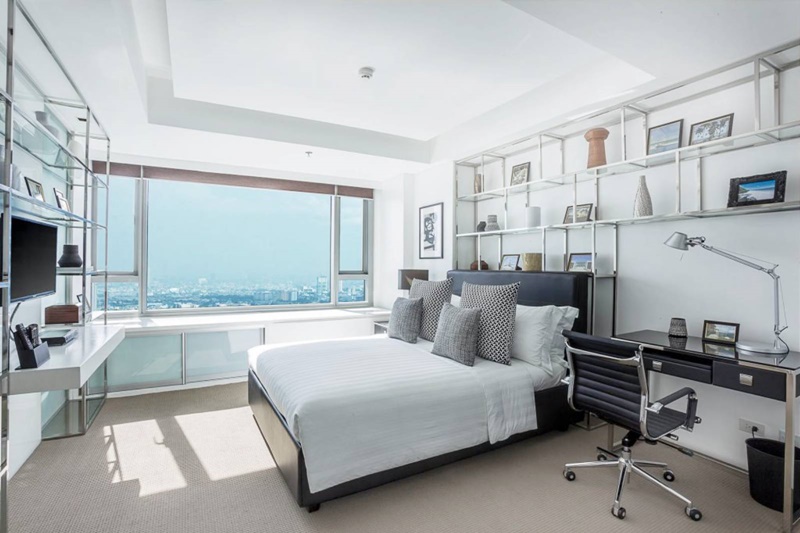 One-bedroom Suite / IMAGE from The Alpha Suites
All rooms are fully-furnished, complete with full-size kitchens featuring top-of-the-line appliances, electric window shades, television lifts, dishwasher, washer and dryer, and of course, high-speed internet connection. Wine chillers and minibars are also available for the 2BR Deluxe and 3BR Suites.
The Philippe Starck-designed Duravit bathroom fixtures will provide you with a comfortable bath, so be sure to prepare your shower playlist to sing along at the top of your lungs.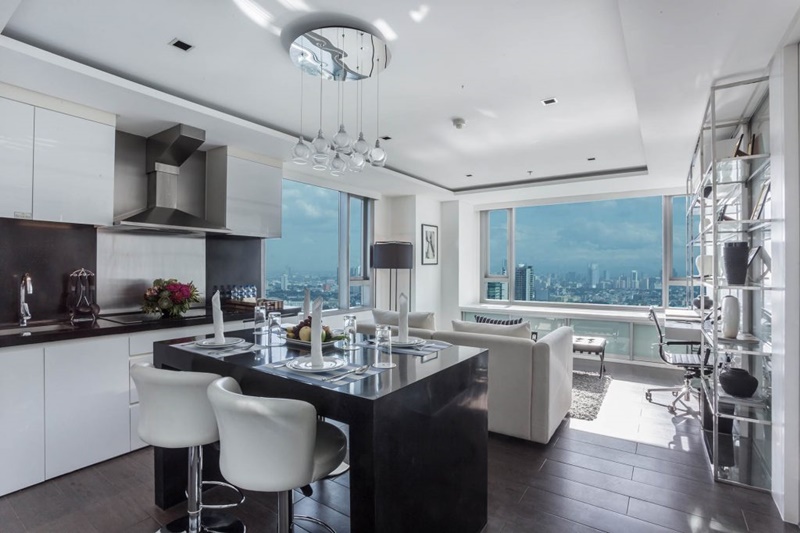 One-bedroom Suite kitchen and living room / IMAGE from The Alpha Suites
Surely, the modern interior may be calling you to open your laptop and work all day but take this opportunity to relax on the soft, comfortable bed.
The best part of it is that The Alpha Suites' rooms have a scenic view of the city, promising a moment to unwind amidst the busy city. Breakfast is also served for free to greet you with a fresh start to your day.
Amenities/Facilities
Guests of the Alpha Suites have direct access to The City Club—a three-hectare lifestyle hub to satisfy your leisure and business needs.
Among the amenities to expect are the lagoon-style swimming pool and children's pool, outdoor and indoor children's playground, business center and meeting rooms, private dining room, Tabacalera cigar divan, spa, private screening room, a 76-seat auditorium, and library.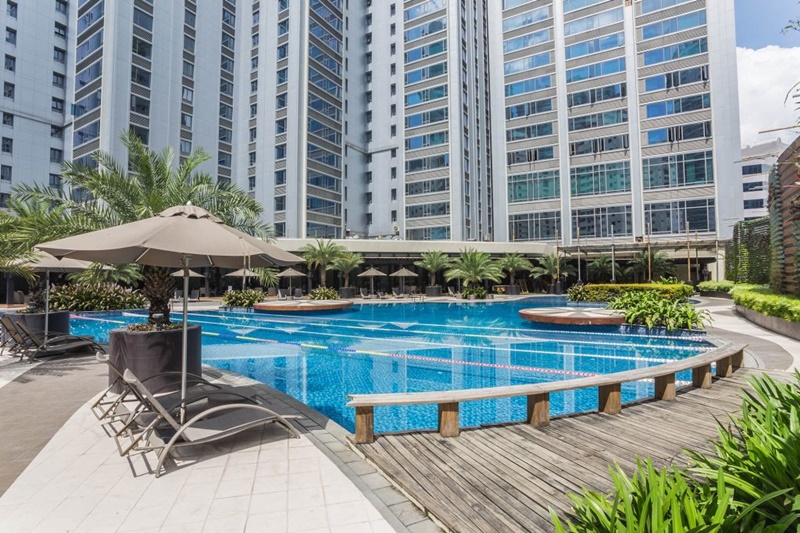 The Alpha Suite's lagoon-style swimming pool / IMAGE from The Alpha Suites
If you want to relax a bit by playing sports and other outdoor activities, check out their martial arts arena and boxing ring, 500sqm gym, pilates and yoga studios and fitness classes, indoor tennis, badminton, basketball, and squash courts, and high-definition virtual golf simulator.
There's also live entertainment happening at the Club Lounge every night, so you'll never get bored!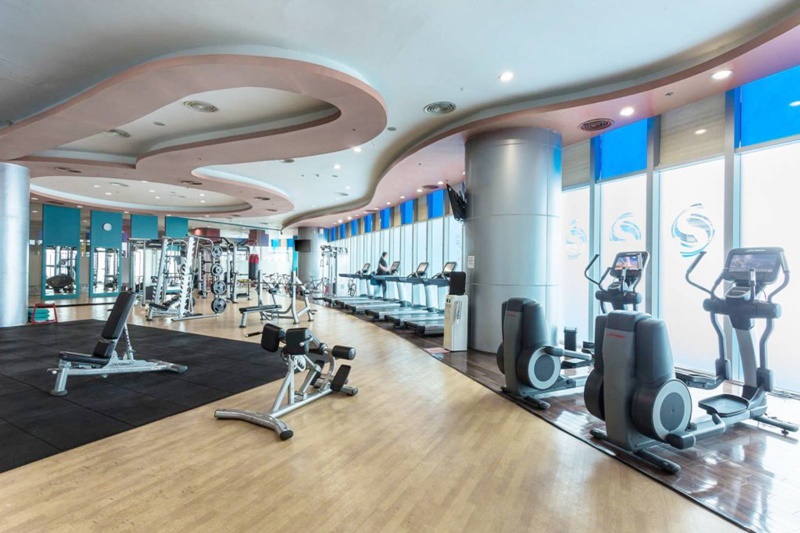 The Alpha Suite's 500 sqm gym / IMAGE from The Alpha Suites
The Aegle Wellness Center, on the other hand, is your ultimate wellness retreat within the metro. It's a great switch up if you want to skip the whole boring hospital stay—expect a world-class wellness package to maximize your staycation experience.
To top it all off, have a drink of Top of the Alpha by Louie Y's fine wines and handcrafted cocktails!
Dining
There are nine world-class restaurants at the adjoining City Club, namely
Tang Palace
,
Sakura
(Japanese), 
Toscana Ristorante
,
Mark's Prime Rib, Salathip
(Thai),
Balesin Islander
(Filipino),
Mykonos
(Greek),
A Taste of France
, and
Costa del Sol
(Spanish) restaurants.
Pretty much every amazing cuisine all over the world is available in the City Club, so you won't have to roam around looking for your cravings.
These restaurants are known for their gourmet, mouthwatering meals, leaving you wanting for more. You can also spot these restaurants if you ever go to the Balesin Island Club.
Aside from the private dining room, you also have other options as there's a shopping center located in the same building.
Special Perks
Guests of the Alpha Suites are entitled to special charter rates for Alphaland Aviation aircraft and a special discount at Aegle Wellness Center.
You may also book a stay at the exclusive members-only Balesin Island Club and the Alphaland Baguio Mountain Lounges, both of which are sister companies of The Alpha Suites.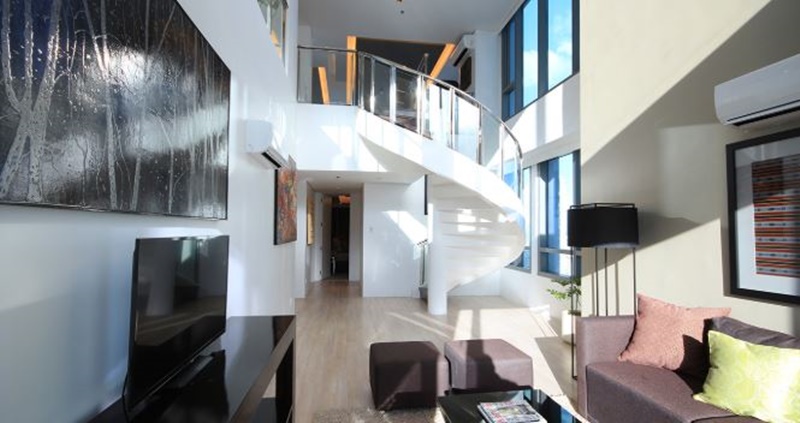 Presidential Suite / IMAGE from The Alpha Suites
No need to worry if you have a car, too, as it has ample parking with up to 1,000 spaces. Plus, it offers personalized airport pickup and drop-off service for a hassle-free trip.
For a luxurious, comfortable stay, The Alpha Suites surely won't disappoint you. After all, it's hard not to fall in love with its world-class amenities and facilities!
How to get here
• The Alpha Suites is located just along Ayala Avenue, which is relatively near Makati City landmarks such as Makati Medical Center, RCBC Plaza, PBCOM Tower, Ayala Triangle Gardens, The Peninsula Manila Hotel, Makati Shangri-La Hotel, and shopping centers like SM Ayala, Greenbelt, Landmark, and Glorietta.
Details
Address: 7232 Ayala Avenue Ext., 1209 Makati City
Contact number: 02-737-0088
Website: thealphasuites.com
Facebook: facebook.com/TheAlphaSuites
Instagram: instagram.com/thealphasuites
---
This also appeared in Philippine Primer Japanese magazine February 2020 issue and English magazine March 2020 issue.
Images grabbed from The Alpha Suites

You might also like...