Dos Palmas Island Resort and Spa: The Secluded Sanctuary in Puerto Princesa
Other than taking the Honda Bay island hopping tour, why not maximize your Palawan travel by staying on an island? Come to the Dos Palmas Island Resort and Spa for a luxurious island stay, a mere 30-minute boat ride from the main city.
We're breezing through -ber months, and before we know it, it's Christmas season once again. Why not give the gift of…
Situated along the Honda Bay, the resort offers a private outrigger to take you through the breathtaking Honda Bay tour. As an island resort, you can also stay at the property and snorkel, kayak, and dive to discover the breathtaking marine life of Palawan!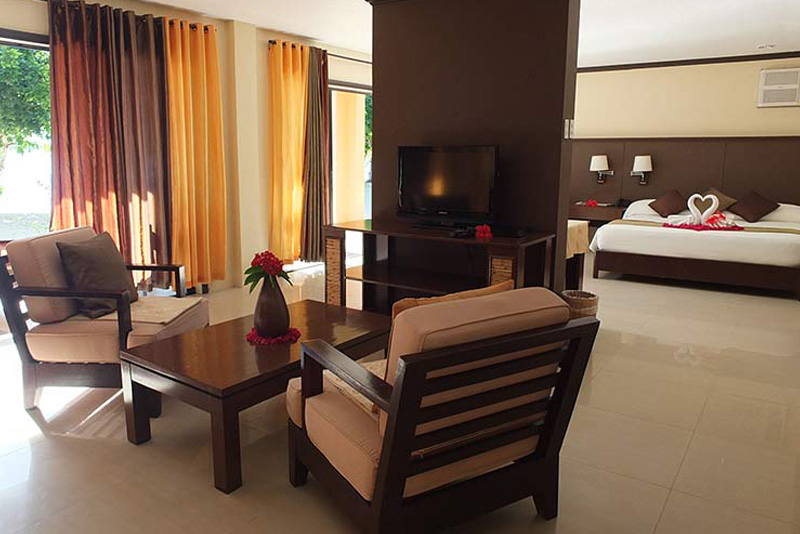 Exceutive Villa is only available by reservation through calling their office/IMAGE grabbed from Dos Palmas website 
Dos Palmas is a slice of paradise. In here, you'll definitely enjoy the privacy of the sun loungers and hammocks by the beach….http://bit.ly/DosPalmasIslandResort
Experience a warm Filipino hospitality and service in this all-inclusive Palawan resort. Explore their own Dos Palmas Eco Zone where the resort has set up their own environmental programs and facilities such as a sewage treatment plant, herb gardens, greenhouse, rain collection ponds, and desalination plant.
Organize your Palawan trip early and get rewarded with a special rate that is exclusively available at…
In this secure and private island resort, wake up to the sound of the waves crashing on the beach. Each spacious villas compliment the island with its own private terrace or veranda, wooden furniture, aircon, and hot and cold showers.
You may either take a dip in their infinity pool, relax at the spa or be active in their basketball and tennis courts.
Goal for this weekend…unwind and recharge at the beach. See you at Dos Palmas!🌴🌴Book online at www.dospalmas.com.ph…
As an ecological haven, you will be sharing your stay with 300 species of fish, corals, mollusks, and crustaceans as well as at least 95 species of birds! Dos Palmas is also a nesting site and feeding ground for three species of sea turtles!
How to get here
•  Dos Palmas Island Resort & Spa is located in Arrecife Island. The hotel offers island transfer for confirmed reservations.
Details
Address: Arreceffi Island Resort Honda Bay, Honda Bay, Puerto Princesa, Palawan
Contact numbers: (048) 434-3118 / 0917-590-4442
Check-In: 2 p.m. / Check-Out: 12 p.m.
Manila Sales Office: 0917-500-0154
Emails: info@dospalmas.com.ph
Facebook: facebook.com/DosPalmasResort
Website: dospalmas.com.ph
---
This first appeared in Philippine Primer's Japanese and English Magazine February 2020 issue.
Written by Heloise Diamante
You might also like...