UP Academic Oval: The Heart of UP Diliman
The University of the Philippines was established in Manila through Act  No. 1870 in June 1908. It was only in February 1949 when the premier state university established another unit on the 493-hectare land in Diliman, Quezon City.
UP Diliman is known as a sight for many historical events like the Diliman Commune in 1971. At the same time, it is popular for its spots, including the Academic Oval.
Canopied by over a hundred old, sturdy Acacia trees, the 2.2 km elliptical highway is the site of many demonstrations and school activities, like the Lantern Parade held in December. It welcomes joggers, bikers, and visitors and serves as a witness to the daily lives of the students of the university.
The oval is divided into three lanes—with the outermost part dedicated to motorists and the innermost for joggers and bikers. Additionally, the highway encloses more known spots like the UP Lagoon, Amphitheater, Main Library, and Sunken Garden, which is the venue of the annual UP Fair. 
Graduating students from all the colleges in UP Diliman gather in the Amphitheater for the University Graduation  
Surrounding the Academic Oval are academic and administrative buildings like the Quezon Hall, Palma Hall, Malcolm Hall, Melchor Hall, University Theater, and Carillion, among others.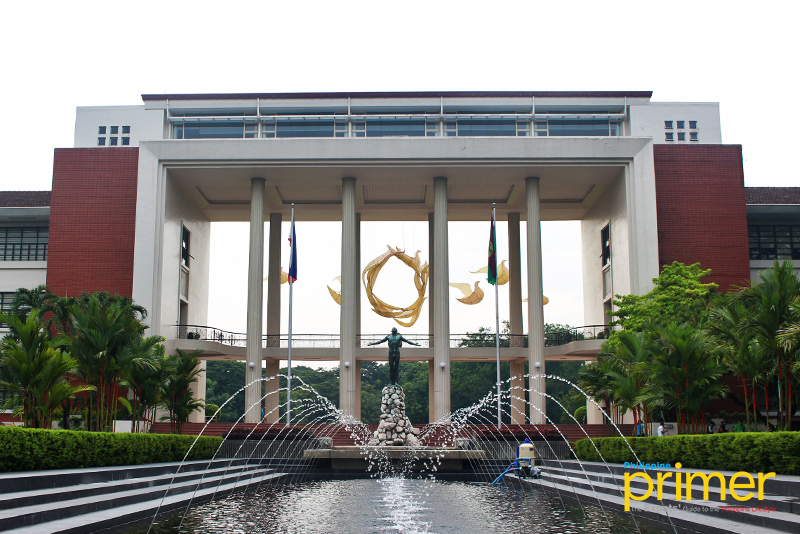 The building behind the Oblation is Quezon Hall, which serves as the office of the administrative officers of the university
Jeepneys, including the famous UP Ikot and UP Toki, used to drive around the oval before they were re-routed just recently.
Address: University of the Philippines Diliman, Quezon City
How to get here: 
From EDSA, ride a bus going to SM Fairview. Alight at Philcoa and ride a jeepney going to UP Campus. You may also take buses going to UE Letre/Malanday and get off at Eton Centris. From there, jeepneys going to UP Campus are available.
For those riding the MRT can either get off at Quezon Avenue or North Avenue. Jeepneys going to UP Campus can be found from both stations.
You might also like...