Bangaan Rice Terraces in Banaue: A Jar-Like Cultural Heritage For Trekking Beginners
If you're a beginner in trekking and want to start off with an easy trail, Bangaan Rice Terraces should be at the top of your 'Banaue Trekking' list.
Bangaan Rice Terraces is one of the 5 rice terraces included in the UNESCO World Heritage Site in 1995, alongside Batad Rice Terraces, Hungduan Rice Terraces, Mayoyao Rice Terraces, and Nagacadan Rice Terraces.
It is also labeled as a Living Cultural Landscape as the village still retains a few of the traditional Ifugao houses called bale (ba-leh).
Bangaan is approximately 2 kilometers farther from the junction road going to Batad. While on the road, you will see a panoramic view of Bangaan's green terraces, which is a perfect spot for snapping a wide shot.
If you look from a certain angle, you will notice that the amphitheater-like terraces surrounding the small village actually looks like a 'banga' or a jar, from which its name was derived from.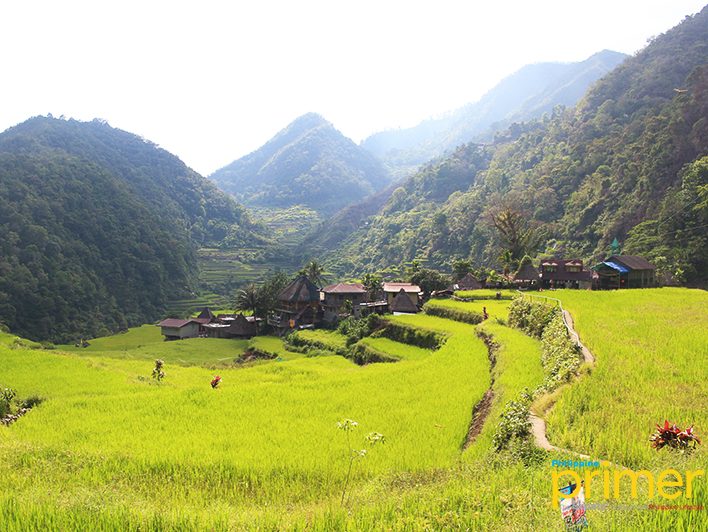 Compared to other rice terraces, Bangaan is much smaller with only 900-meter elevation, making it easier to trek for about 20 to 30 minutes. This is a recommended alternative spot for travelers who can't make the 2-hour trek in Batad Rice Terraces and Tapiya Falls.
Upon reaching the village, you will be welcomed by souvenir stalls where locals sell necklaces, carved wood items, weaved baskets, and many more. 
Souvenirs such as wood carvings, knives, and basket can be bought here
Locals will also invite you to try some activities like the 'mumbayu' or the traditional rice pounding. They will even let you wear the native Ifugao attire called Torke (tor-ke).
   You can try wearing the traditional attire for free
Tip: the best time to visit Bangaan Rice Terraces is during the summer season, preferably in the months of March to May so you can catch the green fields of the terraces.
Details
Address: Bissang, Tam-an, Banaue, Ifugao
Environmental fee: None
---
Words and photos by Deneca Ordinanza
You might also like...