VIGAN TRAVEL: An Interactive Wildlife Adventure at Baluarte Resort and Mini Zoo
One attraction that should make its cut to your Vigan travel list is this safari adventure resort that's just 10 minutes away from Calle Crisologo.
Baluarte Resort and Mini Zoo is a must-visit spot in the province due to the exciting activities that people of all ages will surely enjoy.
Baluarte Zoo, an animal sanctuary in Vigan for an interactive wildlife experience
This hundred-hectare zoological park and resort complex is owned by the former Ilocos governor Luis "Chavit" Singson.
Dubbed as the Home of The Big Cats in Vigan, they take pride in their 8 Bengal Tigers, 6 White Lions, 2 Leopards, among other kinds of animals, even those that are endemic to the Philippines.
Animals like ostrich, spotted deer, and donkeys roam freely in an open area where visitors can interact with them closely. There are also cages housing other animals like camels, zebras, and reptiles.
From left to right clockwise: Camel, Donkey, Spotted Deer, Ostrich
The main attractions of Baluarte Zoo, of course, are the white lions, tigers, and leopards.
Tourists are allowed to get close to them and have a memorable moment captured in a photo. There's no need to worry about getting bitten because these big cats are tamed by animal caretakers.
Live animal shows for tigers, lions, and reptiles are also scheduled four times daily.
King, one of the white lion pets in Baluarte zoo
Aside from the animals, another attraction inside Baluarte Zoo is the Safari Gallery, which features a wide display of Singson's collection and memorabilia of his hobby as a hunter.
You'll see a display of preserved wild animals Singson got from his hunting activities in foreign countries. If you are not a fan of animal hunting, you may choose not to enter the gallery.
The Safari Gallery is an exhibit of Singson's hunting memento of preserved wild animals and paintings
By the end of your tour, strike a pose at the Baluarte signage while being surrounded by the towering dinosaur figures.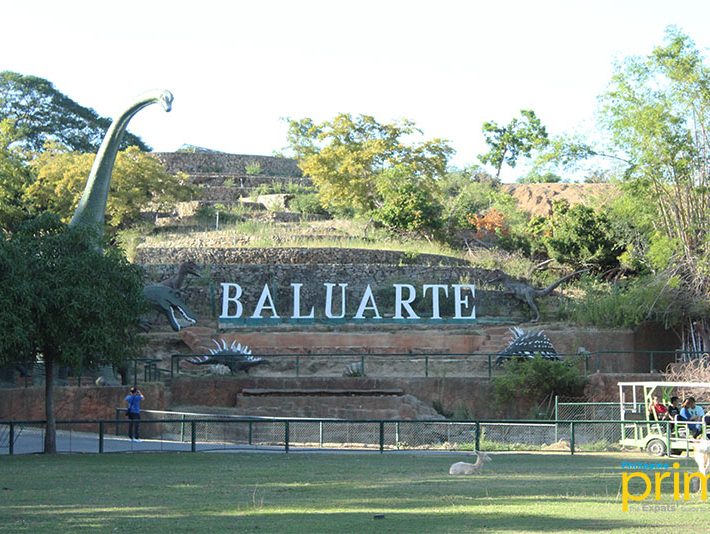 There is no entrance fee to wander at this amazing animal sanctuary. You can even have a family picnic on the green landscape or dine at Baluarte's in-house cafeteria.
For those who want to tour around the zoo, a guided tour via electronic cab worth Php 50 is available.
How to get here
From Calle Crisologo, head south and turn left at Rivero Street, then make a right turn onto Quirino Avenue. Drive straight until you reach the arc of Barangay Salindec at your right. Enter Barangay Salindec and turn right. You'll see a small welcome sign to Baluarte Zoo.
General Information
Address: Quirino Boulevard, Tamag, Vigan City, Ilocos Sur
Business hours: 7 a.m. to 6 p.m.
Contact information: (077) 722-7186
Admission: Free, but there is a Php 50 fee for the e-cab tour around the zoo.
---
A version of this appeared in Philippine Primer's Japanese (Vol. 104) and English (Vol. 11) magazines.
Words and photos by Deneca Ordinanza