Cutler Sanshu in Gifu, Japan: A Trip to the World of Samurai Swords
Growing up, I've seen a number of samurai movies enough for me to have an idea of what Japanese warriors are, what they do, and how they look like. Samurai-themed movies showed me a glimpse of traditional Japanese culture through the thrilling action-packed scenes I watched.
As a kid, I enjoyed watching bloody swordfights, revenge-seeking warriors, and historical settings that made me feel like I was part of the narrative. You can only imagine my excitement when we arrived at Cutler Sanshu in Gifu, Japan, where we got to see, experience, and shop as we took a sharp turn to the world of Samurai swords.
Cutler Sansyu staff and the swordsman welcoming the guests
Seki, known as the Sword Capital of Japan, is a must-see attraction if you're looking for a place that will ignite your inner legendary warrior. This place is known for producing Japanese swords (katana) that date back from 800 years worth of tradition.
Look at that bamboo pole fly mid-air!
Here, you can wear a kimono and pose a la Samurai!
Seeing these swords in person that I only got to see in samurai films was a surreal moment. I got to see how extremely sharp the single-edged swords were. What made the trip to Cutler Sanshu exciting was that we got to see a live demonstration of Iaigiri, a sword-drawing performance that left us in awe as a Japanese swordsman performed iaigiri, an act rarely seen in Japan today.
The swordsman skillfully slashed sturdy bamboo poles in front of the audience. When I was watching it live, the experienced swordsman cut through the poles effortlessly. But when I looked closer, it seemed very heavy. It was quite long and it was encased in a firm scabbard hanging from a belt wrapped around the swordsman's body for security.
It was true when the guide said that these katana were unbreakable and unbendable as it swished through the air with the swordsman's swing. The samurai very delicately executed the art of iaigiri with precision.
Samurais know the right stance to take during a battle
Apart from the iaigiri, Cutler Sanshu offers more. They have a souvenir shop where they sell a wide selection of cutleries such as knives, swords, and other items manufactured in Seki City itself. Seki manufacturers made use of their blade-making expertise to create modern items that can be used in daily lives, as katana then later became a historical symbol as the usage of swords were prohibited.
At present, Seki City produces high-quality modern blades to adapt to the present, preserving their blade-making expertise.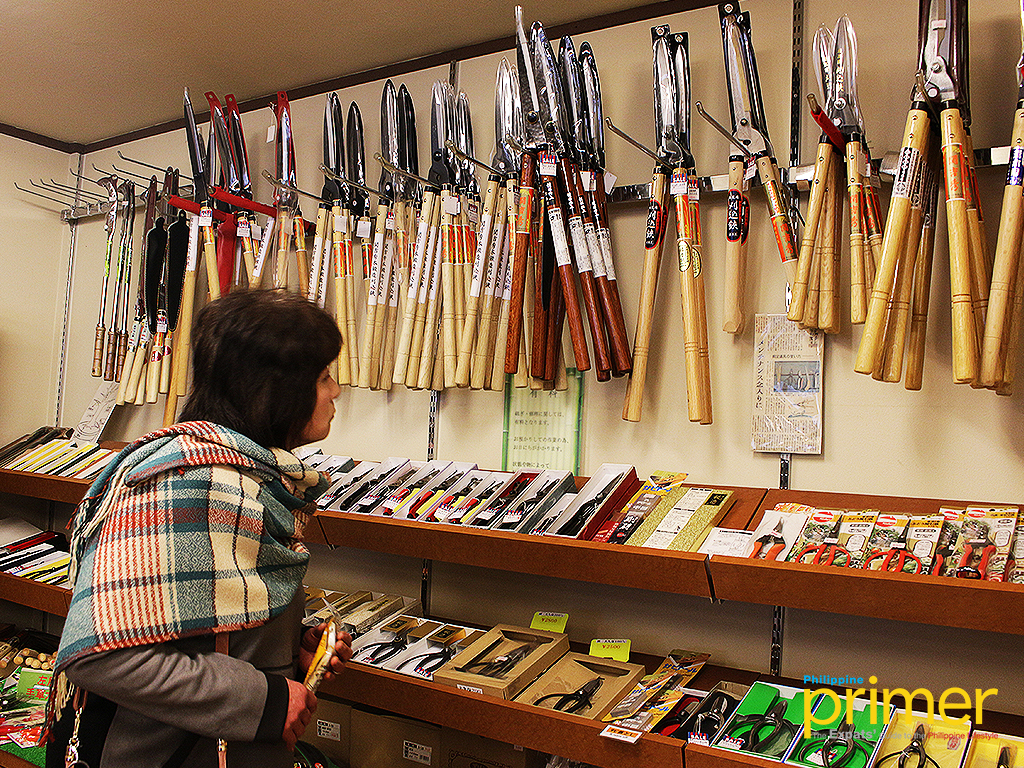 Various cutleries are available here
Last December, Cutler Sanshu opened up a new activity place where kids and adults can experience crafting mini scissors. It's a fun activity as Japanese experts teach guests how to make their own scissors carefully—something you can only experience in Seki City that takes about 30 minutes for only ¥500.
Place a reservation now to embark on a trip to the world of Samurai swords at Cutler Sanshu!
DETAILS
Address: 950-1 Oze, Seki City, Gifu, Japan
TEL: 0575-28-5147
Operating Hours: 8:30 am to 5 pm daily
Person in charge: Kazuhiro Yoshida
Website: http://www.hamonoyasan.com
How to get here: By car, it takes about 1 hour and 30 minutes from the Chubu Central International Airport. It is a 45-minute drive from Nagoya City.
---
Written by Jastine Valeriano