Philippines' Oldest Towns Near Manila for a Weekend Heritage Tour
The Philippines is no doubt rich in history. The oldest towns can take you farther back in time and give much more insights on the country's beginnings. If you're in for a ride on the time machine called bus (or your own car!), check out this list of some of the oldest towns in the Philippines that you can easily visit over the weekend if you are traveling from Manila.
Taal, Batangas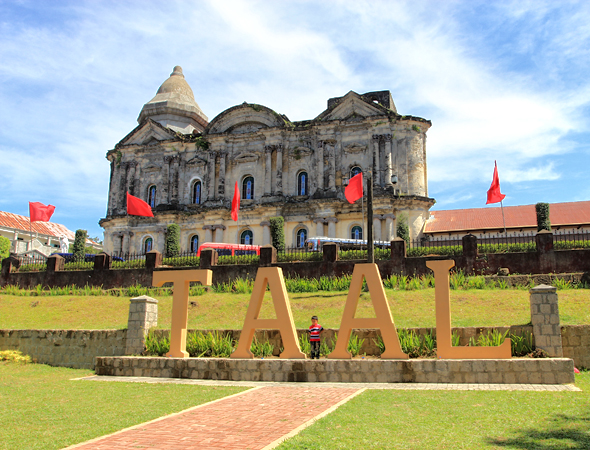 St. Martin de Tours Basilica in Taal, Batangas. /IMAGE Taal.ph website
Only about a three-hour drive from Manila, the town center of Taal is not only known for the Taal Volcano and Lake. The town has been declared a National Historical Landmark by the National Historical Commission of the Philippines (NHCP). This Spanish colonial town is home to St. Martin de Tours Basilica, which is the largest Catholic church in Asia and one of the oldest in the Philippines. You can find a lot of ancestral and stone houses, which would be a perfect backdrop for dramatic photos.
Pila, Laguna
Pila Museum in Pila, Laguna. /IMAGE Benjie Layug
Less than three hours from Manila, Pila is another National Historical Landmark that has been able to preserve its colonial homes even through the World War II. Its history can even be traced as far back as the Tang Dynasty. When you go here, you can still find many of its historical gems intact. Just walking around the town center can take you back in time. Be sure to drop by Pila Museum, which is just within walking distance of the town plaza.
Sariaya, Quezon
Gala-Rodriguez Ancestral House in Sariaya, Quezon. /IMAGE Sariaya Quezon Facebook page
Sariaya is another town south of Manila that is only about three hours away and is near the mystical Mount Banahaw. It is home to three stunning heritage mansions, namely, Natalio Enriquez House, Rodriguez House, and Gala-Rodriguez House, which were built between the 1920s and 1930s.
Kawit, Cavite
Emilio Aguinaldo Shrine in Kawit, Cavite. /IMAGE Museo ni Emilio Aguinaldo Facebook page
Just less than two hours from Manila, the city of Kawit houses three major heritage sites. The Emilio Aguinaldo Shrine was where the historic declaration of Philippine independence was held. The Baldomero Aguinaldo shrine was built by and named after the cousin of the first president of the Philippine republic. Lastly, Kawit Church, also called the Church of St. Mary Magdalene, is considered as one of the country's oldest churches.
Malolos, Bulacan
Casa Real Shrine in Malolos, Bulacan. /IMAGE Museum of Philippine Political History-Casa Real Shrine Facebook page
Before becoming the capital city of Bulacan, Malolos first became the capital of the Philippines. But that title was short-lived. Despite that, Malolos still became a very significant town in history, where many revolutions took place. Many of the historic houses found in Malolos once served as offices of the revolutionary government. The town center is also a National Historical Landmark.
San Fernando, Pampanga
Calesas in San Fernando. /IMAGE itravelmo
Besides being a venue for the famous Giant Lantern Festival, San Fernando is also home to many heritage houses. It is where you can find San Fernando Train Station, which was the final stop of the infamous death march from Bataan. It's also amazing to find that the city still abounds with calesas (horse-drawn carriages) used as public transportation.
---
Written by: Rizelle "Rei" Leaño
Images grabbed from: Taal.ph website, Benjie Layug, Sariaya Quezon Facebook page, Museo ni Emilio Aguinaldo Facebook page, Museum of Philippine Political History-Casa Real Shrine Facebook page, itravelmo