The Blood Compact Shrine in Bohol: An Immortal Piece of Philippine History
Updated as of February 10, 2021
Filipinos are known to be hospitable people, welcoming visitors even to the expense of their own comfort. However, this Filipino characteristic should never be mistaken for weakness, for while Filipinos welcome all and sundry, their trust is still earned the hard way.
This is proven when Datu Sikatuna, a native chief of the Island of Bohol, preferred the act of Blood Compact or Sandugo instead of signing an agreement with General Miguel Lopez de Legaspi upon the general's expedition from Navidad, Mexico reaching Bohol, Cebu in 1565.

Learn about the historic blood compact by visiting this shrine.
The Sandugo or blood compact is an act of trust, confidence, and friendly relations. This is the traditional equivalent of what we know now as "diplomatic relations" and is done by drawing a small cut in the arm of two opposing entities with the blood placed in cups with wine.
This mixture is then equally divided between the two and drank to a finish in front of their subordinates. It is seen as the first international treaty of friendship between Filipinos and Spaniards, which would later set up the country as a colony of Spain.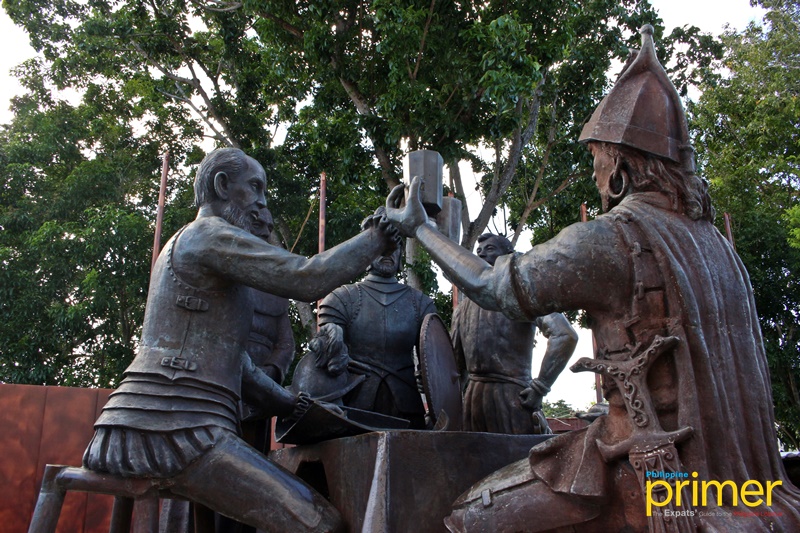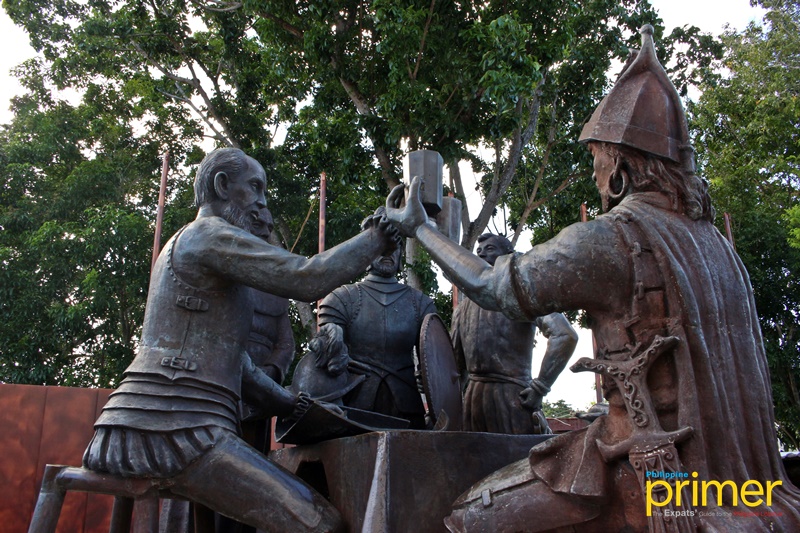 Raise your glasses up for years of diplomatic relations.
This historical moment is immortalized in bronze sculpture by Boholano National Artist, the late Napoleon V. Abueva. Now, the monument is prominently known to tourists and locals as the Sandugo or Blood Compact Shrine, located at Tagbilaran East Rd., Bool District, Tagbilaran City, Bohol.
You can find it right beside Ocean Suites Boutique Hotel for the public to discover.
A visit to the shrine is usually included in the Bohol Tours and Nature's Wonder Travel & Tours' Countryside Tour Package, but can also be visited alone for free.
How to get here:
The spot featured here is included in the Countryside Tour provided by Bohol Tours and Nature's Wonder Travel & Tours, Inc. 
For a complete list of their itinerary, you may visit their website at Bohol Tourism Philippines. You may also visit them at 2nd flr, New Capitol Building, Lino Chatto Drive, Cogon District 6300 Tagbilaran City, Philippines or call them at 038-411-0138.
Blood Compact Shrine Information:
Address: Tagbilaran East Rd., Bool District, Tagbilaran City, Bohol
Entrance Fee: FREE
---
A version of this appeared in Philippine Primer Japanese (Vol. 133) and English (Vol. 38) magazines.