Masungi Georeserve: A Pristine Ecotourism Spot in Rizal
The trend in ecotourism in the Philippines has become in-demand in the recent years, with all the mountain-climbing and trekking activities in some of the eco-tourist spots in the country. With that, Masungi Georeserve takes the spotlight as one of the best spots to visit when in the Philippines.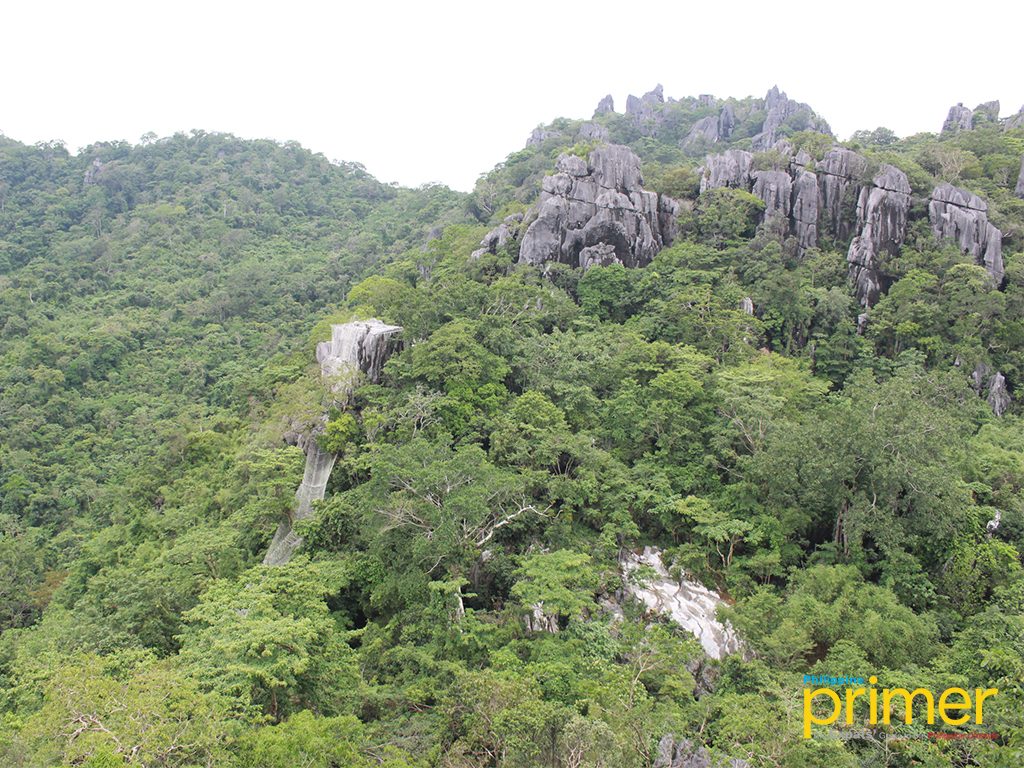 MASUNGI GEORSERVE. A breathtaking place filled with awe-inspiring limestone formations. 
Just a few hours away from Manila, a beautiful conservation area called Masungi Georeserve is found in Tanay, Rizal. This spot is known for its main attraction being the 10-km spine of pristine limestone formations.
Tatay and Nanay/IMAGE Masungi Georeserve's Facebook page
Taking its name from the Tagalog word sungki meaning uneven, the trail is defined by sharp and uneven rock formations. Despite its height, park rangers explain that Masungi was submerged underwater over a million years ago.
Also read: New Night Trail in Masungi Georeserve: Things You Only See After-dark
SAPOT. On a clear day, this web-like platform gives a magnificent view of Laguna de Bay.
Climbing its many peaks, one can feel just how insignificant humans are compared to Mother Nature, putting more gravity in the lessons the georeserve hopes to pass. In the area, you will be able to go through hanging bridges and a cave, and you'd also get the chance to experience the giant hammock (Duyan) and see the picturesque view through the viewing deck.
Also read: Masungi Georeserve New 'Legacy Trail': Learning Experience
While in the area, you will also be able to see towering peaks such as the "Tatay," one of the tallest rock peaks and "Nanay," which are five limestone peaks interconnected through bridges. The whole activity is all hiking (about3-4 hours) and climbing so it's best to wear comfortable clothes during your trip. You will also learn a lot from this with all the wildlife and plant species you will encounter which is why it's one of the best ecotourism spots in the Philippines.
Masungi Georeserve opened Silayan Dining Room last year to complement the trail experience
Also read: Silayan Dining Room in Masungi Georeserve: 360° View of Nature
To go here, you can take two routes for private transport via Marcos Highway or via Sampaloc in Tanay.
For public transportation:
Via Cogeo
From Cubao or Marikina, take a jeepney going to Cogeo Gate 2 Padilla
Disembark on Gate 2 (near the market) and ride a jeepney bound for Sampaloc via Marcos Highway
Go down at Garden Cottages on the right side of the Highway or Kilometer 47
Via Tanay
From Metro Manila, go to the transport terminal at Starmall, corner of Shaw Boulevard and EDSA or EDSA Central Crossing
Ride a bus, jeep, or van to Tanay Public Market
Take a tricycle to Garden Cottages
FEES:
Day Trail:
7 to 14 guests
Php 1,500/guest (weekdays)
Php 1,800/guest (weekends)
Night Trail:
7 to 10 guests
Php 1,800/guest (Fridays, Saturdays, and Sundays)
Trail and Silayan:
7 to 14 guests
Php 2,350/guest (weekdays)
Php 2,650/guest (weekends)
If you wish to visit, you may reserve a slot through their website. You can also reach them through the following numbers: 0929-132-3531 or 099-186-9911.
---
This first appeared on Philippine Primer Japanese Magazine's September 2018 issue.