Get Hold of the Best Products and Services for Your Kids at Mommy Mundo World This March
For the root of every life that is each of our moms, nothing's more fulfilling than giving the absolute best for their offsprings—even at the expense of their own comfort.
Thanks to the modern world, though, a handful of fairs and bazaars centered on collectively making moms' lives a tad bit easier are readily accessible now. And as the month of March comes in, a Kids Activities and Family Travel Fair in the shape of Mommy Mundo World is to be looked forward to!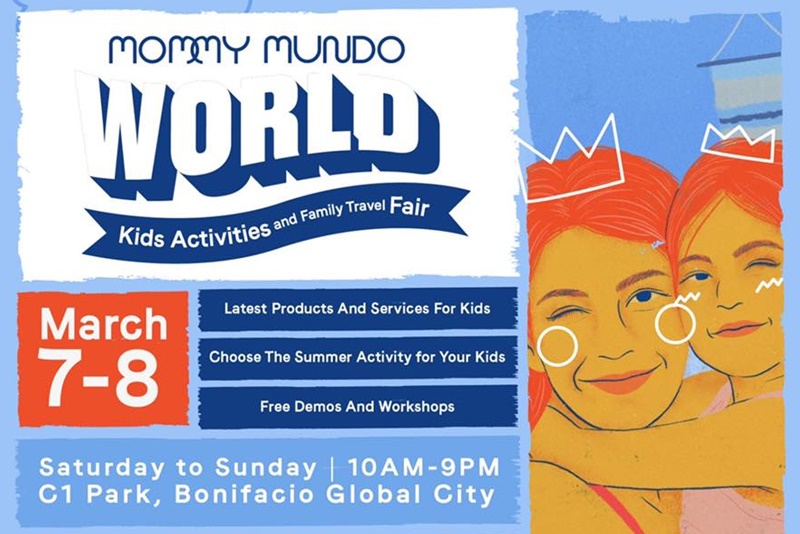 The two-day fair is set to occupy the expanse of C1 Park in Bonifacio Global City on March 7 to 8. It opens as early as 10 a.m. and closes only by 9 p.m., so moms of any job stature have the chance of dropping by.
Acquire what you can from the latest products and services for your kids to the summer activities you think are the best fit and most beneficial for them!
One of Mommy Mundo's community partners is Manila for Kids, a platform where moms could get ahold of everything kids-related in the metro. These encompass kid-friendly places to eat and visit, things to buy and do, as well as schools to enroll them at.
Less than 2 HOURS left to use discount code SPARTANVERMOSA at bit.ly/SpartanVermosa2020 to avail 30% off the next Spartan Kids!#manilaforkids #spartankids
Kindermusik Philippines, whereas, is the country's top music program offering developmentally-appropriate classes for newborns up to seven-year-olds. Some of these include Cuddle & Bounce, Sing & Play, Wiggle & Grow, and Kidnermusick for the Young Child.
To date, their Metro Manila studios are located in Cubao, Taguig City, and Pasig City.
🌈 Learning through music is like seeing the world in color, instead of black and white. 🎨🖌🥰✨.Come join us for…
Moms can also look forward to a motley of free demonstrations and workshops at the fair. Best believe that all of these will be nothing but for the utmost benefit of parents and kids alike, as the fair's organizer, Mommy Mundo, is run by a community of moms!
It is particularly founded by Janice Crisostomo-Villanueva, a woman who built an inclusive space for moms, so together they could navigate through the normally foreign terrains of motherhood.
In a few weeks, our #mmfounder, @janicecvillanueva will be moving to Canada with her family. She will of course remain…

Mommy Mundoさんの投稿 2020年2月24日月曜日
For more information, visit Mommy Mundo's website and follow their official Facebook page.
Also read: Women and the Future of Work Conference Is Happening This March 2020
Details
What: Mommy Mundo World: Kids Activities and Family Travel Fair
Where: C1 Park, Bonifacio Global City, Taguig City 
When: March 7 & 8, 2020, 10 a.m. to 9 p.m.
Admission: Free 
Website: mommymundo.com
Facebook: facebook.com/mommymundo