Celebrate Indian Culture at Holi Festival 2020 This March
UPDATE as of Mar 10, 2020: Event has been cancelled. Details for ticket refunds will be announced through the organizer, Asia Society Philippines FB Page.
India possesses old and diverse cultures by means of language, religion, food, art, and clothing making them one of the most colorful nations in matters of customs and traditions. This year, you'll get a chance to discover more the Indian culture at Holi Festival!
Be there on March 29, 2020 at North Fountain, SM by the Bay in Pasay City from 3:30 p.m. to 7:30 p.m.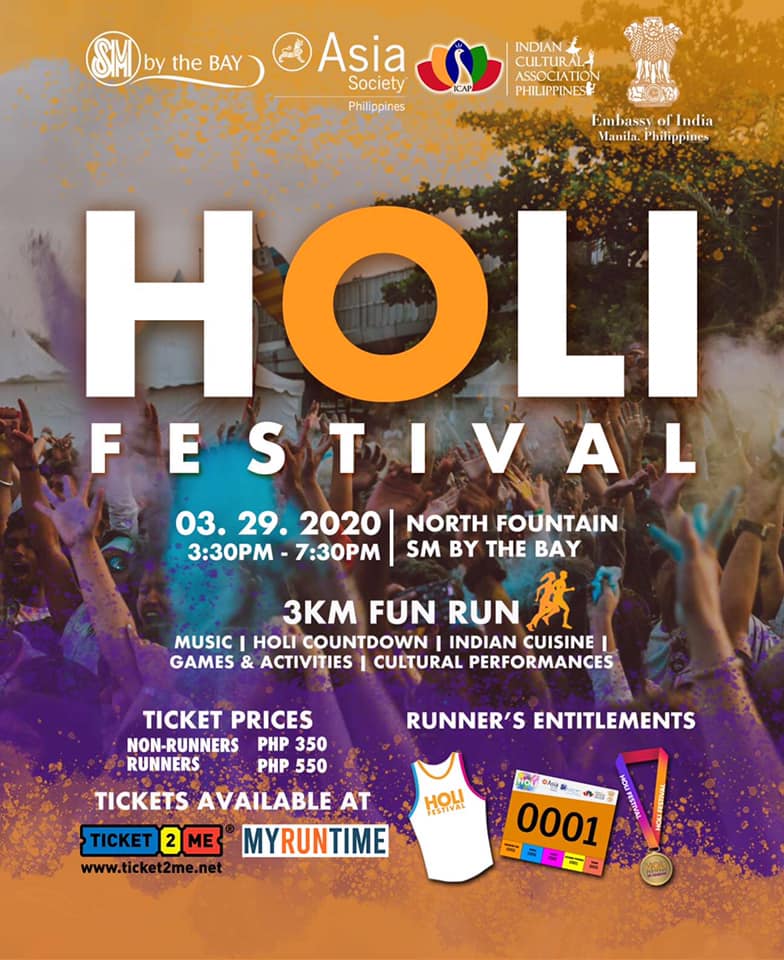 Asia Society Philippines, Indian Cultural Association Philippines, Embassy of India, and SM By the Bay join together to introduce the most vibrant festival in India to the Philippines.
Started in India, the Holi Festival is also termed as "festival of colors", "festival of spring", or "festival of love," which is usually celebrated upon the arrival of spring. Also, this serves as a reminder that the good triumph over the evil.
Some of the highlights of the event include the 3KM Fun Run, cultural performances, Holi countdown, and color throwing. You can also enjoy authentic Indian cuisine and get creative with henna and rangoli!
#DidYouKnow The Festival of Colors, originating in India, is a Hindu Festival celebrating the arrival of spring and…
Enjoy a fun-filled day of dancing, eating, and splashing of colored powder as a representation of unity, freedom, and bliss of life. Appreciate the Indian culture and meet new friends!
In terms of admission fees, non-runners shall pay Php 350 while for runners, the fee costs Php 550.
The event was organized by the Asia Society Philippine Foundation, Inc., a nonprofit foundation with a goal of connecting Asia and the West. The foundation seeks to be an instrument in uniting and attaining a progressive world.
For more ticket reservations and inquiries, visit the Asia Society Philippines Facebook page or the Holi Festival events page. 
Details
What: Holi Festival 2020
Where: North Fountain, SM by the BAY, Seaside Blvd, Pasay
When: March 29, 2020
Ticket information: You may get your tickets here. 
• Non-runners-  Php 350
• Runners- Php 550
Website: asiasociety.org/philippines
Facebook: facebook.com/AsiaSocietyPH/
---
Source: Asia Society Philippines Facebook page
Images grabbed from Asia Society Philippines Facebook page