Get Your Eardrums Ready for Rakrakan Festival 2020 This February
Hey, y'all! Who's up for a cool gig that will get your eardrums busted in the best way?
In case that is something you want, the Rakrakan Festival 2020 is set to happen on February 29, 2020, at CCP Open Grounds, Pasay City and you should definitely come and rock along!
Set to make history again, this will be a celebration of Peace, Love & Music to kick start the year.
Aside from being a celebration of peace, love, and music, gig-goers should also be prepared to be overwhelmed with music as back-to-back performances from the finest Original Pinoy Music  (OPM) acts will be served.
Completing its huge production set-up are 120 OPM artists playing on six main stages that will surely make the festival the "biggest", the "loudest", and the "boldest" celebration of OPM.
The six main stages were categorized as Aklas Move Stage, Lakas Mosh Stage, TM Center Stage, Slam Stage, Peace Stage, and the never been on the lineup before, the Lahi Stage. Having said that, gig-goers are guaranteed to be guided accordingly depending on what type of hype they wish to jam along.
Aklas Move Stage
For the Aklas Move Stage, performers are comprised of Mayonnaise, Gloc-9, Kjwan, Spongecola, Typecast, Rocksteddy, Happy Three Friends, Razorback, Written By The Stars, Woopis, BRWN, Marzark, Join The Club, Tanya Markova, Soapdish, and The Red Horse Pambansang Muziklaban Aklas Finalists.
Lakas Mosh Stage
For the second set of performers, Lakas Mosh Stage will be filled by Slapshock, Wilabaliw, Greyhounds, Chicosci, Teeth, Coln, Even, Saydie, Philia, Valley of Chrome, Lilith, Skychurch, Aracadia, Badburn, as well as The Red Horse Pambansang Muziklaban Aklas Finalists.
TM Center Stage
The third stage will be filled by lowkey-chill-and-party-type of songs brought by Ron Henley, Kiyo and Alisson Shore, Shanti Dope, Up Dharma Down, Because, IV of Spades, Juan Karlos,  CL, Al James, Allmo$t Music, Silent Sanctuary, I Belong To The Zoo, Callalily, Kjah and Rye, Mojofly, Mike Swift, Pricetags, St. Wolf, and Sandiwa.
Slam Stage
Get your headbanging in the Slam Stage with Subkulture, Republikats, Rebord, Mr. Bones and the Boneyard Circus, Jejaview, Faintlight, Ultimate Ube, Shotgun Combo, Powerspoonz, Giniling Festival, The Chongkeys, VJosh Tribe, and Talata.
Peace Stage
Senti vibes can be found in Peace Stage headed by Gracenote, Imago, 6 Cyclemind, Orange & Lemons, Franco, SUD, Chocolate Factory, Unique, Pedicab, Banda Ni Kleggy, We Got, The Vowels They Orbit, Better Days, Brisom, Music Hero, Engkanto, Lion & The Scouts, and Magnus Haven.
Lahi Stage
This last Rakrakan Festival stage will be crowded with Dong Abay, Munimuni, Grin Department, The Wuds, Philippine Violators, Pawikan, Kurei, Bayang Barrios, Sagip Adik Foundation, Syd Hartha, Barbie Almalbis, The Bloomfields, Kadangan, Mayor TV, Bita and The Bottles, and Color It Red.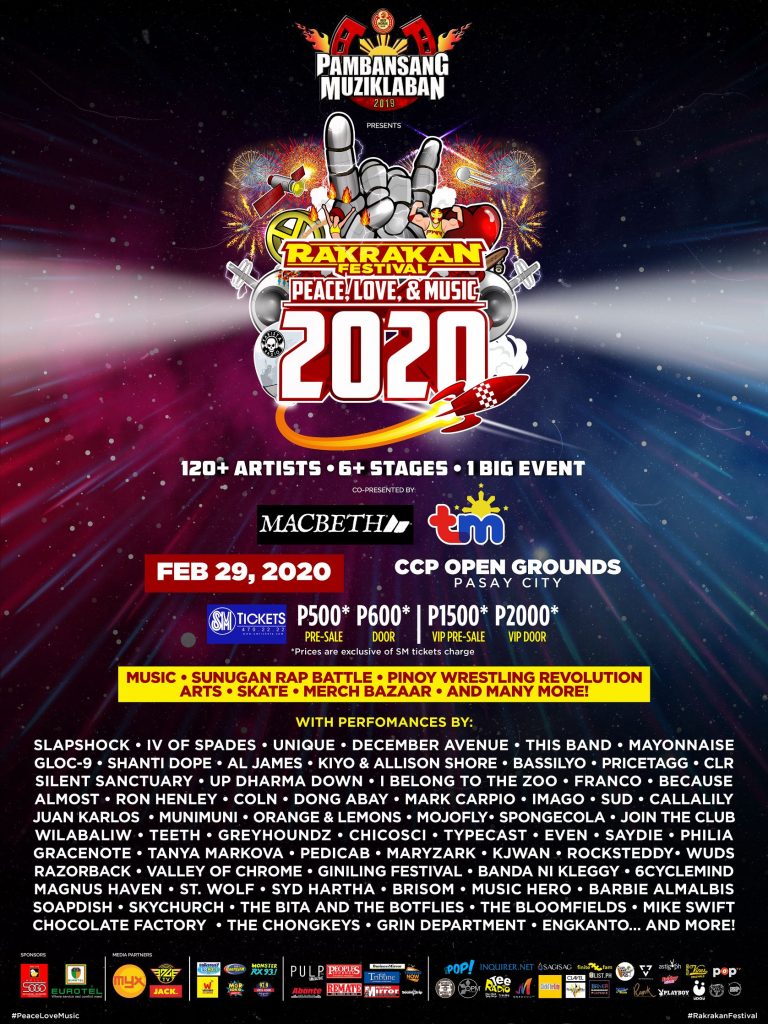 Presented by Rakista Radio and Red Horse Beer Muziklaban, tickets can be availed starting from Php 530 for Regular Pre-Sale to Php 2,120 for VIP Door Price. A Regular Barkada Promo 4+1 tickets are also available for Php 2,120.
Co-presented by Macbeth Philippines and TM with official venue partner, The Cultural Center of the Philippines, you should really be grabbing your tickets now for the best February ender!
For tickets, visit SM Tickets or check the PULP official website and rakrakanfestival.com for more updates. 
Details
What: Rakrakan Festival 2020
Where: CCP Open Grounds, Buendia Ave. Cor, Macapagal Ave., Pasay City, Metro Manila
When: February 29, 2020, 12 p.m.
Ticket information: You can get your tickets via SM Tickets
• VIP Door Price – Php 2,120
• Regular Barkada Promo 4+1 tickets – Php 2,120
• VIP Pre-Sale – Php 1,590
• Regular Door Price – Php 640
• Regular Pre-Sale – Php 530
Website: rakrakanfestival.com
Facebook: facebook.com/rakrakanfestival
---
Sources: Official website of PULP
Images grabbed from PULP