Ortigas Art Festival to Pre-Launch with Free Art-Centered Workshops
Already on its third year, Ortigas Art Festival is yet again set to brim with all things artsy and satiate the consistently-parched-for-goodness art community as it opens this February 28 to March 8, 2020, at Estancia at Capitol Commons in Pasig City.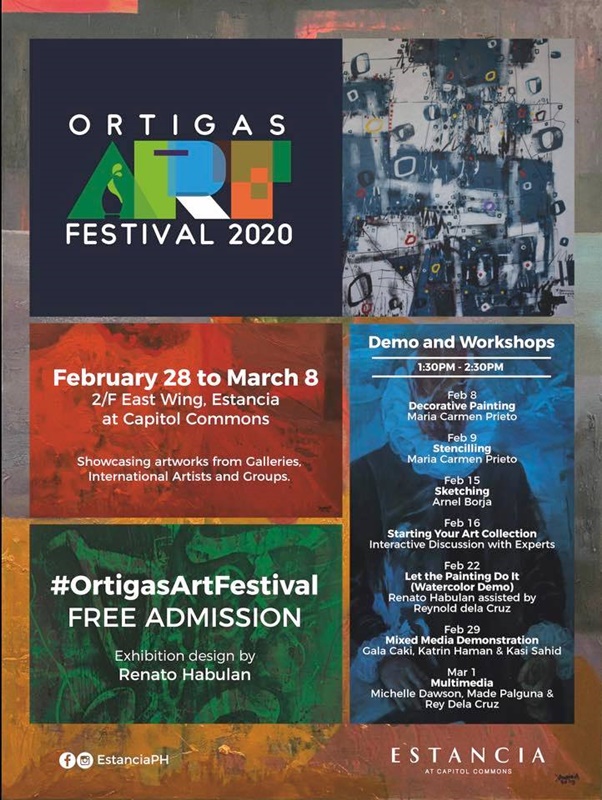 Expect an amalgamation of artworks from various galleries, international artists, and groups that will be crafted by one of the prominent figures in the scene of social realism, Renato Habulan.
With him tracing back his roots to a working-class family in Tondo, his handicrafts generally reflect the innate differences between polar opposites such as a master and a slave, and the native and the colonial.
As he said, his works attempt to "tell the stories of our people and the triumph of the human spirit in their daily struggle".
But before the festival officially opens its doors, a number of workshops are first set to treat guests with knowledge revolving the arts:
• February 8 – Decorative Painting by Maria Carmen Prieto
• February 9 – Stencilling by Maria Carmen Prieto
• February 15 – Sketching by Arnel Borja
• February 16 – Starting Your Art Collection: Interactive Discussion with Experts
• February 22 – Let the Paintings Do It (Watercolor Demo) by Renato Habulan assisted by Reynold dela Cruz
Meanwhile, two more others are scheduled within the windows of the festival:
• February 29 – Mixed Media Demonstration by Gala Caki, Katrin Haman, and Kasi Sahid
• March 1 – Multimedia by Michelle Dawson, Made Palguna, and Rey dela Cruz
Ortigas Art Festival is free for all to take visual and intellectual pleasure upon, so might as well make the most of it and at the same time take it as one of the many attestations that art will forever be a kaleidoscopic representation of the world we live in and the lives each of us leads.
Details
What: Ortigas Art Festival 2020
Where: 2/F East Wing, Estancia at Capitol Commons, Ortigas Center, Pasig City
When: February 28 to March 8, 2020
Ticket information: Free admission
Facebook: facebook.com/ortigasartfestival