Gear up for Sticker Con MNL This February
Regarded as one of the biggest gatherings of local artists, fans, and collectors, Sticker CON MNL is set to return to Bayanihan Center, Pasig on February 29, 2020.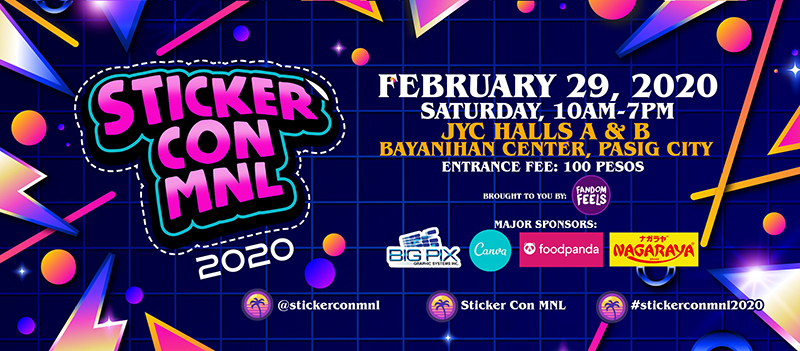 Also read: Catch Komiket 2020: The Filipino Komiks and Art Market This February
As the name suggests, Sticker CON brings local artists and their artworks under one roof. Visitors can purchase and horde stickers that they can use to decorate just about anything—may it be journals, gadgets, notebooks, and more. While stickers are the highlight of the convention, you can also expect to see other art forms such as drawings that can also be purchased to be added to your collection.
At present, Sticker CON MNL has already announced a couple of the artists that will be exhibiting at the convention.
STICKER CON MNL 2020 EXHIBITOR SPOTLIGHT 096:HAMPASLUMPIAIG: @bakunawuhHampasLumpia is a budding foodie who just…
The convention first started in 2018 and has since then become an anticipated event in the hobby community. The event is the ideal venue for local artists to engage with each other and with fans of different genres and fandoms that come together at Sticker CON.
Also read: Embark on an Adventure at Cosplay Carnival 2020 This April
This year's Sticker Con is brought to you by Fandom Feels PH, Bigpic Graphic Systems Inc., Canva, foodpanda, and NAGARAYA.
Sticker CON MNL 2019 is presented to you by Fandom Feels PH, with major sponsor, CIIT College of Arts & Technology, our patrons,The Craft Central and AsiaPOP Comicon Manila, and our official media partners, When In Manila, Inside Manila, INQUIRER.net and InqPOP.See you this March 16, 2019 at Bayanihan Center – Unilab. Gates open at 10am. Tickets are at 100pesos each and will be available by the JYC Hall B Entrance.

Sticker Con MNLさんの投稿 2019年3月11日月曜日
Head to Sticker Con MNL on February 29, 2020, at Bayanihan Center, Pasig to get your hands on some awesome stickers and collectibles. Tickets are priced at Php 100 and are available on the event day.
For more information, you may visit Sticker Con MNL's official Facebook page.
Details
What: Sticker CON MNL 2020
Where: JYC Halls A & B, Bayanihan Center, Pioneer St., Pasig City
When: February 29, 2020, 10 a.m. to 7 p.m.
Admission: Php 100; tickets are only available on the event day, there will be no pre-selling of tickets
Facebook: facebook.com/stickerconmnl
---
Source: Sticker CON MNL.
Images grabbed from Sticker CON MNL's official Facebook page.