Discover More About Argentinian and French Wines at the Grand Hyatt Manila : A Study in Origins
Discover More About Argentinian and French Wines at the Grand Hyatt Manila : A Study in Origins
If you've been wanting to explore wines this new year, why not consider participating in wine appreciation events? Not only will these types of gatherings enlighten you with new flavors of aromatic wines around the globe,  you'll also get to mingle with other wine lovers and enthusiasts in the area!
You're at luck because The Cellar Talk: A Study in Origins will take place on January 8, 2020 at the Grand Hyatt Manila, Taguig. This event will feature a study between Argentinian and French wines—particularly Septima and La Tournée wines.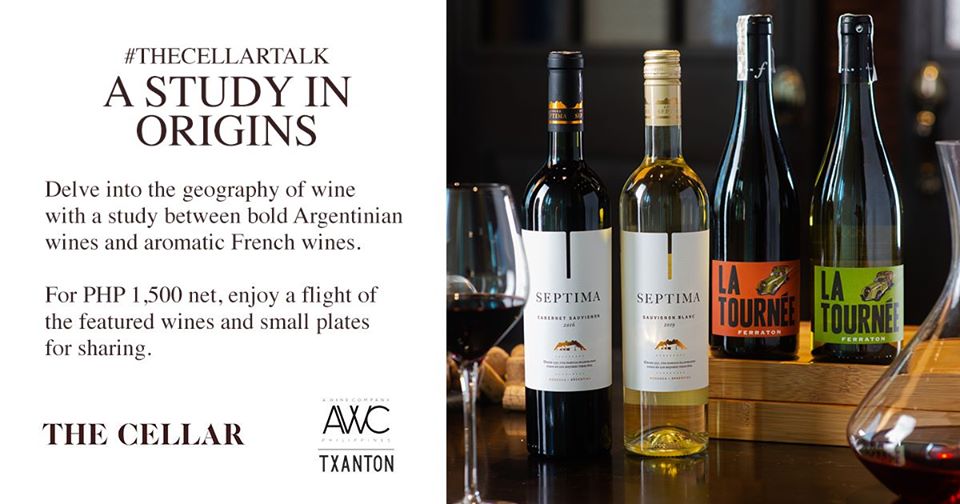 Made with 100% Malbec variety, Septima takes pride in its significant innovation and wine excellence. Some of their featured drinks are the Cabernet Sauvignon 2016 and Sauvignon Blanc 2017, which are made with classic vines, resulting in flavorful and sophisticated wines.
Meanwhile, La Tournée highlights the Rouge 2017 Ferraton Père & Fils, a silky smooth drink comprised of fresh dark fruits.\
Also read: The Cellar in Grand Hyatt Manila: Dining in Style with Mediterranean Cuisine and Premium Wines
For the price of Php 1,500, attendees will get to enjoy the night trying out Septima and La Tournée wines paired with delightful charcuterie. After that, enthusiasts can also join the blind taste test to their wine knowledge!
Also read: Tour Around BGC and Taste an Exquisite Wine Selection at the Jeepney Wine Tour 2020
For reservations, you may call 02-8838-01234 or email manila.grand@hyatt.com. You can also visit AWC Philippines' website at awc.com.ph for more information.
Details
What: The Cellar Talk: A Study In Origins
Where: The Cellar, Grand Hyatt Manila, Taguig City
When: January 8, 2020
Contact: 02-8838-1234
Admission: Php 1,500
Website: awc.com.ph
Facebook: facebook.com/AWCPH
---
Source: The Cellar Talk: A Study In Origins event page
Image grabbed from The Cellar Talk: A Study In Origins event page