South Korea's Running Man Brings 'A Decade of Laughter' Tour in Manila
Attention all Filipino Hallyu fans! Get yourselves ready as one of the highly-requested shows of the decade is about to happen in the Philippines for the first time ever!
Catch the cast of the longest-running variety show in South Korea, Running Man, as they head over to Manila for their grand fan meeting titled 'A Decade of Laughter' on February 9, 2020, at the Mall of Asia Arena.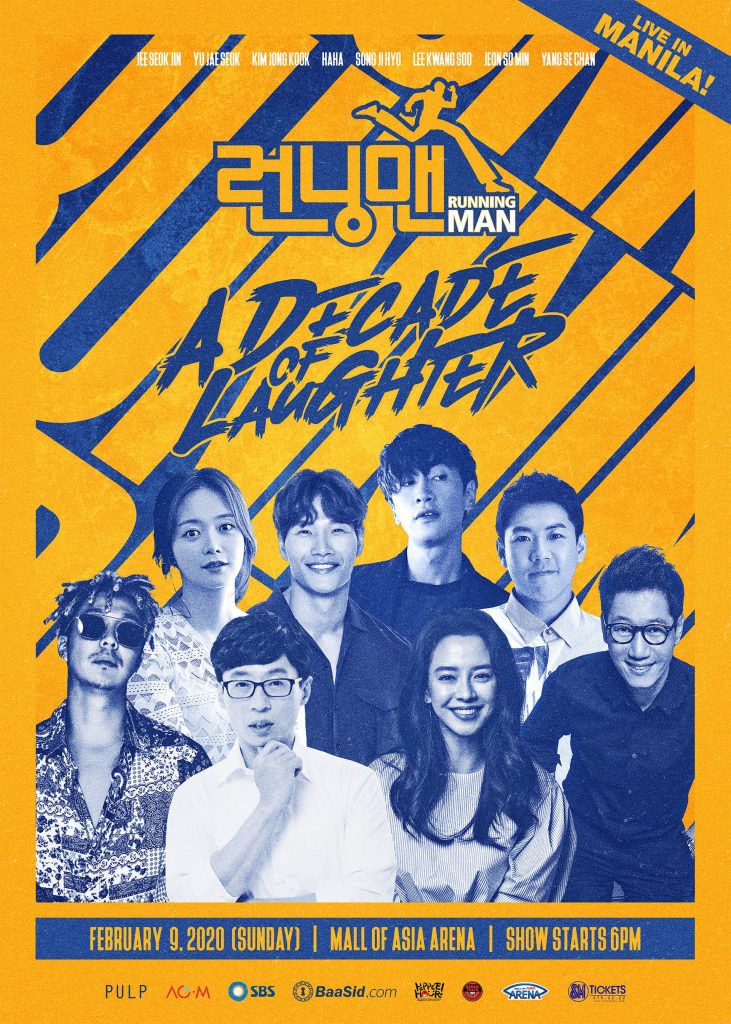 Nearly 10 years after its pilot episode aired on SBS Channel, the Sunday variety show Running Man has successfully overcome not only the South Korean television but also the rest of the world with its outstanding comedic acts and games that bring delight to viewers.
The show started out as an "urban action variety" with physical and mental games that take place in an urban environment.
It soon became famous for its various games replicated by fans of the show worldwide, one of which is the Name-Tag Ripping Challenge that has been highly anticipated in each episode.
The show is starred by the cast members including Korea's renowned MC Yu Jae Suk, comedian Jee Suk Jin, singer and actor Kim Jong Kook, actress Song Ji Hyo, singer and MC Haha, actor Lee Kwang Soo, comedian and MC Yang Se Chan, and actress Jeon So Min.
What makes the show interesting is the individuality and quirks, plus the funny banter and almost-slapstick comedy style of the casts that make most of their viewers hooked to the show.
Nearing a decade with almost 500 episodes, Running Man continuous to prove itself to be a timeless show for years counting.
With episodes inspired by Hollywood films and places in Asia they go on tours, the show is now considered a global TV phenomenon that highlights worldwide cultures and showcasing them in one grand variety show.
Tickets will be on sale starting January 19, 2020, 12 n.n. at SM Tickets outlets nationwide and online. Prices start from Php 2,000 for Generic Admission to Php 10,500 for VIP Standing.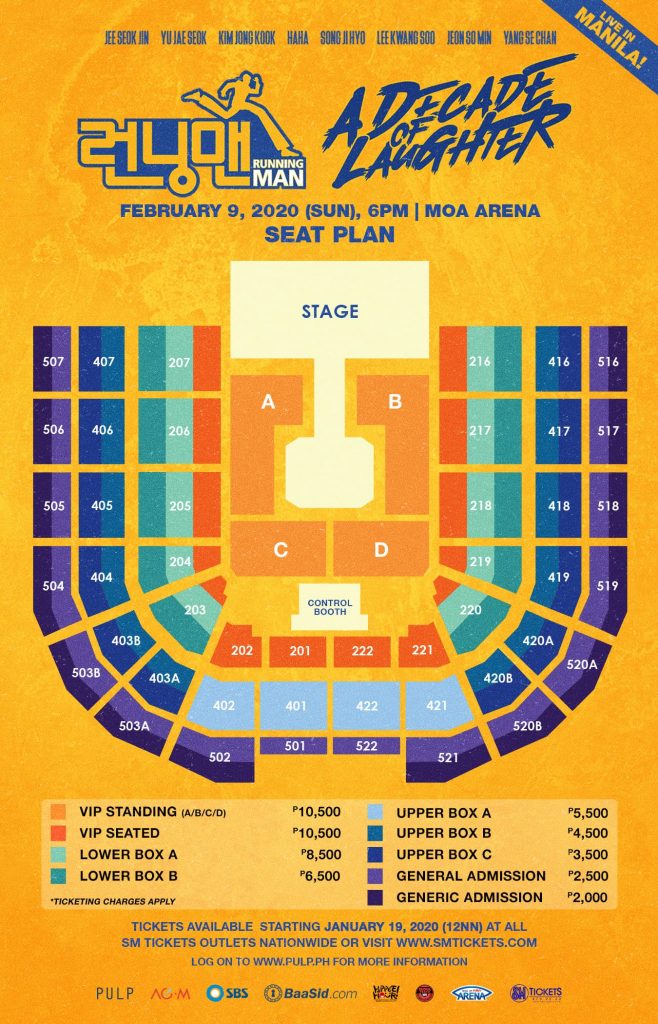 Presented by PULP Live World, don't miss the opportunity to meet the casts of Running Man in the flesh!
For more information and further show details, visit PULP Live World's website at www.pulp.ph or follow their social media pages on Facebook, Twitter, and Instagram.
Details
What: Running Man  'A Decade of Laughter' Tour in Manila
Where: Mall of Asia Arena
When: February 9, 2020, 6 p.m.
Ticket information: Official ticket selling will start on January 19, 2020, 12 n.n via SM Tickets outlets nationwide and online.
VIP Standing – Php 10,500
VIP Seated – Php 10,500
Lower Box A – Php 8,500
Lower Box B – Php 6,500
Upper Box A – Php 5,500
Upper Box B – Php 4,500
Upper Box C – Php 3,500
General Admission – Php 2,500
Generic Admission – Php 2,000
*Ticketing charges may apply
Website: pulp.ph
Facebook: facebook.com/PULPMagazine
---
Source: PULP Live World official website
Images grabbed from PULP Live World official website