Ballet Manila Stages Sleeping Beauty This January
Start the new year by witnessing the breathtaking performance of a classic tale of love and evil!
Ballet Manila will be staging Lisa Macuja Elizalde's Sleeping Beauty on January 18 and 19, 2020, at the Newport Performing Arts Theater, Resorts World Manila.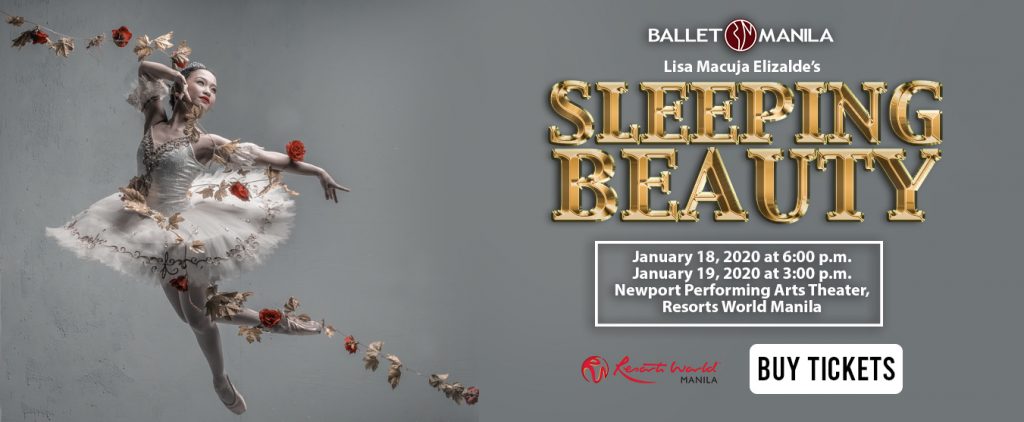 The show was originally slated for December 7 and 8 but was moved on a later date because of the fire that damaged Aliw Theater, the venue where most of Ballet Manila's performances are held.
From words of Ballet Manila's CEO and artistic director Lisa Macuja-Elizalde, they rose from the ashes like a phoenix and is ready to take on the stage once more.
Sleeping Beauty will be the third production for the ballet company's 24th performance season On Pointe and is also part of Princess Trilogy originally choreographed by Macuja-Elizalde.
It carries on from the last season's Cinderella and this season's opener Snow White. The trilogy will be concluded with Sleeping Beauty, which was said to mesmerize spectators with inventive staging and beautiful choreography.
Lisa Macuja Elizalde's SLEEPING BEAUTY

A prima ballerina's love affair with fairy tales continues with Lisa Macuja Elizalde's "Sleeping Beauty" on January 18 & 19, 2020. Experience the magic of this classic fairy tale about a beautiful princess who is cursed to sleep only to be awakened by a handsome prince. Show dates areJanuary 18, 2020 at 6:00 p.m.January 19, 2020 at 3:00 p.m.Newport Performing Arts Theater, Resorts World Manila.Buy tickets now at www.bit.ly/bmsleepingbeauty or call Ticketworld at 8891.9999

Ballet Manilaさんの投稿 2019年12月3日火曜日
Tickets for Ballet Manila's Sleeping Beauty are available at ticketworld.com.ph.
Ballet Manila is the Philippines leading classical dance company. Established in February 1995 by 12 young dancers led by Lisa Macuja-Elizalde and Osias Barroso with the guidance of Eric V. Cruz, the ultimate goal is to "bring ballet to the people and people to the ballet."
For more information, visit Ballet Manila's website or email them at info@balletmanila.com.ph.
Details
What: Ballet Manila's Sleeping Beauty
Where: Newport Performing Arts Theater, Resorts World Manila, Pasay City
When: January 18 (6 p.m.) and 19 (3 p.m.), 2019
Ticket: Available at ticketworld.com.ph
SVIP – Php 4,500
VIP – Php 3,500
Gold – Php 2,500
Silver – Php 1,500
Bronze – Php 1,000
General Admission – Php 1,000
Contact: 02-8355-3088/0918-807-7148
Email: info@balletmanila.com.ph
Website: balletmanila.com.ph
Facebook: facebook.com/BalletManilaOfficial
---
Source: Ballet Manila's Facebook page
Image grabbed from Ballet Manila's website