Japanese Rock Band SCANDAL Comes Back to Manila This June 2020
UPDATED as of March 21, 2020: SCANDAL WORLD TOUR 2020 "Kiss from the darkness" in Manila has been postponed to a later date. Updates will be posted by the local organizer, Primetrade Asia, Inc.
Japan's no. 1 all-female rock band SCANDAL is set to rock the Manila stage for the second time on June 6, 2020, at the New Frontier Theater, Quezon City!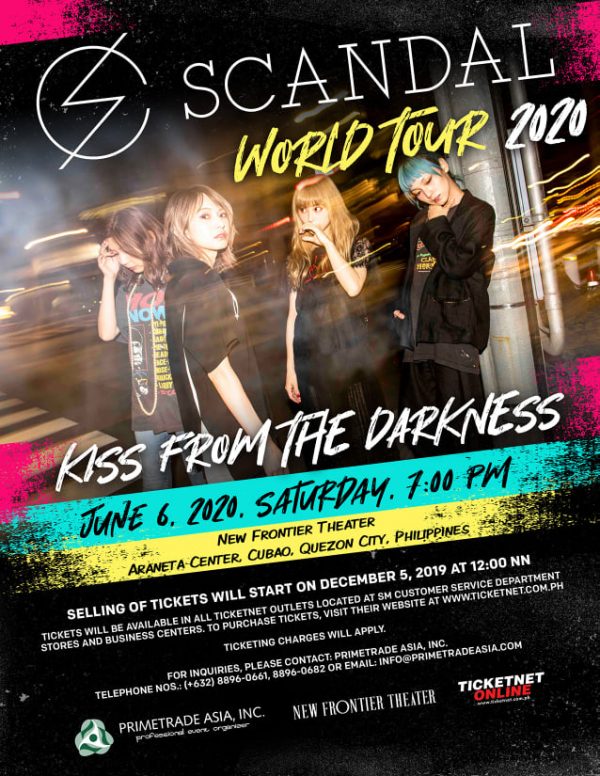 With the release of their newest album called Kissed from the Darkness, SCANDAL will be embarking on a world tour this coming 2020 to promote their hottest and freshest hits from the record such as "Masterpiece" and "Mabataki."
The quartet from Osaka will also perform some of their most popular hits from past albums like "Shunkan Sentimental," "Namida no Regret," and "Harukaze."
A fun fact, SCANDAL performed "Shunkan Sentimental" and  "Harukaze" for popular anime series Full Metal Alchemist: Brotherhood and Bleach, respectively.
Those who went to the band's first Manila concert back in 2018 will know the electrifying energy that they bring onstage. Composed of Haruna (vocals and guitar), Mami (guitar and vocals), Tomomi (bass and vocals) and Rina (drums and vocals), SCANDAL proves that women can thrive successfully in a genre that is mostly dominated by men.
Tickets for SCANDAL World Tour 2020 Live in Manila is now on sale in all Ticketnet outlets and online! Rates start at Php 4,000 for Orchestra.
You can also get the chance to meet the band by availing of a fan meet ticket exclusively sold to ticket holders only.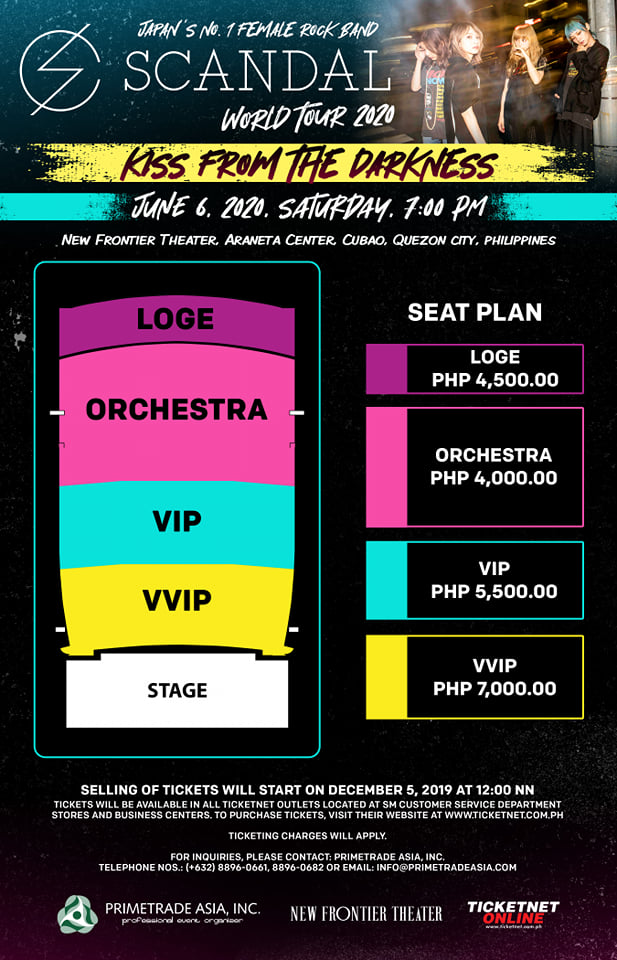 This event is presented by Primetrade Asia, Inc.
For more information, you may contact Primetrade Asia, Inc. at 02-8896-0682 or email them at info@primetradeasia.com. 
Details
What: SCANDAL World Tour 2020 Live in Manila
Where: New Frontier Theater, Araneta City, Quezon City
When: June 6, 2019, 7 p.m.
Tickets: On sale at all Ticketnet outlets and online
VVIP – Php 7,000
VIP – Php 5,500
Loge – Php 4,500
Balcony – Php 4,000
Contact: 02-8911-5555
Email: info@primetradeasia.com
Website: primetradeasia.com
Facebook: facebook.com/primetradeasia
---
Source: primetradeasia.com
Images grabbed from Primetrade Asia's Facebook page