Matilda the Musical to Take the PH Stage in 2020
Updated as of March 13, 2020. Performances of Matilda the Musical from March 13 have been canceled in light of the COVID-19 situation. As per the announcement made by GMG Productions their official Facebook page. As per the announcement, tickets for the affected shows will be refunded.
Fans of musicals will surely have a blast as Roald Dahl's Matilda the Musical is set to take the Philippine stage beginning March 5 until March 22 of next year.
Unlike any other productions, GMG Productions and GWB Entertainment will bring The Royal Shakespeare Company production to the Theatre at Solaire, Parañaque City, after the run of Andrew Lloyd Webber's Cats on December 2019.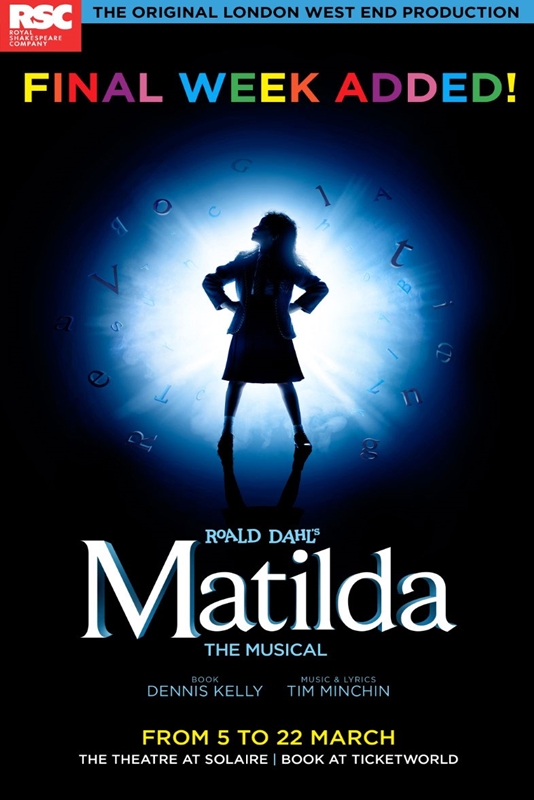 Matilda is based on Dahl's 1988 children's novel of the same name. The story follows the titular Matilda, a special little girl gifted with surprising wit, intelligence psychokinetic abilities.
Also read: CATS at The Theatre at Solaire this November 2019!
However, Matilda is unloved by her parents but is adored by Ms. Honey, her schoolteacher. Over Matilda's first term in school, her bond with Miss Honey leads to an adventure that audiences will fall in love with over and over.
The book is written by Dennis Kelly with music and lyrics by Tim Minchin.
The Royal Shakespeare Company's Matilda opened in 2011 at West End and 2013 at Broadway. Said musical has won seven Laurence Olivier Awards including Best New Musical and five Tony Awards, with one being the Best Book of a Musical.
Also read: LIST: Theater Productions to Watch This 2019!
Matilda was last staged in Manila from November to December 2017 by Atlantis Theatricals with Esang De Torres, Uma Martin, and Felicity Kyle Napuli alternating the titular role.
Tickets to the award-winning musical are now available, but the casting, as well as other details regarding the 2020 production, are yet to be announced.
For more information, you may visit GMG Productions' official website and Facebook page. 
Also read: Repertory Philippines to Combine the Familiar and the New for Its 83rd Season
Details
What: Matilda the Musical
Where: The Theatre at Solaire, Solaire Resort & Casino, Aseana Ave., Entertainment City, Parañaque City
When: March 5 to 22, 2020
Ticket Information: Tickets are available at Ticket World's website.
Tuesday Special
• VIP, A Reserve, B Reserve – Php 3,800
•  C Reserve, D Reserve – Php 1,800
Wednesday/Thursday/Friday
• VIP – Php 6,000
• A Reserve – Php 4,900
• B Reserve – Php 3,800
• C Reserve – Php 2,800
• D Reserve – Php 2,000
Saturday/Sunday
• VIP – Php 7,000
• A Reserve – Php 5,700
• B Reserve – Php 4,500
• C Reserve – Php 3,200
• D Reserve – Php 2,000