Sofitel Manila Hosts the First-Ever Belgian Beer Festival in the PH
From Brussels, Denver, Tokyo, and Bangkok, Sofitel Philippine Plaza Manila is finally bringing the first-ever Belgian Beer Festival to the Philippines!
Made in Belgium Beer Festival is happening on November 30, 2019 at Sunset Pavillion from 7 p.m. to 12 a.m.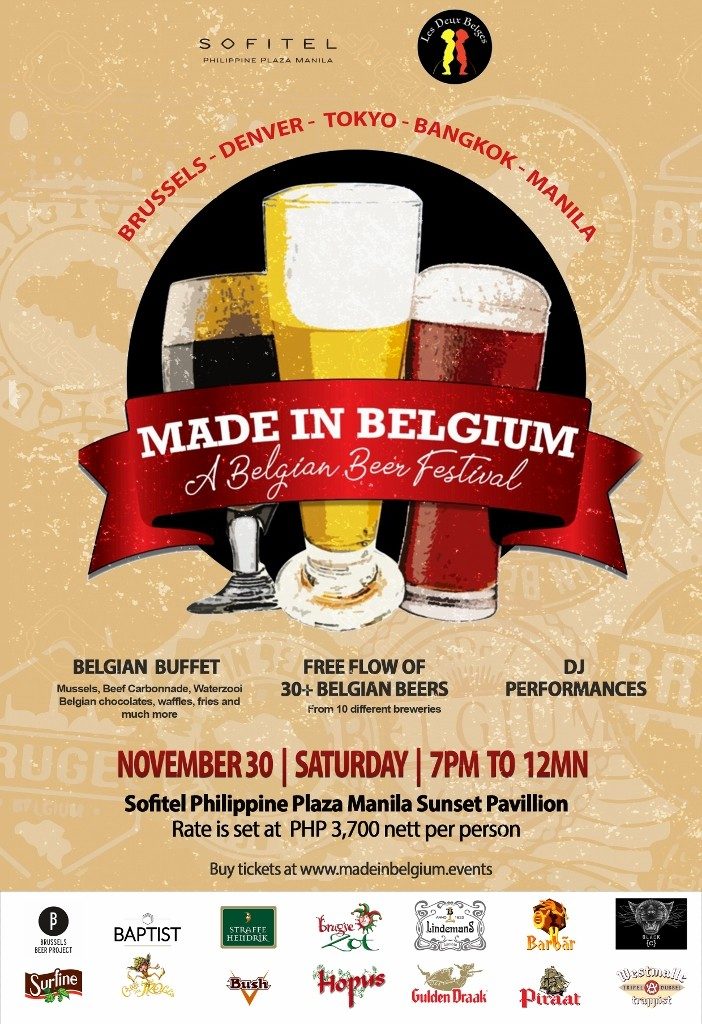 Experience the world-renowned celebration of the Belgian Beer Festival and indulge in a feast of delectable authentic Belgian buffet complete with Mussels, Beef Carbonnade, Waterzooi Belgian chocolates, waffles, fries, and more.
Of course, free-flowing Belgian beers are the star of the night! Expect more than 30 different kinds from eight different breweries like Brasserie C, Brussels Beer Project, De Halve Maan, Dubuisson, Lefebvre, Lindemans, Van SteenBerge, and Westmalle.
No need to fly out to Belgium to taste the finest beers, as we are bringing it to you at Made in Belgium! Let the good…
Also read: Taste the Best of Indigo Eyes Wines at the Cellar Talk in Grand Hyatt Manila
Don't forget to dance the night away to Belgian and international hits brought to you by live DJ musical performances.
Tickets are available at www.madeinbelgium.events. Rate is set at Php 3,700 nett inclusive of unlimited Belgian beers and buffet spread.
Also read: Sample Premium Liquor at the 19th Grand Wine Experience This November
Details
What: Made in Belgium: A Belgian Beer Festival
Where: Sunset Pavillion, Sofitel Philippine Plaza Manila, Pasay City
When: November 30, 7 p.m. to 12 m.n.
Website: www.sofitelmanila.com
Facebook: Sofitel Philippine Plaza Manila, Made in Belgium
Admission: Php 3,700 nett per person