See Park Hae Jin Live in Manila This November
K-drama fans, there's another reason to rejoice as Park Hae Jin heads to Manila for the Spark: Park Hae Jin Fan Meeting in Manila on November 23, 2019, at the New Frontier Theater, Quezon City.
Presented by Mountain Movement and Artist League Manila, the fan meet will allow fans of Park Hae Jin to get up close and personal with their oppa.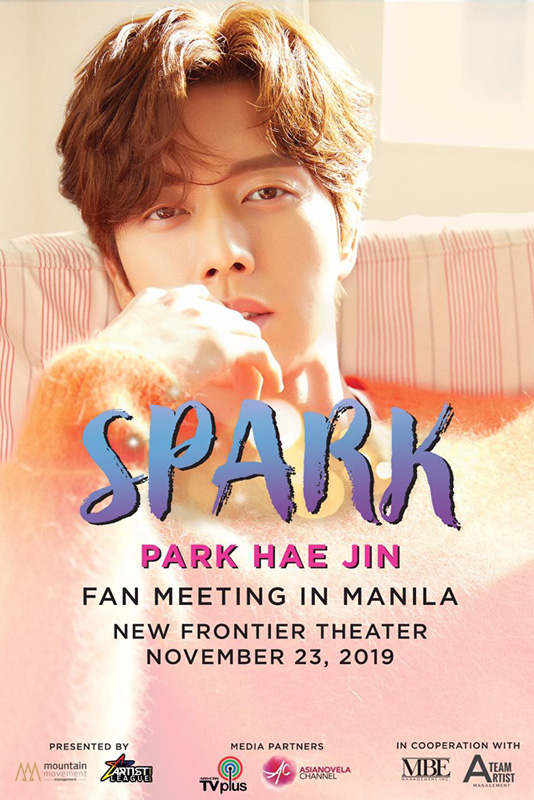 Park Hae Jin debuted in 2006 with the drama Famous Chil Princesses, and then later starred in the Chinese drama Qian Duo Duo Marry Remember ahead of his return to South Korea—where he played supporting roles in My Love From the Star and Doctor Stranger.
And finally, in 2016, Park played the lead role in Cheese in the Trap that not only gained fame across Asia but also paved the way for Park to receive the Best Actor award at the 2016 Korean Cable TV Awards.
Aside from his success in the small screen, Park also extended his acting flair to the big screen—one if which is in the film adaptation of Cheese in the Trap where he reprised his role as the lead, Yoo Jung.
Park Hae Jin invites you for a "DATE" with him on November 23, 2019 at the New Frontier Theater.Don't miss this chance, Hae Jin prepared lots of surprises for you. ♥️Get your tickets now at https://www.ticketnet.com.ph/events/detail/Park-Hae-Jin and all Ticketnet outlets nationwide!#ParkHaeJinInMNL

Artist League Manilaさんの投稿 2019年10月10日木曜日
The fan meet was originally set to happen on September 21, 2019, but was postponed to two months later and to a more intimate venue that is Quezon City's New Frontier Theater.
Those who have already purchased tickets for the postponed fan meet will be assigned new tickets. All they have to do is to coordinate accordingly with TicketNet.
Thank you for patiently waiting! Here are the new ticket details for Spark: Park Hae Jin Fan Meet in Manila.To get…
Further, all ticket holders will be granted additional perks to their tickets as well as a chance to win DVDs that will personally be given by Park Hae Jin himself.
For a list of the perks, you may refer to the graphic below.
Good news to all ticket holders! We're giving you additional perks.Apart from these perks we mentioned, ALL TICKET…
For more information, you may visit Artist League Manila's official Facebook page. For ticketing concerns, you may contact TicketNet at 02-8911-5555.
Also read: Day6 Is Coming Back to Manila for Gravity World Tour
Details
What: Spark: Park Hae Jin Fan Meeting in Manila
Where: New Frontier Theater, 7 Gen. Malvar Ave., Cubao, Quezon City
When: November 23, 2019, 6 p.m.
Ticket Information: Tickets are available at TicketNet online and TicketNet outlets.
VVIP (Price Level 1) – Php 9,500
VIP (Price Level 2) – Php 8,800
Patron A (Price Level 3) – Php 7,200
Patron B (Price Level 4) – Php 5,850
Lower Box (Price Level 5) – Php 2,500
---
Source: Artist League Manila
Image in the article and featured image grabbed from Artist League Manila