The Concierge Trunkshow Features Premium Designer Brands on October 10 to 13
Fashion and lifestyle curation connoisseurs Comme Çi and CURA V collaborate to bring a star-studded line up of fashion brands in the biggest trunk show event in Manila, The Concierge Trunkshow!
It's happening on October 10 to 13, 2019 at The Loft, Manansala, Rockwell Center, Makati City.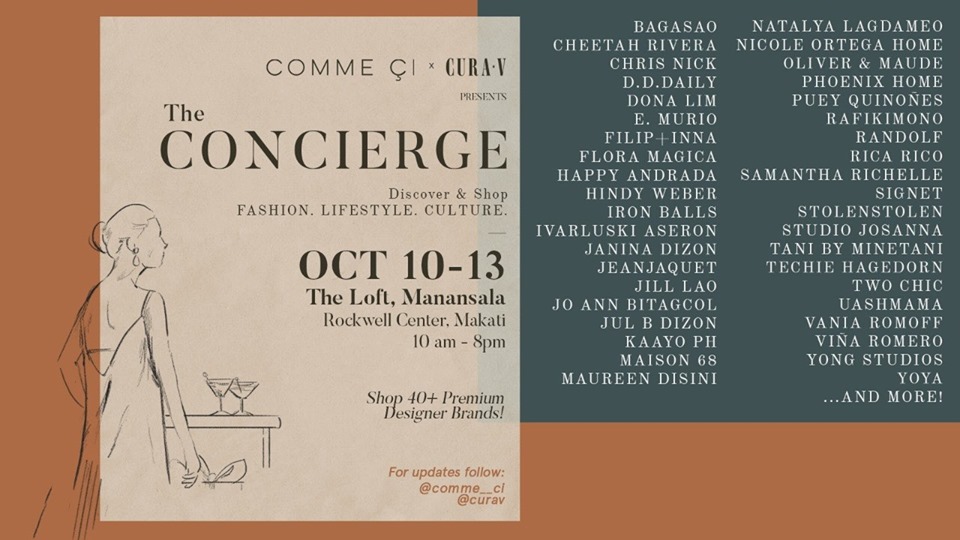 Organized by Collab Contessa, The Concierge Trunkshow is a three-day trunk show event wherein over 40 premium designer brands from fashion to lifestyle come together to showcase their extravagant collections.
Also read: AUMA Fashion Styling Firm: Empower and Discover Yourself Through Fashion
A star studded line up of delectable fashion brands await at The Concierge Trunkshow. Something for everyone.Swipe to…

Comme Çiさんの投稿 2019年10月6日日曜日
Discover and shop items from your favorite participating brands in fashion, home, and jewelry like Cheeta Rivera, Stockton Row, Flora Magica, Jill Lao, Kaayo PH, N Lagdameo Jewelry, Signet, Yoya, Vania Romoff, Maison 68, Randolf, Studio Josanna, Oliver & Maude, Jul B Dizon, and more.
Also read: Rafikimono Features Globally-Sourced Kimono-Kaftan Robes
We have some of the most gorgeous jewelry brands in one place! Swipe right to preview ❤➡➡➡__Discover & Shop over 40…

Comme Çiさんの投稿 2019年10月6日日曜日
A series of free workshops will also take place during the trunk show at The Gathering Table.
Personalities such as Via Romualdez-Reyes, Trey Bien PH, and Kerry Tinga will share their passions and do a demo about different preparation tips for the upcoming holiday season.
Slots allotted for the workshop are limited, so make sure to reserve yours through Collab Contessa. Check out the full workshop schedule here:
For those who are interested to shop fashion and lifestyle goods, The Concierge Trunkshow is a free event open for everyone to visit.
Also read: Leather Shops in the Metro for Your Different Lifestyle Needs
Details
What: The Concierge Trunkshow
Where: The Loft, Manansala, Rockwell Center, Makati City
When: October 10 to 13, 2019 from 10 a.m. to 8 p.m.
Facebook: Comme Çi, Cura V
Admission: Free