Catch the Película Manila Spanish Film Festival This October
PELÍCULA Manila Spanish Film Festival is back for its 18th season of showcasing award-winning Spanish and Latin American films! It's happening from October 3 to 13, 2019 at Greenbelt 3 Cinemas, Makati City.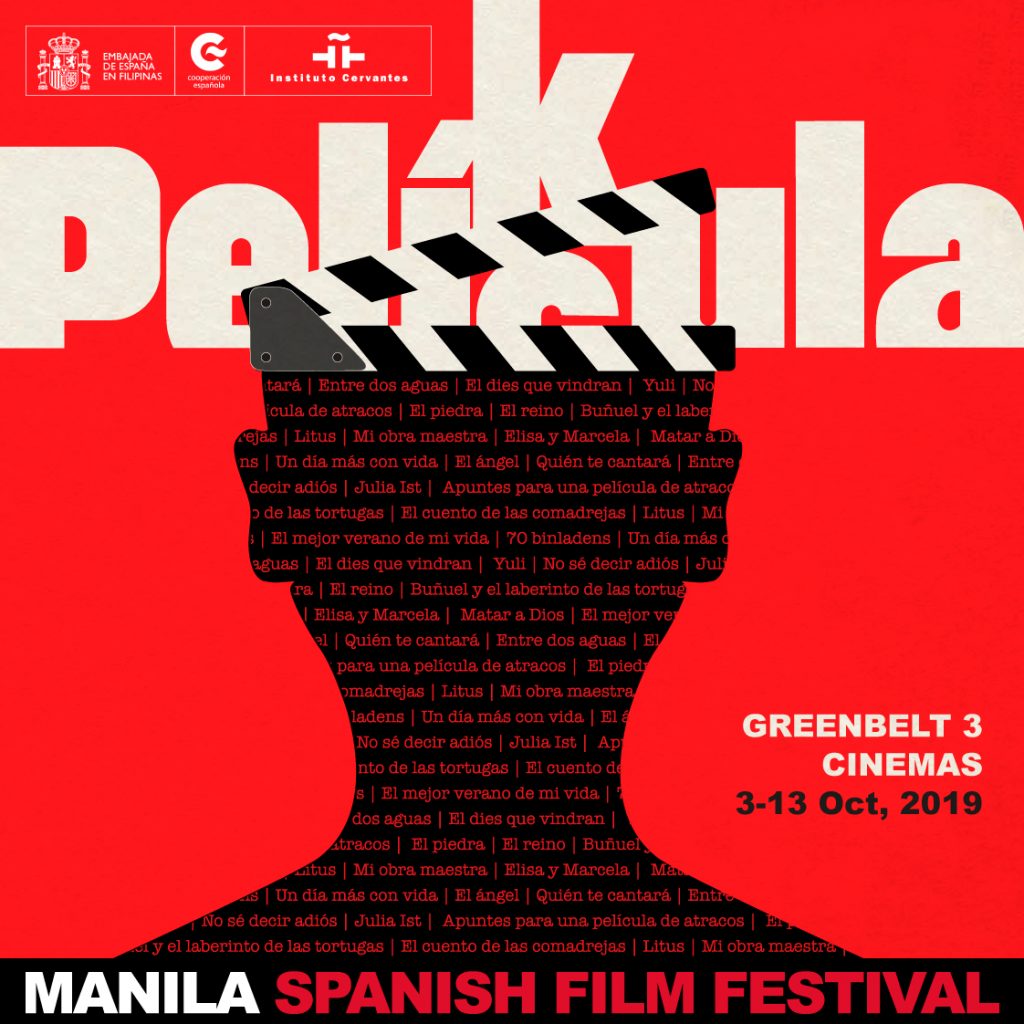 PELÍCULA Manila Spanish Film Festival has been attracting Spanish film enthusiasts since 2002. It is organized by the Instituto Cervantes de Manila, in collaboration with the Embassy of Spain to the Philippines and the Film Development Council of the Philippines.
Held every month of October, it has established a steady increase in the number of screened films and the number of viewers, making it the most important Spanish film festival in Southeast Asia.
This year, film enthusiasts will be treated to a collection of good quality movies, many of which have been awarded in prestigious festivals. The first leg of the festival program highlights 19 different films from genres of comedy, drama, thriller, animation, documentary, and short films.
Opening the film festival is the 2019 animated Spanish film Buñuel en el laberinto de las tortugas (Buñuel in The Labyrinth of the Turtles) directed by Salvador Simó. It tells the real-life story of Luis Buñuel as he creates a documentary about Las Hurdes, one of the poorest and forgotten regions of Spain.
Included in the line-up of films to be screened in the festival are the following:
Elisa and Marcela, directed by Isabel Coixet (2019)
The Realm, directed by Rodrigo Sorogoyen (2018)
Can't Say Goodbye, directed by Lino Escalera (2016)
My Masterpiece, directed by Gastón Duprat (2018)
Yuli, directed by Icíar Bollaín (2018)
El angel, directed by Luis Ortega (2018)
The Best Summer of My Life, directed by Dani de la Orden (2018)
The Weasle's Tale, directed by Juan José Campanella (2019)
Litus, directed by Dani de la Orden (2019)
The Missed Round, directed by Rafael Martínez Moreno (2018)
Julia Ist, directed by Elena Martin (2017)
Notes for a Heist Film, directed by León Siminiani (2018)
Staff Only, directed by Neus Ballús (2019)
Killing God, directed by Caye Casas, Albert Pintó (2017)
70 Big Ones, directed by Koldo Serra (2018)
Quién te cantará, directed by Carlos Vermut (2018)
The Days to Come, directed by Carlos Marques-Marcet (2019)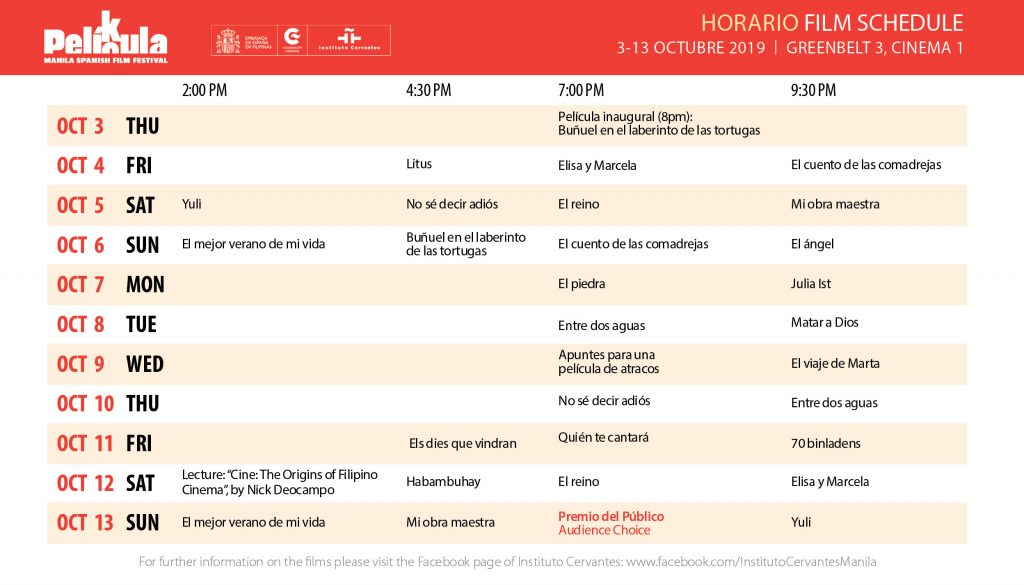 PELÍCULA Manila Spanish Film Festival 2019 Screening Schedules
There's another reason to go (aside from the films) because La Picara Manila, Barcino, Bar Pintxos, Tapellarestobar, and Pablo Bistro will serve tapas inspired by the movies available from October 3 to 13 as well.
Also read: Tapella Tapas Bar and Restaurant in Greenbelt: A Go-To Place for Spanish Cravings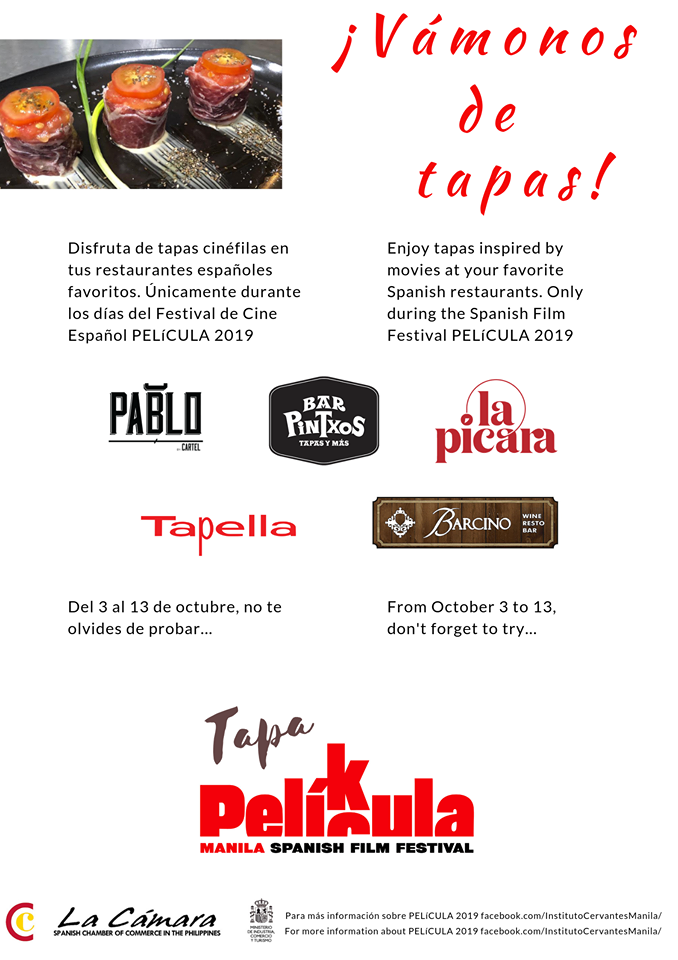 Also read: La Picara Is That Cheeky Spanish Restaurant Amidst the Busy City
Screenings will start at 4:30 p.m. Check out the screening schedules of each film at cultura.cervantes.es.
Details
What: Película Manila Spanish Film Festival 2019
Where: Greenbelt 3 Cinemas, Greenbelt Mall, Ayala Center, Makati City
When: October 3 to 13 from 4:30 p.m.
Contact: 02-526-1482  
Website: cultura.cervantes.es
Facebook: Instituto Cervantes de Manila
Ticket information: TBA