Expand Your Wine Knowledge with Estate Wine's Aroma Masterclass
Awaken your senses and deepen your appreciation for wine with the Expat Sommelier Inge Zwick at Estate Wine's Wine Aromas Masterclass happening on July 20 and 27, 2019 at the Estate Wine Tasting Room in Makati.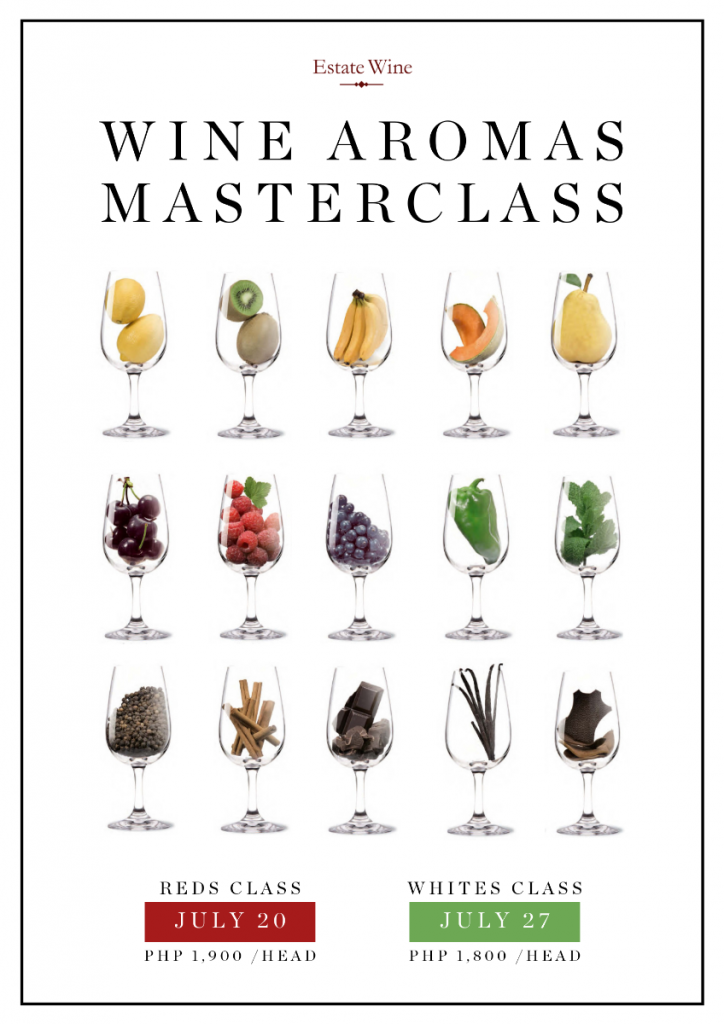 Several factors make a wine unique. Apart from its acidity, sweetness, and alcohol content, one can further appreciate a bottle of wine through its distinct aroma.
And what better way to elevate your wine knowledge than learning from The Expat Sommelier herself, Inge Zwick, who is a certified wine expert with over 15 years of experience in the industry?
There will be two classes available: the Reds and Whites, both of which will discuss the characteristics and aroma profiles of wines from around the world. Guests will also have the chance to taste four amazing wines and identify each of their key aromas.
For interested guests, the rate for the Red Wines Class is Php 1,900/person and will be held on July 20 at 4 pm. Meanwhile, the White Wines Class is at Php 1,800/person and will be held on July 27 at 4 pm.
But better hurry and book your slots now as they are offering early bird rates!
Those who will pay for a Red Wines Class on or before July 16, can avail a slot for only Php 1,700, while those who will register for the White Wines Class on or before July 23 will only pay Php 1,600. To book your slot, you may fill up the form here: Booking Form: Wine Aromas Masterclass.
For more information, you may contact Estate Wine at 02-804-5028 or 0977-486-1732.
Also read: 6 Places for Wine Tasting in Manila
Details:
What: Wine Aromas Masterclass
When: July 20, 2019 (Red Wines Class) and July 27, 2019 (White Wines Class)
Where: Estate Wine Tasting Room, G/F Republic Glass Building, Salcedo St., Legaspi Village Makati City
Facebook: facebook.com/estatewine
Website: estatewine.com.ph