Indulge in the First World Chocolate Fair This July
Chocolate lovers, rejoice!
In celebration of World Chocolate Day, S'Maison and Auro Chocolate present the World Chocolate Fair happening from July 5 to 7, 2019 at the Main Atrium of S Maison, Pasay City.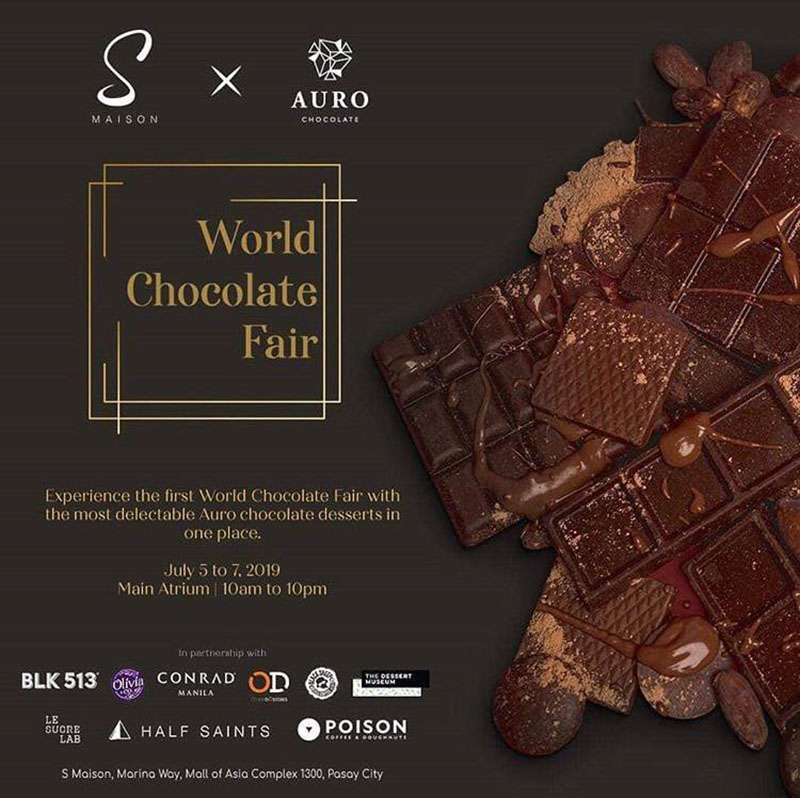 IMAGE S'Maison at Conrad Manila's Official Facebook Page
The World Chocolate Fair is the place to be if you want to sample delectable Auro Chocolate desserts without having to go from one place to another!
Also Read: Dalareich, Auro Win Gold in London Academy of Chocolate Awards
Aside from that, patrons can also sample chocolate and other desserts from the following establishments:
BLK 513
Olivia & Co.
Conrad Manila
Overdoughs
Black Sheep Coffee
The Dessert Museum
Half Saints
Le Sucre Lab
Poison Coffee & Doughnuts
Note that desserts from said establishments are sold separately.
Also Read: Filipino Chocolate Auro Opens Their First Official Store in Tokyo
Whether you're an avid fan of chocolate or an occasional eater, there will surely be something at the World Chocolate Fair for you! Time to indulge in a chocolate extravaganza at the Main Atrium of S'Maison at Conrad Manila, Pasay City. The fair will be open from 10 a.m. to 10 p.m.
Plus, admission to the event is absolutely free!
For more information, you can visit S'Maison's official Facebook page or the official World Chocolate Fair Event Page. You may also visit Auro Chocolate's official Facebook page .
Details
What: World Chocolate Fair
Where: Main Atrium, S'Maison at Condrad Manila, Marina Way, Mall of Asia Complex, Pasay City
When: July 5-7, 2019, 10 am to 10 pm
Ticket Information: Free admission