Asian Travel Exchange Aims to Connect Philippine Tourism to the World
Over 2,000 travel agents are expected to attend the first Asian Travel Exchange (ASTREX) B2B this coming September 12 to 14, 2019 at the Pan Pacific Hotel Manila.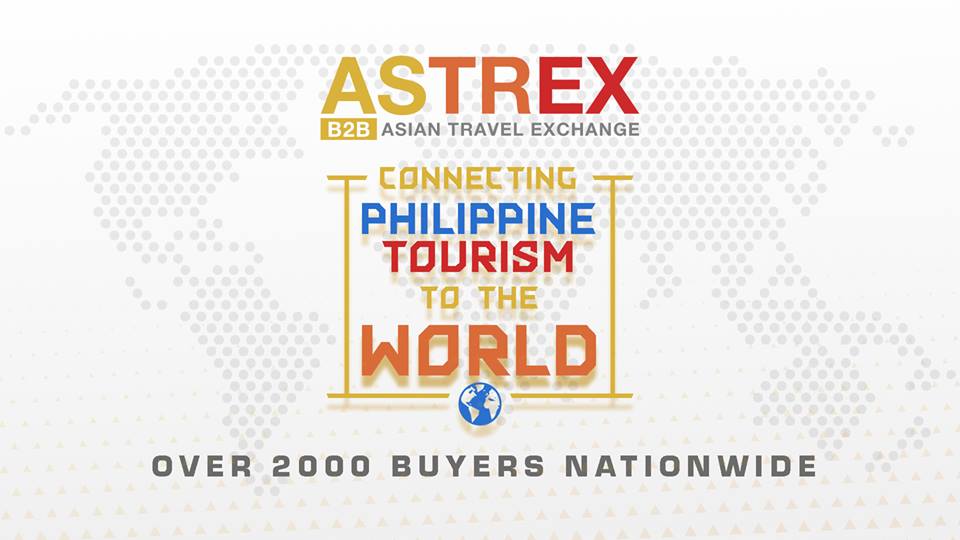 IMAGE Asian Travel Exchange
A team of travel professionals, event managers, and marketing executives organized the event to showcase the best inbound and outbound travel and tourism services. They have gathered the top 100 global tour operators to conduct product presentations and workshops, which will further educate and inspire the participants.
The organizers want to create a platform for participants to broaden their business networks and create connections among other stakeholders in the industry.
The 3-day event is scheduled as follows:
#AstrexConnect Day 1 – Simultaneous B2B meetings between buyers and sellers will take place throughout the day. A cocktail networking dinner is also scheduled in the evening.
#AstrexConnect Day 2 – B2B meetings will continue during the day, while Fiesta Night will happen in the evening.
#AstrexEngage – Global tour operators will conduct their product presentations on the final day of the event.
Acquire new connections!Support each travel businessTraverse the world with your brandRaise awarenessEstablish lasting partnership in anXceptional event!.this is ASTREXB2B.join us in this 3-day event!September 12-14,2019 at the Pan Pacific Manila!– Buyers Registration –Metro Manila and International Buyers Register Here:https://docs.google.com/forms/d/e/1FAIpQLSeA-NuMUrp2khZ8EaTDMG__4set-8TftSvqKFbF8QmL0Z36rQ/viewformProvincial Buyers Register Here:https://docs.google.com/forms/d/e/1FAIpQLSfwhdgxAfmRtUNenId_X3e4uUXUfE9_wmfvRin5YUKYXdKxOQ/viewformVisit : http://www.asiantravelexchange.com for more details!.Focus , Connect , Engage and Expand your Business!

Asian Travel Exchangeさんの投稿 2019年6月12日水曜日
Participant categories include:
Airline
City/Municipal Tourism Board
Cruise Company
Educational Tour Specialist
IT System ProviderMedical Tourism Specialist
Mobile Internet Provider
National Tourism Association
Online Travel Agent
Transport Service
Themed Park, Hotel and Resort
Tour Operator
Travel Insurance Company
Visa Center
Other related enterprises
Registration is free! Just register here for interested participants from Manila and foreign countries, and here for provincial participants. Note that only 1,000 slots are allocated for each category.
Details
What: Asia Travel Exchange
Where: Pan Pacific Hotel Manila, Gen. Malvar St., Malate, Manila
When: September 12-14, 2019
Registration: Free
Contact:  02-936-1463/ 0917-548-7993
Website: asiantravelexchange.com
Facebook: facebook.com/asiantravelexchange
---
Source: Asian Travel Exchange