Food & Drinks Asia 2019 Is Happening on September 5 to 8
The biggest food trade show for food and beverage entrepreneurs in the country is back!
Now on its 23rd year, the International Expo on Specialty Food, Delicatessen, Confectionery, Beverages, Beers, Wines, and Spirits or simply known as the Food & Drinks Asia 2019 is set to expand your food franchise this September 5 to 8 at the World Trade Center Manila.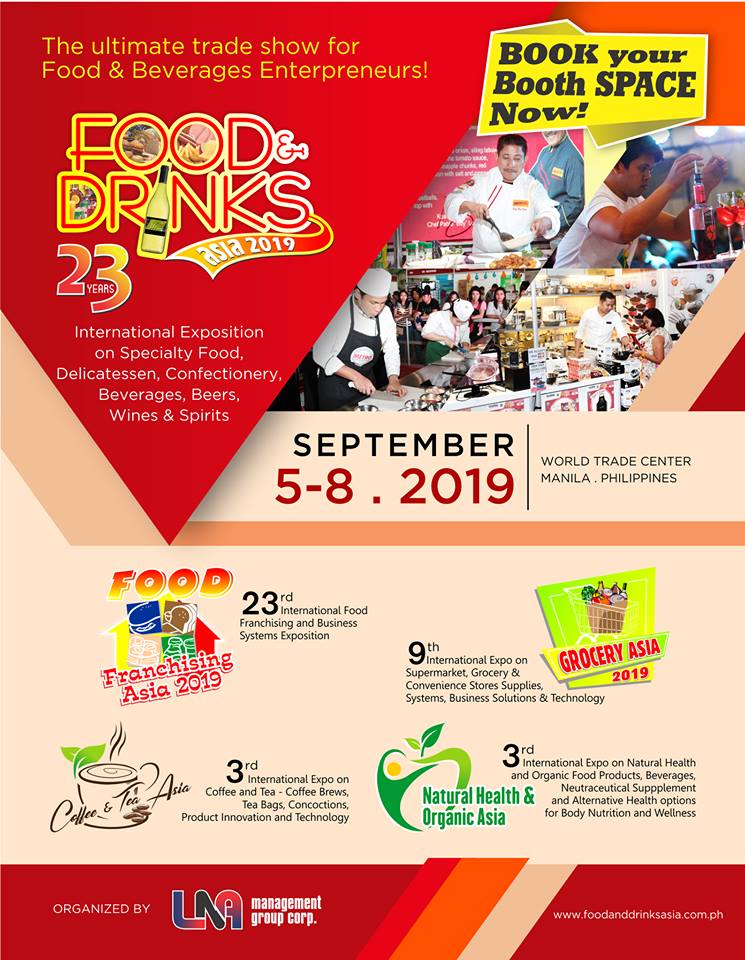 Organized by the LNA Management Group Corp., the Food & Drinks Asia 2019  gathers franchisers, food distributors, wholesalers, and manufacturers from all over the country and other neighboring countries to provide them vast and diverse options for food and beverage ventures.
Expect more than 200 food and beverage exhibitors with 195 local brands and 15 international food leaders from countries such as Bangladesh, Germany, the Netherlands, China, Italy, France, Korea, and Singapore.
The exhibits will showcase different food and beverage products such as delicatessen, fresh produce, gourmet food, snacks, beers and wines, fruits and vegetables, and many more. Seminars, live cooking shows, contests, and other fun activities will also be held in this food event.
Food & Drinks Asia 2019 is in conjunction with the Food Franchising Asia 2019, Grocery Asia 2019, Coffee & Tea Asia 2091, Natural Health & Organic Asia 2019.
For those who wish to be a part of this big food event, register first at their website.
For more information and updates, you may contact them at (02) 354-5758 to 60 and (02) 354-5436 or visit their website at www.foodanddrinksasia.com.ph.
Details:
What: Food & Drinks Asia 2019
Where: World Trade Center Metro Manila, 2/F WTCMM Building, 1300, Pasay Extension corner, Sen. Gil J. Puyat Ave, Pasay, Metro Manila
When: September 5 to 8, 11 a.m. to 2 p.m.
Registration: www.foodanddrinksasia.com.ph/visitors