His and Her Ikebana Exhibit This May 25-26 at The Nova Gallery Manila
As a celebration of their 10th anniversary this year, the Misho Ryu Nakayama Bunpo kai Manila is launching their first Ikebana exhibit entitled His and Her Ikebana.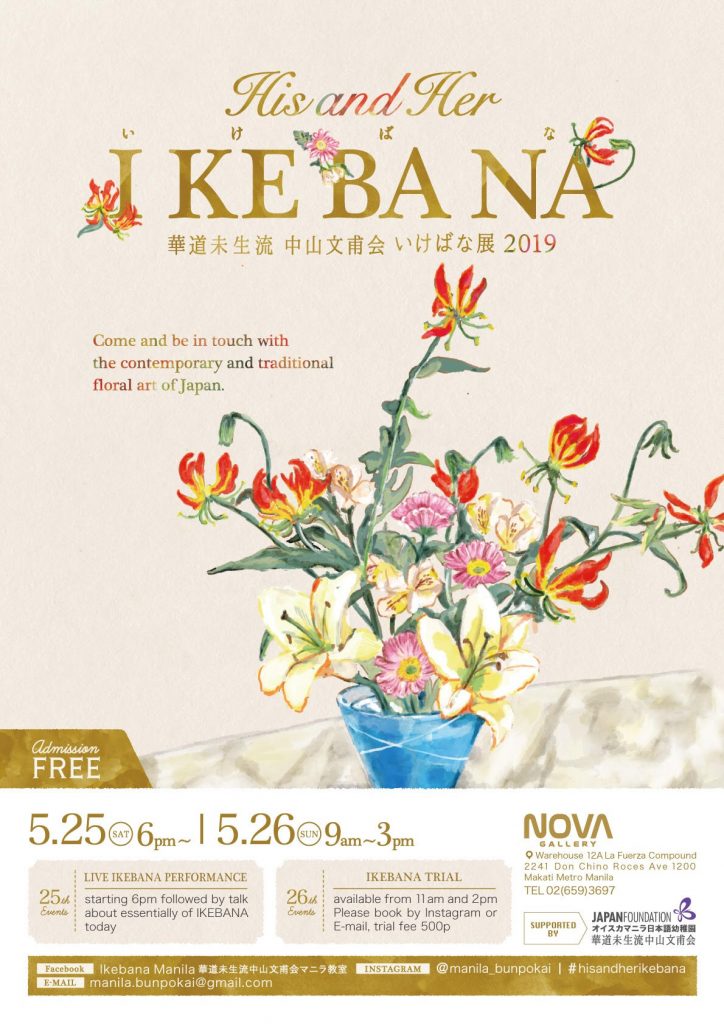 Happening on May 25 and 26 at the Nova Gallery Manila, the exhibit will feature a live Ikebana performance, a talk on the significance of Ikebana in today's world, and an Ikebana trial.
Ikebana is the traditional Japanese art of flower arrangement. Its name comes from the Japanese words ike which means "alive" or "arrange" and bana which means "flower."  
The live Ikebana performance is on May 25 at 6 p.m., this will then be followed by an in-depth discussion on Ikebana. The Ikebana trial, on the other hand, is set to happen on May 26 at 11 a.m. and 2 p.m.
Those interested to take part in the trial can book their slots by sending an e-mail to manila.bunpokai@gmail.com or messaging them on their Instagram account at @manila_bunpokai. Trial fee is at Php 500.
Everyone is invited to take part in this momentous celebration of a milestone as the art of Ikebana knows no gender, age, and nationality.
For more information, you may visit the event's official Facebook page.
Details:
What: His and Her Ikebana
When: May 25, Saturday (6 p.m.) / May 26, Sunday (11 a.m. and 2 p.m.)
Where: La Fuerza Plaza II, 2241 Chino Roces Ave, Makati City
Ticket Information: FREE, but P500 for those participating in Ikebana trial
Facebook: facebook.com/events/2388391324717308
Instagram: manila_bunpokai