Aliwan Fiesta 2019 This April 25-27
The Philippines' most grandiose festival, Aliwan Fiesta, will once again open to the public this April 25 to 27, 2019 at CCP Complex in Pasay.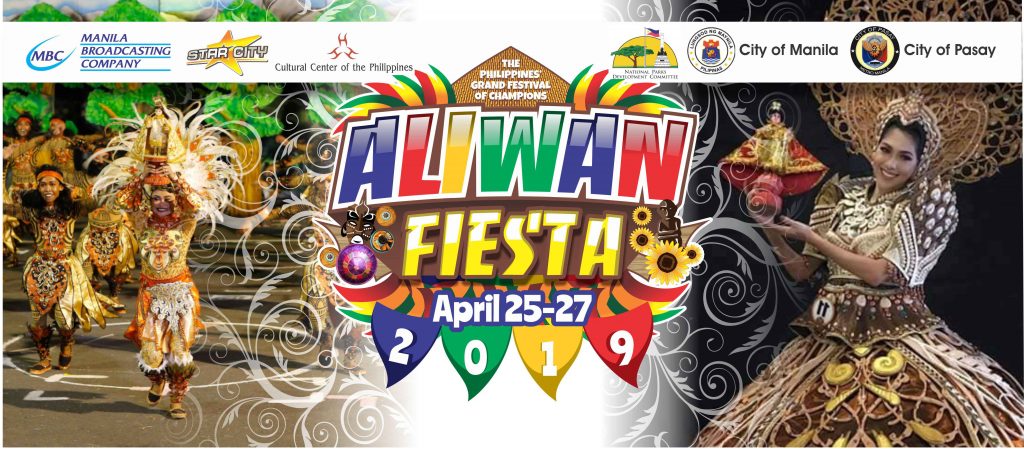 Organized by Manila Broadcasting Company, Star City, and the Cultural Center of the Philippines, in cooperation with the cities of Manila and Pasay, Aliwan Fiesta 2019 is sure to pull off another series of grand visual spectacles this year by celebrating the country's biggest and most popular festivals.
Also read: List: Festivals in the Philippines this April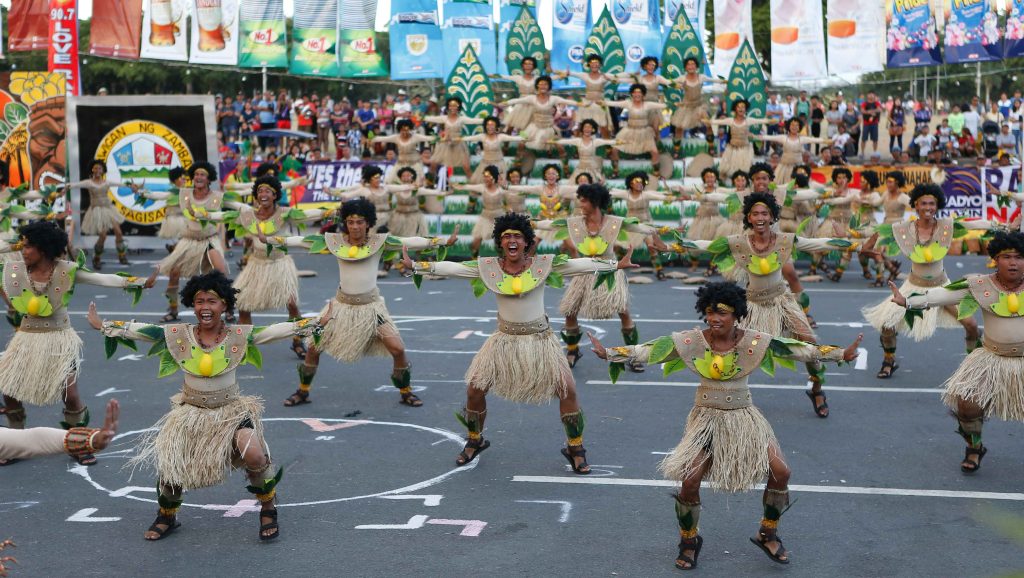 Dinamulag Mango Festival of Zambales
With an aim to present the richness and diversity of Filipino culture to local and foreign audiences in a single venue, the annual huge event harnesses the power of Philippine festivals to showcase how religion, culture, and tradition are woven in the fiber of Filipinos' existence.
Traditional fiestas, which are held annually to commemorate the foundation of a town or province, or honoring its patron saint, are brought together in one to highlight Filipino's indomitable spirit, creativity, and innovation.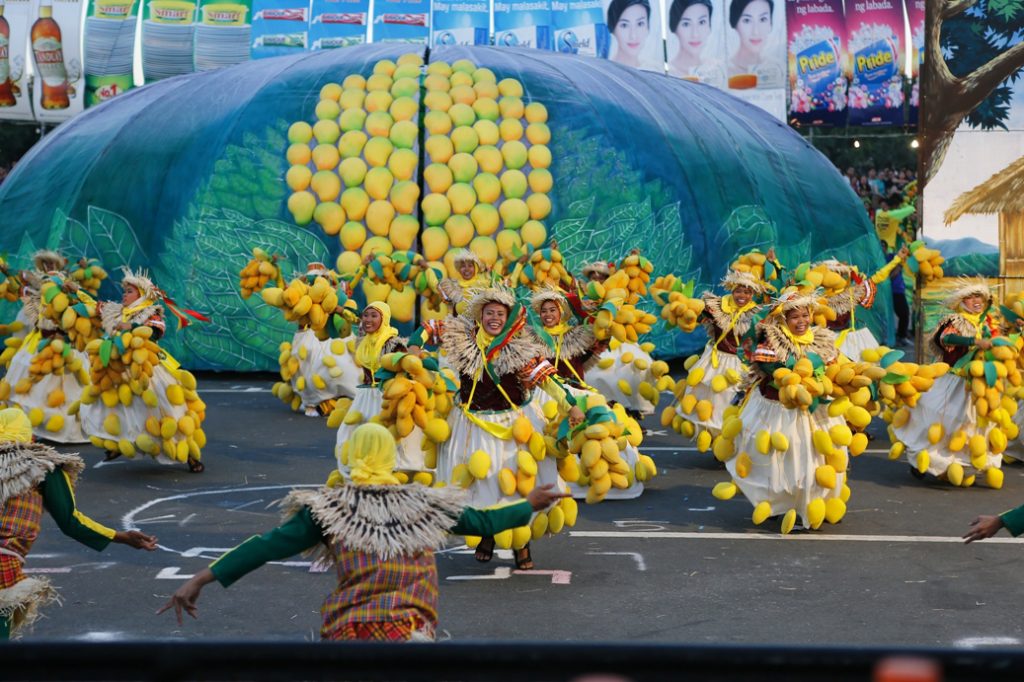 Hubon Guimarasnon for the Manggahan Festival
Aliwan Fiesta 2019 is gathering champion street dance contingents from the different regions, along with a bevy of beauties, and master craftsmen who painstakingly construct floats using their most arresting mechanical and technical ideas.
Local government units are also invited to bring to the fore local pride through their artistic talents, resources, and produce–all depicting traditional folklore. Grand prizes are at stake in this much-awaited event.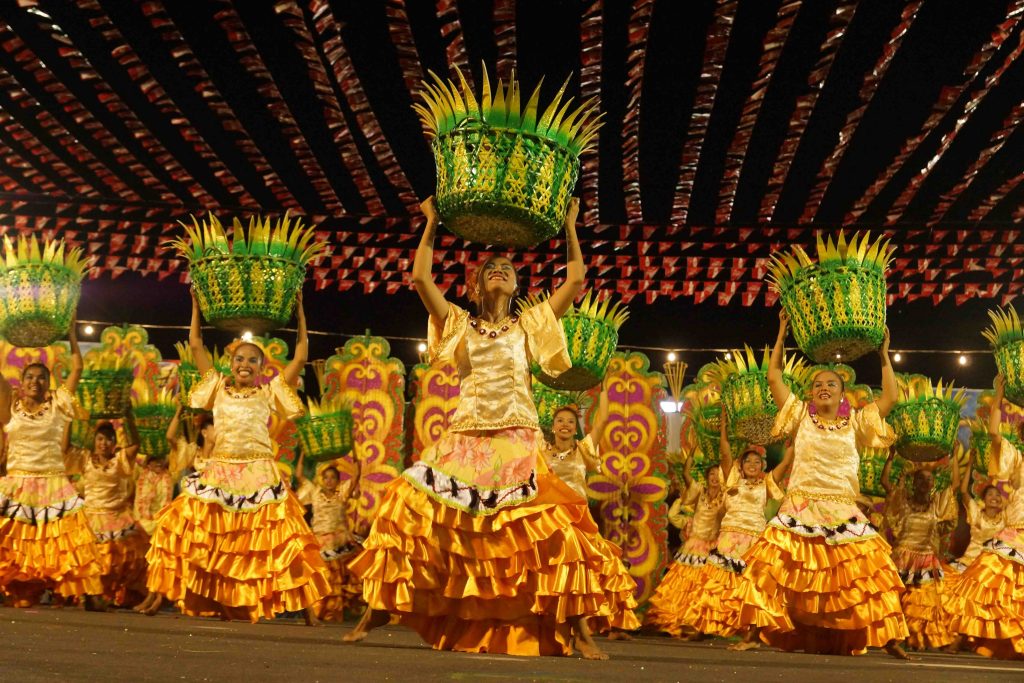 Meguyaya Festival of Upi Maguindanao
Competing in this year's festival dance category are the following:
The Bodong Festival of Pinukpok, Kalinga (represented by St Teresita High School);
Panagbenga Festival of Baguio City, Benguet (represented by Baguio City National High School);
The Pangisdaan festival  of Navotas (represented by Hayuma Cultural Dance Troupe);
Halamanan festival of Guiguinto, Bulacan;
Dinamulag Mango festival of Zambales (represented by the town of Masinloc);
Niyogyugan festival of Quezon Province (represented by the town of Pagbilao);
Tayo na sa Antipolo Maytime festival (represented by San Jose National High School);
Sambalilo festival of – Cavinti, Laguna;
Manggahan festival of Guimaras  (represented by Hubon Guimarasnon);
Buraburon festival of Burauen, Leyte (represented by Tribu Buraburon);
Pintados Kasadyaan festival of the Province of Leyte (represented by the Pasaka festival of Tanauan);
Meguyaya festival of Upi, Maguindanao (represented by Sabaken National High School);
Tarakuku festival of Mother Kabuntalan, Maguindanao (represented by Kabuntalan National High School);
The Kapatagan festival of Kapatagan, Lanao del Sur.
For this year, participating floats include YKalinga; Panagbenga; the Palakaya of Navotas; Para Aqui from Paranaque; Bangka de Muntinlupa; Dayang Dayang of Pasay City; Singkaban of Bulacan; Halamanan of Guiguinto; Pamilya from Catanauan, Quezon; Masaya ang Pamilya sa Masayang Laguna from San Pablo City; the Tagultol Fishing Festival of Atimonan, Quezon; IPI 60th Year-Sinulog – Cebu; Tacloban Through the Years; Panuluganen from Cotabato City; Siniratan a Laminan from Sultan Kudarat; Meguyaya Festival of Upi, Maguindanao; Kapasiti a Lemba from Mother Kabuntalan, Maguindanao; Kuyog a Kang'lal from Sultan Mastura, Maguindanao; Sarimanok from Kapatagan, Lanao del Sur; and Palabuni-bunyan from ARMM.
Aliwan Fiesta 2019 opens on April 25 with a three-day shoppers bazaar along Sotto Street at the CCP Complex, and a Pasakalye concert featuring Ben&Ben, Juan Karlos, This Band, and Extreme Lab at 6 p.m.
24 lovely young ladies representing the different festivals all over the country then take to the outdoor stage in front of the Aliw Theater on April 26 for the Reyna ng Aliwan pageant night at 6 p.m.
Festivities will culminate with the grand parade and street dance showdown, which starts at Quirino Grandstand at 4 pm on April 27, traversing Roxas Boulevard en route to the CCP Complex, and capped by the awarding ceremonies at 9 pm.
For more details, visit Aliwan Fiesta official website or follow them on Facebook.
Details:
What: Aliwan Fiesta 2019
Where: CCP Complex, Roxas Blvd, Pasay City
When: April 25 to 27, 2019
Tickets: Free admission
---
This is a press release. Minor edits were made prior to publishing.