Festivities Await at Lucky Chinatown's Biggest Chinese New Year Celebration
Welcome the Year of the Earth Pig as Lucky Chinatown kicks off the grandest and biggest celebration in the country. It's located in the heart of the world's oldest and the country's premier Chinatown, Binondo.
Running until February 10, the two-week festivity highlights lucky rituals, fabulous cultural presentations, electrifying live performances from the country's brightest music stars and groups. There will also be a grand fireworks display, and fantastic shopping and dining deals!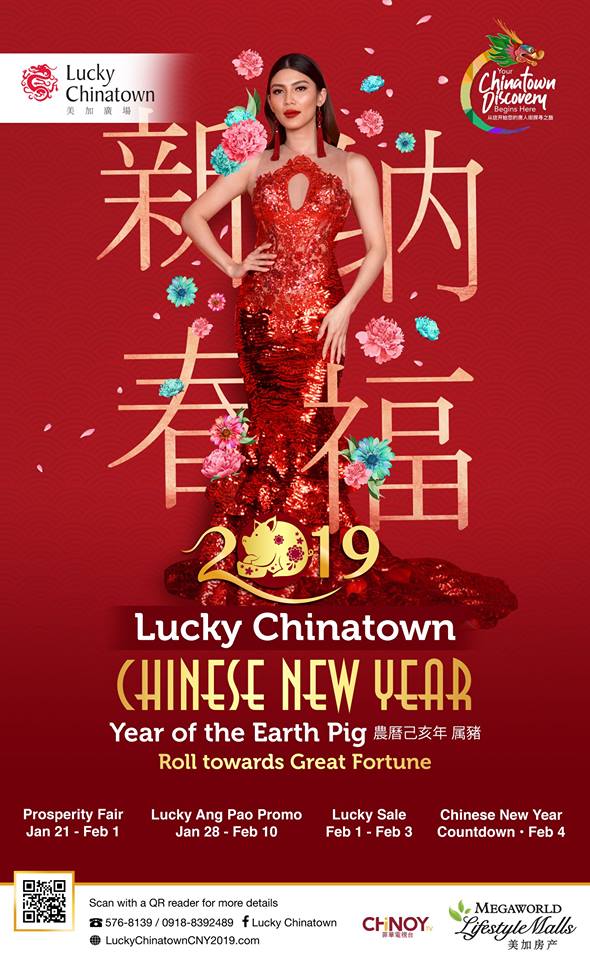 The fun starts with the Prosperity Fair at Lucky Chinatown Atrium, where shoppers can find and shop for lucky charms, Chinese delicacies, and other unique novelty items during the entire event.
Shoppers can also get all the luck with up to 70% off and other great deals at participating shops and dining establishments at Lucky Chinatown's Lucky Sale from February 1 to 3.
And for every Php 2,000 receipt purchase from February 1 to 10, guests can get a Lucky Ang Pao, which contains instant rewards and exciting prizes.
Meanwhile, all foodies can go on a satisfying gastronomic trip at the Meisic Street Food Market, and indulge in an array of Chinese cuisine until February 10.
To pay homage for the National Arts Month and enrich the appreciation for Filipino culture, Lucky Chinatown is hosting the National Commission for Culture and the Arts' (NCCA) Ani ng Sining: The Philippine Arts Festival on February 3 at Lucky Chinatown Atrium.
The rock jazz group Sud will perform their top hits on February 2 (6 p.m.) at Lucky Chinatown Atrium. Taiwanese pop band EggPlantEgg will also perform for the very first time in the country, with their top international hits "Back Here Again", "Waves Wandering", and "Dear Heartless".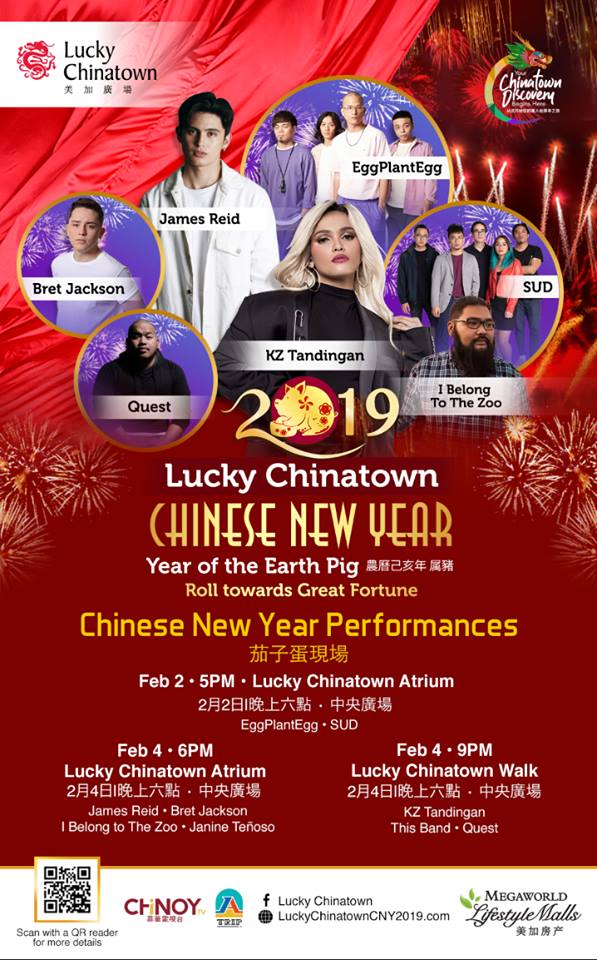 The celebration shifts to a higher gear at Lucky Chinatown's Chinese New Year Countdown to 2019 on February 4 with some of the country's rising artists. Countdown begins at 6 p.m. at the Lucky Chinatown Atrium with rock-solid performances from I Belong to The Zoo, Janine Teñoso, Bret Jackson, and one of the country's sought-after stars, James Reid.
Further, the party goes on at Lucky Chinatown Walk from 9 p.m. until 12 m.n. with performances by This Band, Quest, and KZ Tandingan, who will spearhead the countdown celebration at midnight.
At exactly 12 m.n., a grand fireworks display will light up the sky, followed by a special Astrological Forecast segment by master Johnson Chua, where guests can learn what's in store for them this 2019.
More colorful performances, including the traditional Lion and Dragon Dance and cultural presentations from Chinese schools and Filipino-Chinese organizations, are set to entice guests on Chinese New Year's Day, February 5, from 9 a.m. onwards.
For a better fortune this 2019, guests can take part in the traditional 8 Lucky Rituals located at the Lucky Chinatown Walk.
Also read: LIST: Best Places To Celebrate Chinese New Year for Tradition and Culture
"It has been our tradition to join the Chinese-Filipino community in celebrating the Chinese New Year and we always make sure that we welcome each year in the grandest way possible,"  said Megaworld Lifestyle Malls Head Graham Coates. "Our goal is to spread happiness and inspire everyone to start the year in high spirits."
For more information, parking details and restaurant reservations, please call the Lucky Chinatown concierge at 02-576-8139 or visit www.LuckyChinatownCNY2019.com
---
This is a press release. Minor edits were made prior to publishing.