Converging Realities: Art of Reybert Ramos
See the contemporary Manila through the eyes of the visual artist, Reybert Ramos, as ArtistSpace and Galerie Stephanie present Converging Realities exhibit from February 5 to 19, 2019 at Ayala Museum, Makati City.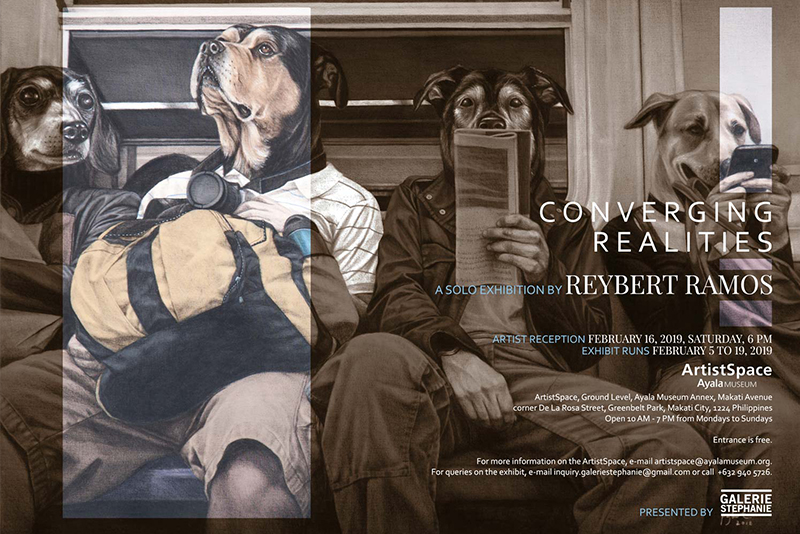 Drawing inspiration from double meanings and stereotypes, Reybert presents Converging Realities, his fifth solo exhibition, as a social evaluation and correction of the modern individual.
Muse is only one of the works that will be up in Reybert's 5th solo exhibition; 2018 Acrylic and graphite on canvas 122 x 91 cm
Reybert fuels Converging Realities with strong social realism and paradox that push his audience to deduce the symbolism incorporated in his dog-human hybrids, particularly those that are narrative in nature.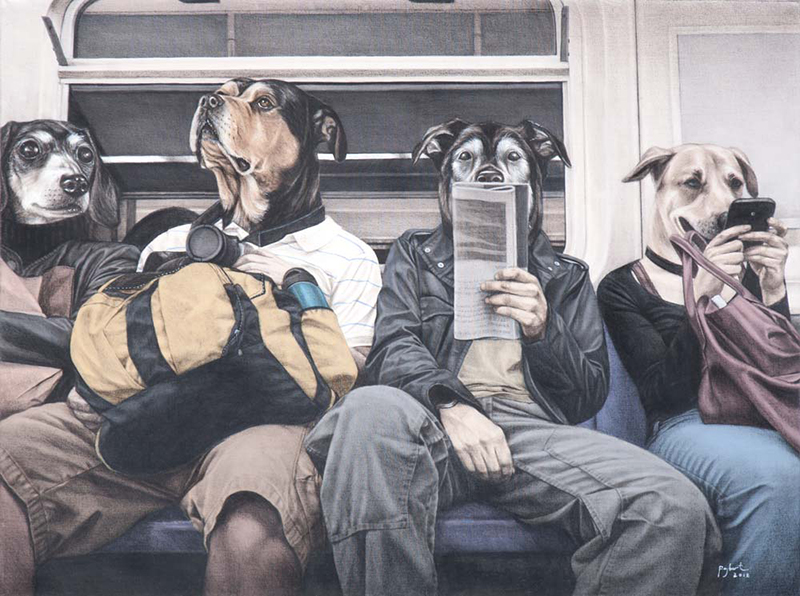 In his work, Daily Grind, the subjects create a crowd of isolated individuals—representing the diversity of a common struggle; 2018 Acrylic and graphite on canvas 91 x 122 cm
Converging Realities stands as the artist's advocacy to continue to question the social predicaments that shape human nature. He makes these associations through his art to trigger a deeper and more implicit familiarity, subtly manifested in the dogs' characteristics.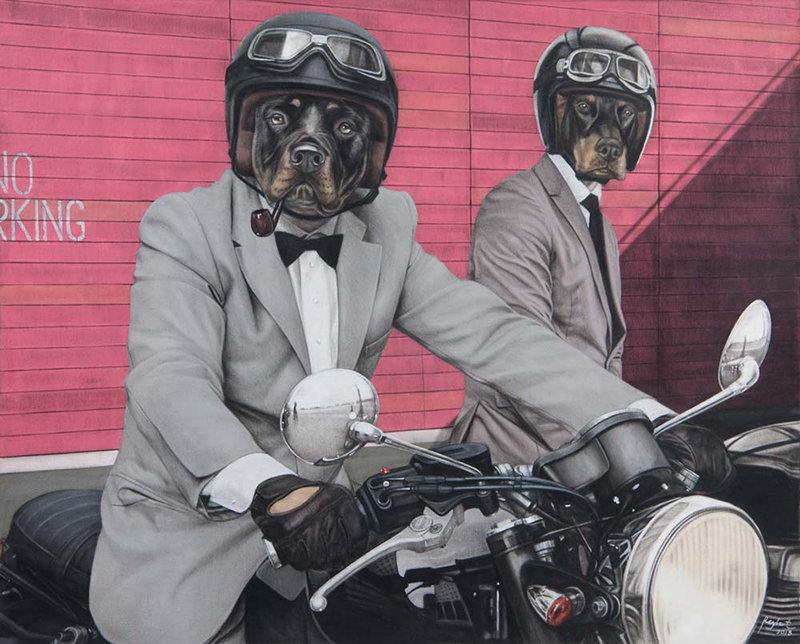 "Distinguished Gentlemen" is an attack on stereotypes using the motorcycle as a misinterpreted vehicle of violence associated with biker gangs or other criminal activities; 2018 Acrylic and graphite on canvas 91 x 114.3 cm
This exhibition marks the artist's development of creating finer details both literally and figuratively, exposing the unorthodox characters as the true identities that they actually are.
Converging Realities will be on view at the ArtistSpace from February 5 to 19, 2019, with an Artist's Reception on February 16, 2019.
ArtistSpace is located at the Ayala Museum Annex, Ground Level, Makati Avenue corner De La Rosa Street, Makati City. It is open from Mondays to Sundays, 10 a.m. to 7 p.m., admission is free.
For more information, please call or e-mail Jane Salvador at 02-759-8288, artistspace@ayalamuseum.org or Grace Micah Oreiro at inquiry.galeriestephanie@gmail.com, 02-940-5726.
Details
What: Converging Realities: 5th Solo Exhibition of Reybert Ramos
When: February 5-19, 2019, Mondays to Sundays, 10 a.m. to 7 p.m.
Where: Artist Space, Ayala Museum Annex, Ground Level, Makati Avenue corner De La Rosa Street, Makati City
Ticket information: Admission is free