Troye Sivan LIVE in Manila This May!
Australian actor and singer-songwriter Troye Sivan will invade the Philippine stage for his Asia Tour promoting his new album, The Bloom.
The tour is happening on May 1, 2019 at the SM Mall of Asia Area, Pasay City.
Also read: Thrice Debuts First-Ever Concert in Manila This May 3
Troye Sivan has been stirring up the music industry for a few years now, and it doesn't stop there—he is back with his second album, The Bloom.
The Bloom, which was released last August 2018, is his second album after his erratic first album Blue Neighborhood. The album garnered a promising outlook as it booked nomination spots for the Album of the Year, Best Male Artist and Best Pop Release at the ARIA Music Awards 2018.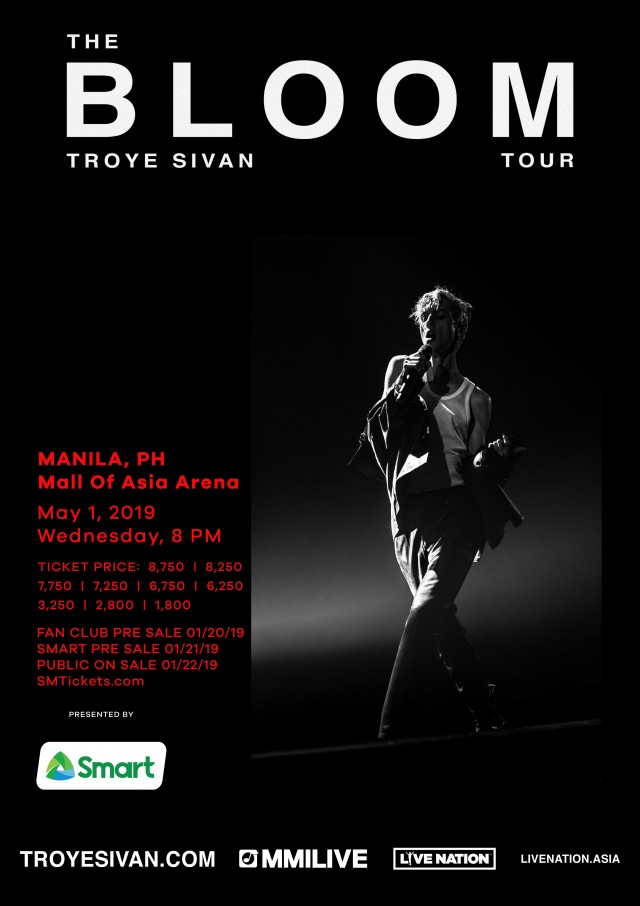 With his new album The Bloom, Troye Sivan portrays his edgier side. The album also themes with the LGBT community, and it exudes a more upbeat and acoustic-driven songs compared to his past compositions.
The album consists of songs namely Seventeen, My! My! My!, The Good Side, Bloom, Postcard, Dance to This, Plum, What a Heavenly Way to Die, Lucky Strike, and Animal.
For the seating venue format please refer to the photo below:
Ticket selling for the Troye Sivan concert will start on January 22, 2019, so click here to purchase tickets.
Details
What: Troye Sivan Live in Manila 2019
Where: SM Mall Of Asia Arena, Pasay City
When: May 1, 2019; 8 p.m.
Ticket prices:
Php 8,750 – VIP Standing
Php 8,250 – Patron
Php 7,750 – Patron Center
Php 7,750 – Lower Box A Premium
Php 7,250 – Lower Box A Regular
Php 6,750 – Lower Box B Premium
Php 6,250 – Lower Box B Regular
Php 3,250 – Upper Box Premium
Php 2,800 – Upper Box Regular
Php 1,800 – Gen Ad