Sabrina Carpenter Returns to Manila on April for Singular Tour
19-year old singer Sabrina Carpenter has announced her latest album Singular Act 1, as well as an upcoming Manila concert this April 2019.
The American singer-songwriter is behind the chart-topping singles "Thumbs," "Why," and the No. 1 breakout song on the Billboard Dance Club chart "Alien." She sold-out her first fall headline tour in 2016 from her sophomore album EVOLution.
Sabrina Carpenter will first perform in Osaka, Japan (April 1), followed by Nagoya, Japan (April 2), Tokyo, Japan (April 4), Seoul, and South Korea (April 6), before coming to Manila, Philippines (April 9).
The new album, Singular: Act 1 has Sabrina going into more of a sweeter pop, mature music. The album includes the songs Bad Time, Almost Love, and Paris, which just recently released a music video.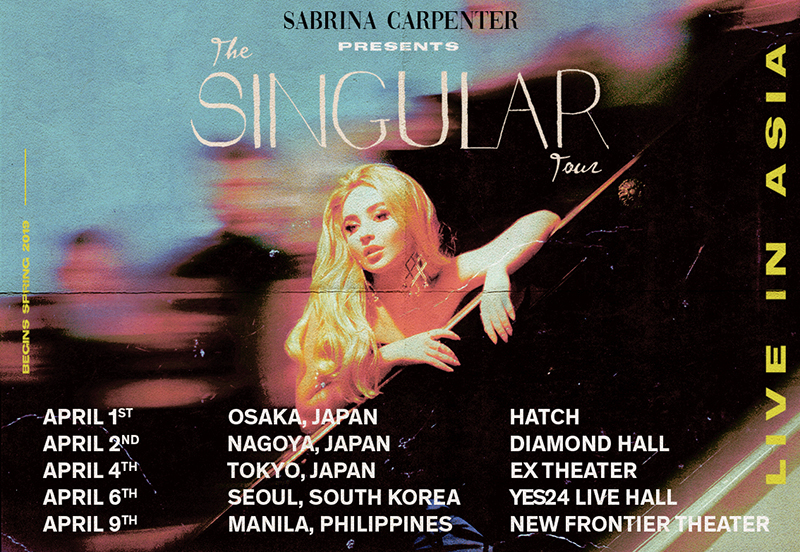 The singer has been in the Philippines once before for a mall tour titled Sabrina Carpenter: Live and Acoustic. She performed for three days last August 2018, which also allowed for a signing session and a meet and greet with the artist.
Also read: Sabrina Carpenter Live in Manila this August 2018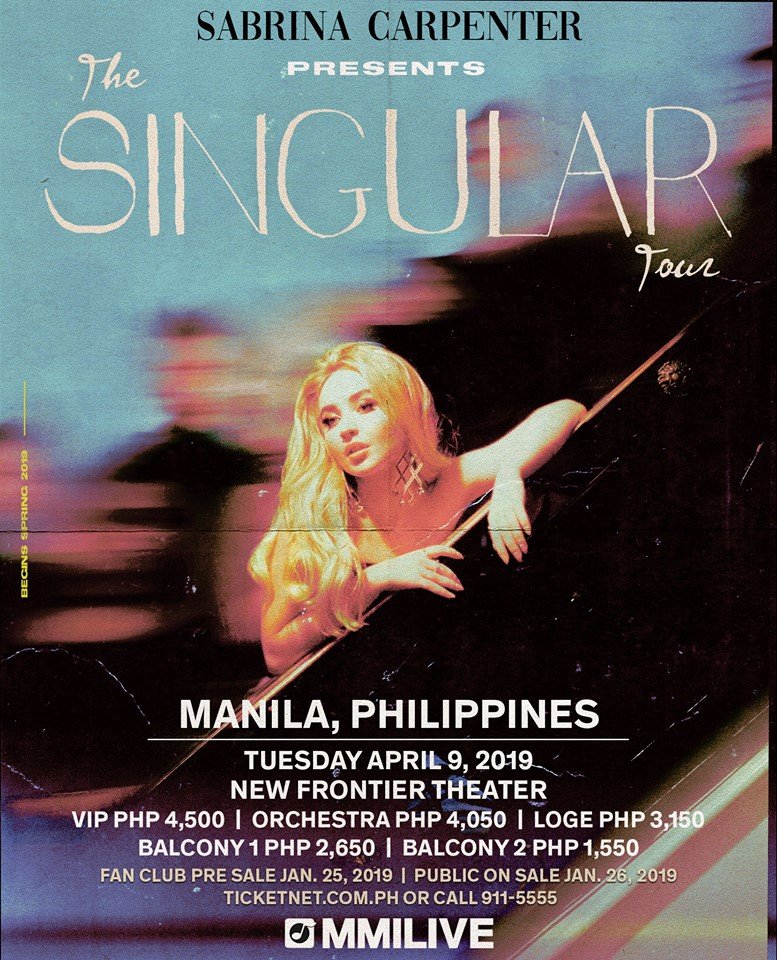 Tickets go on sale on January 26 for VIP Php 4,500, Orchestra Php 4,050, Loge Php 3,150, Balcony1 Php 2,650, and Balcony2 Php 1,550. Tickets are now available at TicketNet.com.ph or call 02-911-5555.
Details:
What: Sabrina Carpenter in Manila: Singular Act. I
When: April 9, 2019
Where: New Frontier Theatre, Araneta Center, General Mc Arthur Avenue, Quezon City
Ticket information:
VIP Php 4,500
Orchestra Php 4,050
Loge Php 3,150
Balcony1 Php 2,650
Balcony2 Php 1,550