Sabrina Carpenter Live in Manila this August 2018
Nineteen-year-old Sabrina Carpenter is set to grace the stage as she sings her latest hit single "Almost Love" in the Philippines for the very first time!
Together with Megaworld Lifestyle Malls, MCA Music (Universal Music Philippines) proudly presents "Sabrina Carpenter: Live and Acoustic" with three upcoming shows this August 2018!
The American singer-songwriter is behind the chart-topping singles "Thumbs," "Why," and the No. 1 breakout song on the Billboard Dance Club chart "Alien." Despite her young age, she managed to have her first sold-out fall headline tour in 2016 from her sophomore album EVOLution.
This year, Sabrina's newest album called "Singular" is slated to be released, with her hit-single "Almost Love" as the first song on the album.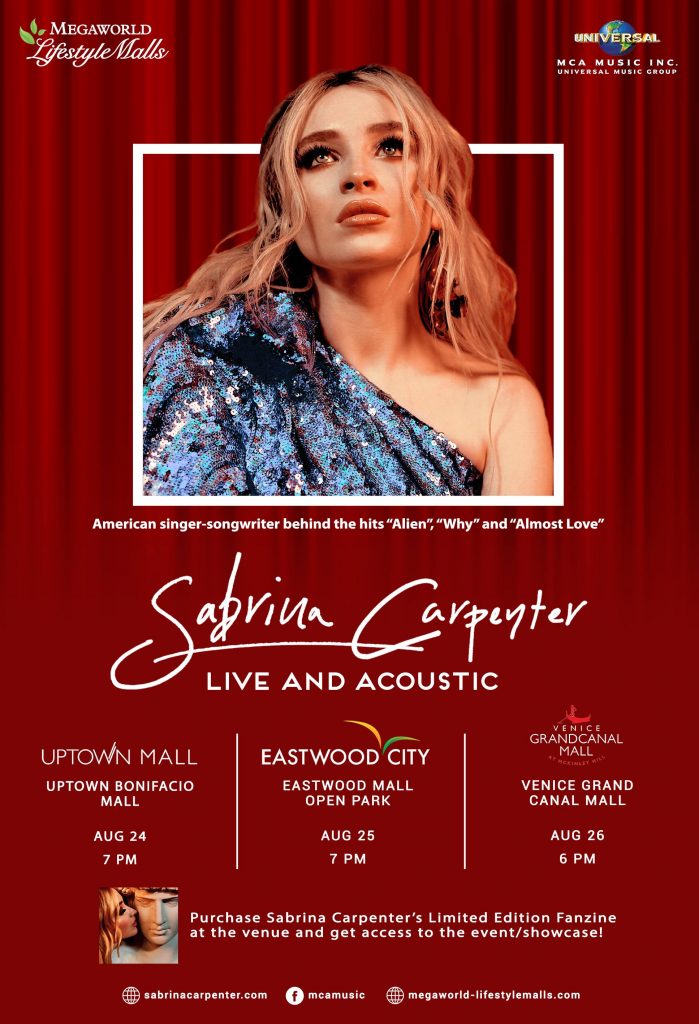 For the first time in the Philippines, catch Sabrina's Live and Acoustic shows in Manila on August 24, 25, and 26, 2018 in the following malls:
Uptown Bonifacio Mall – August 24, 2018, Friday at 7:00 p.m
Eastwood Mall Open Park – August 25, 2018, Saturday at 7:00 p.m
Venice Grand Canal Mall – August 26, 2018, Sunday at 6:00 p.m
Purchase Sabrina Carpenter's Limited Edition Fanzine at the venues and get access to the event/showcase! Stay tuned for details and mechanics on the Signing Session and Meet & Greet Opportunity to be announced soon.

Details:
What: Sabrina Carpenter in Manila: Live and Acoustics
When: August 24, 25, and 26, 2018
Where:
Uptown Mall: 9th Ave corner 36th Street, Uptown Bonifacio, Taguig
Eastwood Mall Open Park: E. Rodriguez Avenue (C5), Bagumbayan, Quezon City
Venice Grand Canal Mall: McKinley Hill Garden Villas, Upper McKinley Rd., Taguig
Facebook: www.facebook.com/mcamusic/

For more information, you can call MCA Music at (02) 916-2504 or email them at mcabooking@umusic.com.