Bar-Hop the Filipino Way at the Jeepney Wine Tour!
Calling all the wine enthusiasts out there!
Beep and sip at the Jeepney Wine Tour 2019, taking you to a unique trip that will not only allow you to taste the finest wines, but also experience an iconic part of the Filipino culture—the jeepney!
Also read: How to Ride and Enjoy the Iconic Jeepney
The Jeepney Wine Tour is happening on February 16, 2019 from 3:30 p.m. to 9 p.m. at three different locations throughout Bonifacio Global City.
Organized by AWC Philippines, the exclusive distributor in the Philippines, the tour will showcase 16 kinds of wine, all from the three wine making countries of Europe. The jeepney will take attendees to three stops–Tomatito for Spain, Cicchetti for Italy and L'Entrecote for France–within the district and let them sample a selection of their top-notch alcohol.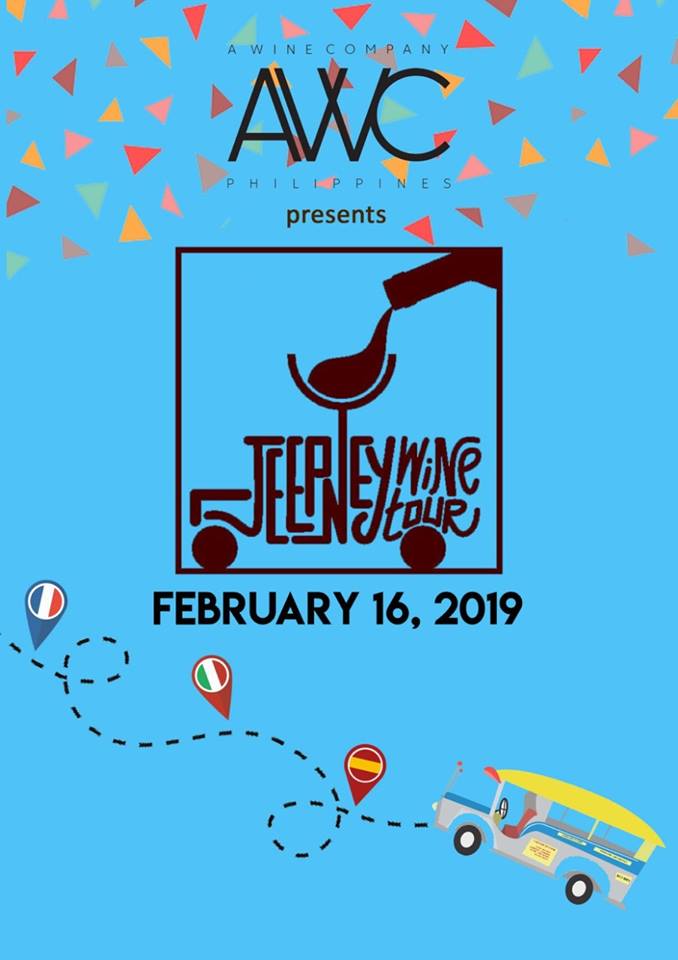 Each jeepney pasahero will get a "wine kit" with a glass, lanyard, corkscrew, ice bag, and a wine guide with stubs which will serve as their coupon to get each of the wines. They will get to taste wines such as cava, rose, white and red wines–with a well thought of pica-pica menu to pair with it.
AWC Philippines has been organizing various wine tasting events for years now, so there's no need to doubt this one as it will surely take you to an experience like no other.
So sit back and relax as you make friends with fellow wine connoisseurs at the event. It's also a time to dress up because there's a best costume award to be given towards the end of the night.
Also read: The Wine Guide For Every Occasion in Manila
It's not everyday that you witness an extraordinary tour that will bring your alcohol adventure to the next level, so if you're looking for a post-valentines date idea, the Jeepney Wine Tour is for you!
Registration will be at  Tomatito, the first stop, from 3:30 pm to 4:00 pm.
For more information about the Jeepney Wine Tour, email AWC Philippines at info@awc.com.ph or contact  02-817-1417. You may also follow them on Facebook at @AWCPH and visit the official Events page.