Explore a Child's Imagination Through Ayala Museum's Fiction Writing for Kids
A child's imagination is nothing but creativity, innocence, and genuine perception of life. Most of the time, they indulge us in the world they created inside their head, and these out-of-the-world ideas are better off written as early as now.
Help them shape their young minds as Ayala Museum brings you a one-day workshop of written exercises and brainstorming sessions to help bring out the inner writer in them. Catch Ayala Museum's Fiction Writing For Kids this January 27, 2019!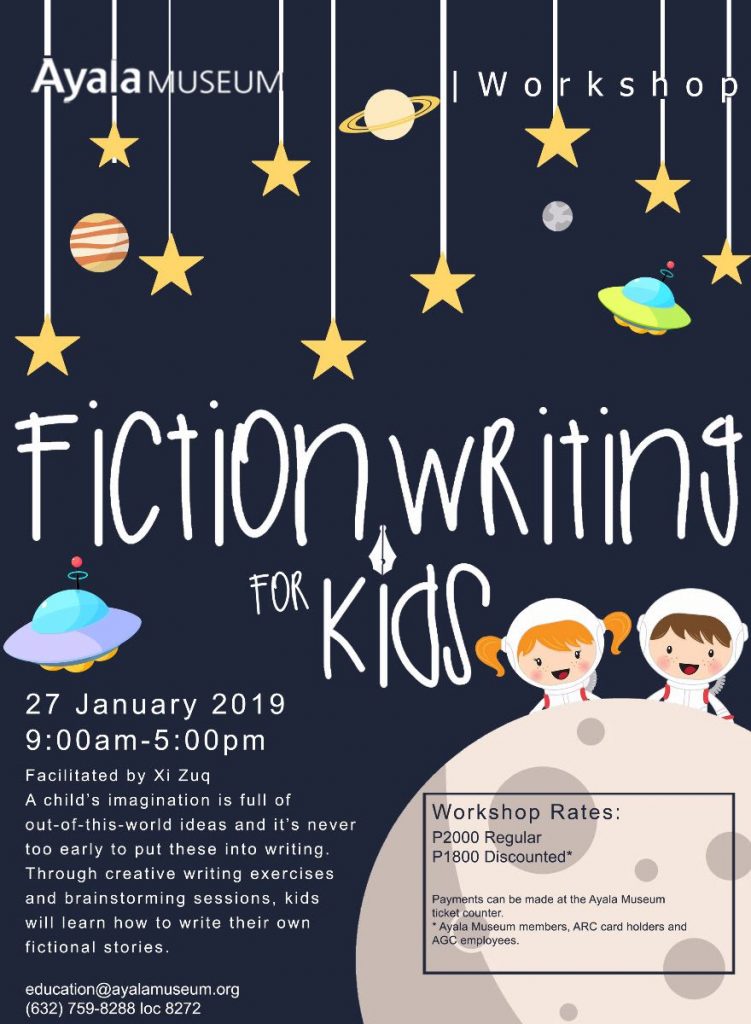 Join Xi Zuq as he taps into young minds and helps them write their own fictional stories. Xi Zuq is a writer and reader from General Santos. He is the author of the storybook Ngumiti si Andoy, the chapter books Supremo and Pangkat Papaya, and the Filipino translation of Peter Pan.
Workshop regular fee is Php 2,000, while the discounted rate for Ayala Musuem Members, Ayala Rewards Circle and Ayala Group of Companies Employees are at Php 1,800. The workshop is open to kids from 6 years old to 12 years old.
Fees are inclusive of materials, handouts, food, a certificate, one-day free admission to the museum, and one-day free access to the Filipinas Heritage Library on the sixth floor.
To download the full workshop guidelines (refunds, cancellations, etc.), click here. To reserve a slot, just fill up the registration form at Fiction Writing For Kids Registration.
For payments, you can pay the workshop fee at the Ayala Museum counter or through bank payment to Ayala Foundation, Inc. (Account no. 0011-1490-14) at any BPI branch. Deposit slip copies must be emailed to education@ayalamuseum.org.
Once you received a confirmation email on the acceptance of your payment and reservation of your slot, you're good to go!
For inquiries and reservations, you can reach the Ayala Museum at 02-759-82-88 loc 8272 or email them at education@ayalamuseum.org. Fiction Writing For Kids is happening on January 27, 2019 from 9 a.m. to 5 p.m. 
Details
What: Ayala Museum's Fiction Writing For Kids 
When: January 27, 2019, from 9 a.m. to 5 p.m.
Where: Ayala Museum, Makati Avenue corner De La Rosa Street, Greenbelt Park, Makati City
Facebook: facebook.com/ayalamuseum
Website: ayalamuseum.org