Graphika Manila 2019: Philippines Premier Creativity Conference
Illustrators, graphic artists, designers, and creators come together for the country's Graphika Manila 2019: Conference on Creativity happening this February 2 to 3 at the SMX Convention Center, Pasay City.
If you appreciate art or you're passionate about design, this event's speakers will inspire your imagination and creativity.
Celebrating 13 years of inspiring creativityGraphika Manila 2018 speakers:Adam J. KurtzMidnight SherpaSerious StudioEvan DehavenWETA DigitalHungry CastleAbbey SyStink StudiosGolden WolfAlex TrochutLuma PicturesChris DoVideo produced by:Kakampivimeo.com/kakampitvfacebook.com/kakampitvinstagram.com/kakampitvEdited by:Carl ChuaShot by:Erik LiongorenAce SayatRogelio CastilloDaniel Lei SarmientoMark PandyMotion Graphics:Joses IsraelGraphika Manila 2018 branding:AJ DimarucotSpecial Thanks:Aram & Ella BeheshtiJR PagalilauanGabie Osorio

Graphika Manilaさんの投稿 2018年9月13日木曜日
Since 2006, Graphika Manila (GM) has been the premier creativity conference in the Philippines, hailed as one of the most influential events on design this side of the world.
Every year, the event showcases talented artists of multidisciplinary creative approaches in identity, art direction, animation, web, and even designed environments. The conference focuses on the creative side of design rather than technology.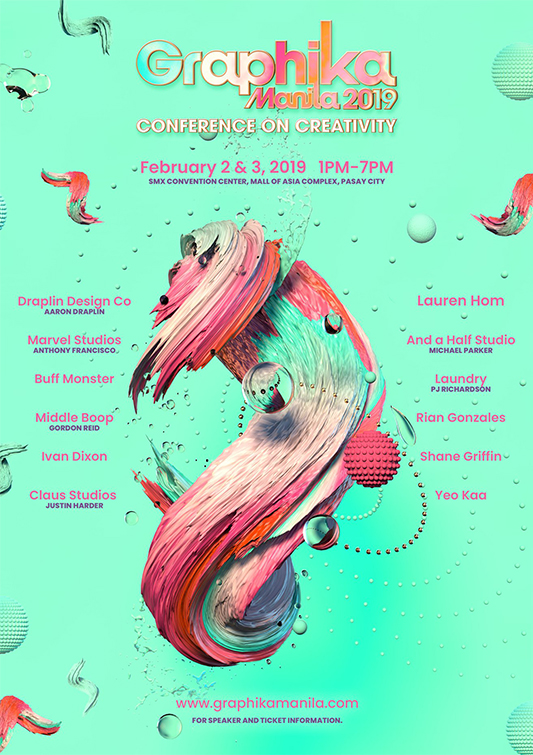 For this year, Graphika Manila has invited international speakers including the following luminaries:
Anthony Francisco, a Fil-AM illustrator and concept artist currently working at Marvel Studios as Visual Development Concept Artist.
Ivan Dixon, a Melbourne-based independent animator, illustrator, and designer, known for traditional and pixel art style. He recently directed Childish Gambino's Feels Like Summer.
Manila's graphic design powerhouse: And A Half Studio represented by Mike Parker. They design new brands and reimagine old ones, focusing on the aspect of co-creation with innovators and dreamers.
Claus Studios, managed by Art and Creative Director Justin Harder, has illustrated and designed numerous title sequences for film and television including Deadpool, Thor: The Dark World, My Little Pony: The Movie, and Saturday Night Live's 'Weekend Update.'
The Conference Pass is Php 2,750 or Php 2,550 for students with valid ID.
Passes include entrance to the conference for both days, access to all 12 talks, the Graphika Manila conference kit, and a certificate of attendance. Get passes from the GM website or through ticket partners such as select Digital Walker stores.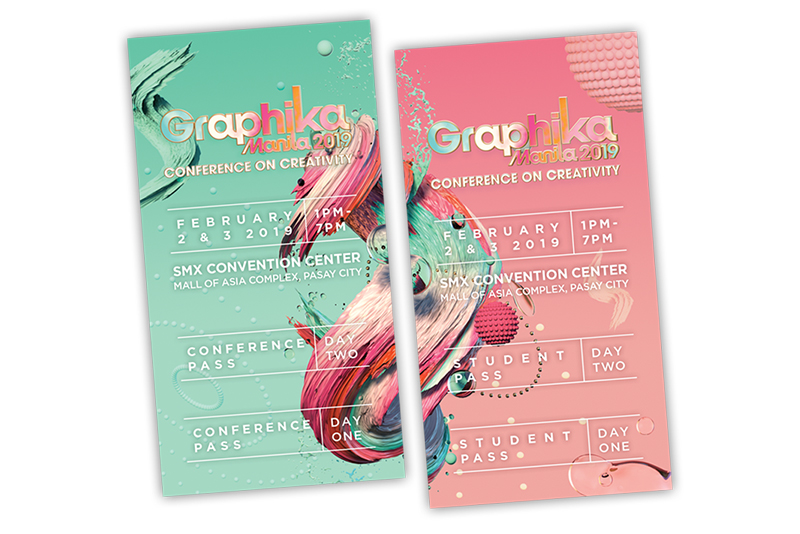 You will not want to miss all twelve speakers! Make sure to ready your mind for Graphika Manila 2019: Conference on Creativity on February 2 to 3, from 1 p.m. to 7 p.m. at the SMX Conference Center Manila.
Details
What: Graphika Manila 2019: Conference on Creativity
When: February 2-3, 2019, from 1 p.m. to 7 p.m.
Where: SMX Conference Center Manila, Mall of Asia Complex, Seashell Lane, Pasay City
Ticket information: Conference Pass is Php 2,750 / Student Pass Php 2,550
Website: Graphika Manila 
---
Images courtesy of Graphika Manila.