PETA Asia's Pints for Pups Christmas Edition: A Beer for a Cause
It's the season of sharing once again, and a perfect way to give aid to our stray furry friends is through PETA Asia's Pints for Pups Christmas Edition–a beer tasting benefit event for the animals' spay and neuter program. It's happening on December 6, 2018 at the Spektral Beer Lounge, The Beacon Makati.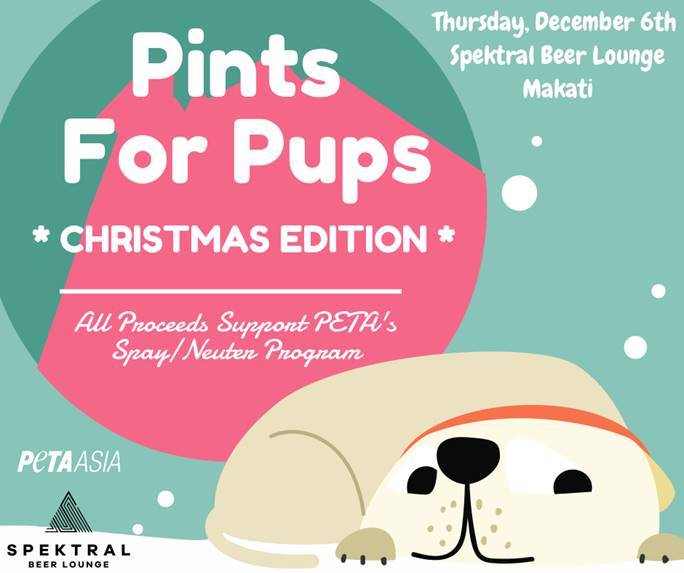 This one-night of beer crafting affair is for the benefit of homeless cats and dogs to be put to care through PETA Asia's "Kapon Ligation Immediately, Please" Program.
The said program aims to help stray animals in the neighborhood of Metro Manila by providing them with their medical needs and care, all at no cost. Ever since the program started, over 800 cats and dogs in the metro were spayed, neutered, and vaccinated, while some animals were transported to veterinarians for check-ups, vaccinations, and surgery.
Also read: PETA Campaign Urges People NOT to Buy Animals as Christmas Presents
Each Pint for Pups ticket is inclusive of either six (6) 100ml beer tasters, three (3) 250ml specials, or two (2) 500ml pints of your choice, plus an ample food choices, which include roasted chickpeas from Two Chickpeas, hummus from Hummus Be Crazy, vegan cheese platters from In a Nutshell, samosas and falafel from Bollywood Treats, and brownies from Earth Desserts.
Adding to these are exciting raffle prizes for attendees. All proceeds from Pint for Pups will go to PETA's "Kapon Ligation Immediately, Please" Program.
Also read: PETA: Here are some tips to protect animals from summer heat
For inquiries, registration, and ticket information, you may send an email to Pints@PETAAsiaPacific.com, call 02-817-5292, or visit this website for registration.
Details
What: Pints for Pups: Christmas Edition
Where: Spektral Beer Lounge, Ground floor, The Beacon Makati, Don Chino Roces Ave. corner Arnaiz Ave., Makati
When: December 6, 2018, 6:00 p.m. onwards
Website: www.petaasia.com
Ticket information: Php 1,000
---
This is a press release. Minor edits were made prior to publishing.